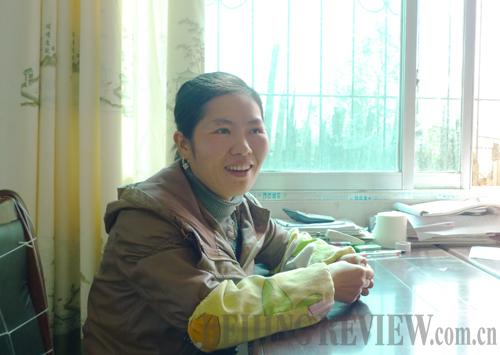 SMILING FACE: Li Chunyan shares her story (JIN DUOYOU)
Datang Village in southwest China's Guizhou Province is populated by people from ethnic Miao group living in houses built on wooden stilts on the hillsides overlooking muddy roads.
Located some 400 km away from the provincial capital city Guiyang, the mountainous village has over 500 households. Li Chunyan, 34, moved in after marrying in 2000, and has been in charge of healthcare services for some 2,500 villagers ever since.
With a salary of only 200 yuan ($32) per month, Li has been saddled with debts accrued by covering villagers' medical expenditures over the last 11 years. Her consistency and dedication have been rewarded with trust and recognition from the local community. In 2005, Li joined the Communist Party of China (CPC).
Family legacies
Li comes from a long line of doctors. Her father Li Hanming was the head of the Yongli Township Hospital in Datang Village before retirement.
In 1996, Li's father asked her to study medicine. Rejected by the only two medical institutes in Guizhou Province, Li was finally admitted to a program sponsored by the Amity Foundation for training qualified rural doctors in Liping Public Health School from 1997 to 2000.
Li's fiancee, Meng Fanbin, is her junior high schoolmate. Unfortunately, he was forced to drop out after graduating due to financial difficulties. Meng served in the army for three years and is currently self-employed.
"You will be the only doctor in the village, so you cannot leave regardless of any difficulties," said Li's father on her wedding day. 
In dilemma
Establishing a clinic in the village was all Li required when Meng proposed to her. With the support of her in-laws and all their savings of a mere 2,000 yuan ($244), she opened a small clinic in her own home.
However, few people initially came to the clinic for treatment, as most of the villagers preferred witchcraft reputed to "expel evils" rather than the qualified young doctor. They did not trust Li until she cured a local who was suffering from excessive alcohol intoxication in the summer of 2001.
Meng took out a loan to purchase a van for trans-provincial logistical purposes. Apart from the basic living expenditure, Li and Meng spent most of their income on medicine for the impoverished villagers.
Buckling to the weight of her debts, Li decided to close the clinic and hunt for a job outside the village in 2004. Upon hearing the news, many villagers came to her house and asked her to stay. Li re-opened the clinic.
Improvement
Li tried to save a premature baby in October 2004. Although the surgery failed, her story was reported on the Internet by a college student. Hence, Li was one of the top ten people of Moving China 2005, an awards program broadcast on China Central Television.
Numerous warm-hearted donations came in after the award ceremony. With the support of China Red Cross and Hong Kong Natural Harmony Foundation, a brand new three-story clinic in the village was finished on January 15, 2006. It contained doctors' offices, operating rooms, in-patient wards, and an ultrasound detector.
Moreover, the chronic financial problems that had frustrated Li have improved as well. The new rural cooperative healthcare policy was implemented in Congjiang County in 2007 and Datang clinic was designated a beneficiary institution. There was no need for most of the families to borrow money from Li as they could henceforth enjoy the maximum reimbursement rate of 80 percent covered by the public insurance policy.
What impressed Li most is the enhancement of locals' awareness of healthcare.
"I was always refused by the villagers at the beginning of my practice when I stopped by and gave inoculation for kids. Some parents would keep their children away from me," Li said. "But they are more willing to bring their children to the clinic to get compulsory inoculations ever since the radio announcement aired."
A new role
In 2007, Li was elected the deputy of the provincial People's Congress, functioning as a legislator. She continued her duties in the clinic.
"I bear more responsibilities and I won't disappoint those people who care and foster the development of rural healthcare," she noted.
Her first proposal was focused on new types of the national healthcare policy. Li suggested integrating the large-scaled public health institutions at county level into the reimbursement system.
In the provincial People's Congress this year, Li proposed to guarantee living security for rural doctors. There are thousands of medical practitioners working in rural areas in Guizhou Province. They lead hard lives and shoulder great responsibilities, including the basic medical service, disease prevention, vaccination and healthcare education.
As Li proposed, a regular allowance distributed by the governments will ease the worries of rural doctors, which is good for the sustained development of rural medical workers. She also suggests establishing advanced training facilities for doctors in rural areas.