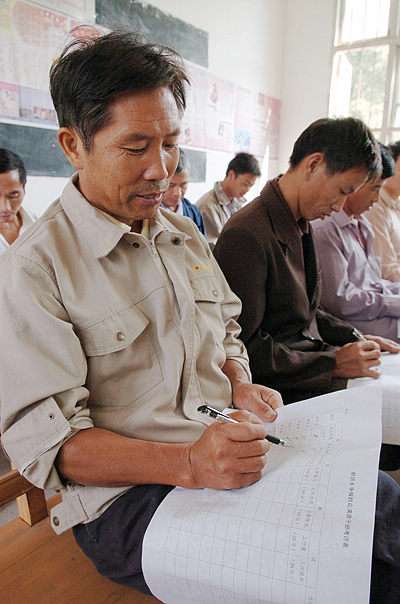 FIRSTHAND INFORMATION: Villager representatives fill out surveys to appraise Party cadres in Yanpeng Village in Yichun City, Jiangxi Province, on September 26, 2004 (SONG ZHENPING)
According to the Progress in China's Human Rights in 2009 white paper, there were more than 2.9 million ethnic-minority cadres in China, accounting for 7.4 percent of the country's total number of cadres. On this basis, China should have about 39 million cadres by 2009, accounting for 2.91 percent of its total population. Without these cadres, it's impossible for China to achieve the aim of building socialism with Chinese characteristics.
The cadre appraisal system of the Communist Party of China (CPC) covers five aspects: integrity, ability, diligence, performance and honesty.
"Integrity" includes political integrity, ethical integrity, professional ethics, social ethics and personal morality.
"Ability" refers to the comprehensive ability to serve people and to educate, organize and lead people to accomplish certain undertakings. It includes both general abilities, such as a physical constitution and basic work skills and special abilities, such as professional competence, management, leadership and innovative capabilities, as well as working experiences. In the CPC's cadre appraisal system, the key is to assess aspects related to cadres' qualification, mainly their professional, technical and management capabilities.
"Diligence" involves a sense of organizational discipline, work attitude, work initiative, dedication to basic duties and the rate of attendance. "Diligence" is mainly embodied in the practice, so the key is to assess cadres' work attitude, professional ethics and work discipline in their own jobs. A good cadre should be willing to learn and bear hardship without complaining.
"Performance" is measured not only by the accomplishment of work targets but also achievements in improving methods, efficiency and results of work. The key is to assess cadres' on-the-job performance, the amount, quality, results and level of accomplishment of their work, as well as their direct and indirect contributions to economic and social development.
"Honesty" refers to being clean and exercising strict self-discipline. When assessing cadres, the focus is whether cadres have been sticking to anti-corruption regulations of the Party and the state and whether they are honest in performing their official duties.
The CPC's cadre appraisal system includes methods such as democratic evaluation, public opinion polls, performance analysis, face-to-face talk and comprehensive assessments.
Democratic evaluation mainly focuses on cadres' political attitudes, managing ideas, organization and coordination capabilities, achievements in implementing administration according to law, psychological quality, work style, performance outcomes, capabilities to handle complex problems and working achievements.
Public opinion polls are conducted to survey the public's direct feelings about cadres' efforts in promoting economic, political, cultural, social and Party construction, as well as their effects.
Performance analysis mainly studies work ideas of cadres, their dedication to work and effects of their efforts, by analyzing the overall situation of economic and social development and public opinion.
Face-to-face talks with cadres subject to appraisal are an important way to achieve in-depth knowledge of their integrity and ability.
Comprehensive assessment is a process to make a comparative analysis of the results of democratic recommendation, democratic evaluation, public opinion polls, performance analysis and face-to-face talk, and make an objective and fair appraisal according to the information.
After the appraisal process is finished, the results will be further evaluated. The final evaluation is generally divided into four grades—excellent, capable, fairly capable and incapable. According to different grades, there will be corresponding rewards or punishments.
The application of appraisal results is the extension of evaluation. They will serve as references for rewards or punishments, including selection and appointment, promotion or demotion, ranking revision, material and spiritual rewards or punishments, provision of training opportunities and assignment to front-line posts.
The evaluation and application of appraisal results are significant to selecting talented personnel and building a dynamic mechanism to attract a galaxy of talent and make the best possible use of them, hence improve the CPC's governance capabilities.
The CPC's cadre appraisal process is democratic and transparent, with greater public participation. A democratic system consisting of evaluation by higher authorities, mutual evaluation between same-level cadres, evaluation by subordinate agencies, public opinion polls and result publicity has initially taken shape. Hence, today's CPC cadre appraisal is known as a 7x24 program.
Through appraisals, cadres can fully realize their own merits and drawbacks. The appraisal is actually a process to inspire, cultivate and educate cadres. It can help cadres keep firmly in mind their mission to use power for the people, seek benefits for the people and show concern for the people, and encourage them to better serve the people.
The author is a researcher with the Marxism Institute, Chinese Academy of Social Sciences