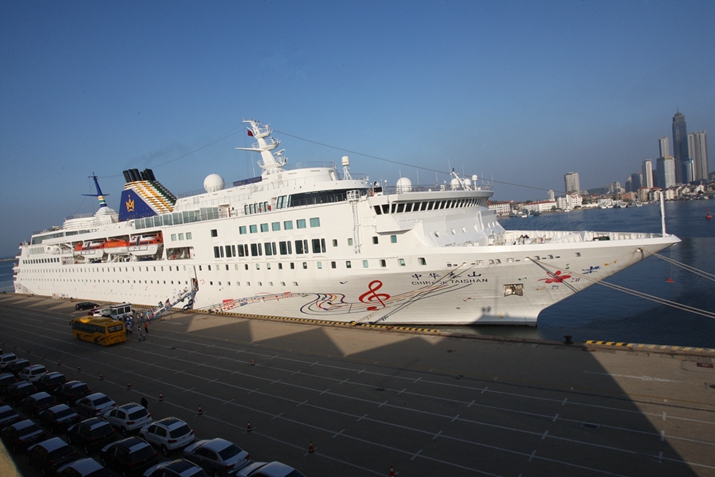 Chinese Taishan , operated by a company in Shandong Province, offers routes to South Korea, Japan and Southeast Asian countries (XINHUA)
Taking a romantic cruise with her boyfriend has long been on Dong Qian's travel agenda. Now the white-collar worker from Beijing can finally get her wish.
The State Council, China's cabinet, issued a regulation in August, encouraging workers to take leave outside peak travel periods.
For Dong, it means she won't have to fight her way through millions of other travelers, all vacationing at the same time on designated public holidays. She can now choose her own time to set sail.
"Since I watched Titanic as a teenager, experiencing the romance of traveling on board [an ocean liner] has been a dream," Dong told Beijing Review .
The new vacation regulation aims to stimulate domestic tourism, including cruises, and has seen an increasing number of companies, like the one Dong works for, adopt the process.
Trending vacations
With the advancement of technology and improved lifestyles, cruises that catered predominantly to the wealthy in the past have now gained popularity among ordinary people. In Western countries, cruises are a favorite when it comes to holiday options. Cruise Lines International Association (CLIA) statistics show this mode of travel has been increasing at an annual rate of 8.6 percent since the 1980s with international cruise tourism revenue growing at an annual rate of 4.3 percent. One out of six Americans have taken a cruise.
Compared to the high penetration in Western markets, Asia is still virgin territory for the cruise industry. CLIA predicted that cruise tourists in 2015 will number 25 million and in 2020, 30 million. Despite a vast population of about 3.5 billion, Asia has a cruise market penetration of just 0.05 percent, compared with 3.2 percent in North America and 2 percent in Europe.
The market potential has attracted the interest of international cruise lines. In 2006, Italy-based Costa Crociere introduced the first international cruise line in China. And in 2008, Royal Caribbean International entered the Chinese market, offering cruises from Shanghai and Hong Kong.
Last year was a lucrative period for China's cruise industry. Bohai Ferry, a Shandong Province-based listed shipper, established a subsidiary for cruise operations in February and launched its first liner, the Chinese Taishan, offering routes to South Korea, Japan and Southeast Asian countries. Tour agencies like Ctrip.com have sealed deals with international cruise lines as they target this area of travel as one of the means to drive their future development. Ports are also attracting investment in their ambitious expansion plans.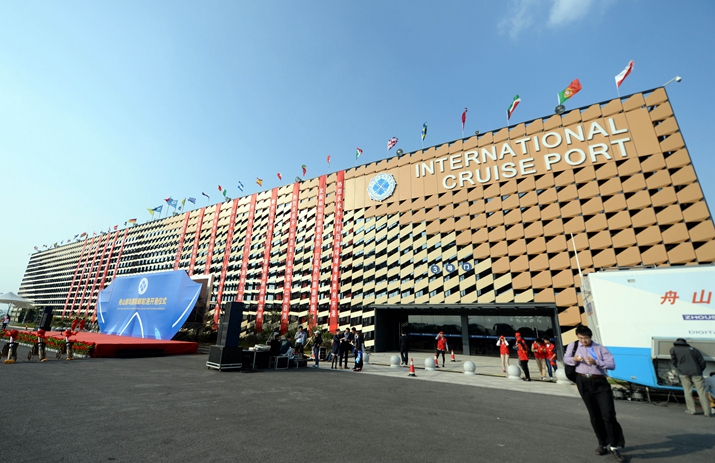 Zhoushan International cruise port in Zhejiang Province (XINHUA)
Relaxing on the high seas
With these moves, more Chinese are enjoying this new style of pampered holidays on the high seas. "Compared to tight-scheduled tours in which we can grab only a superficial impression of scenic spots, cruise travel totally relaxes me. It is a vacation in the real sense," Wang Rong, a university lecturer from China's landlocked Shanxi Province, told Beijing Review.
Wang took her 15-year-old daughter on a four-day cruise from Tianjin to South Korea last summer. Besides a one-day tour to Jeju, one of the ports of call, the trip offered a 24-hour buffet and beverage service, along with a wide range of recreation facilities including an outdoor swimming pool, gym, boutiques, bars and a casino. "It cost about $470 per person and was worthwhile," she said.
The number of Chinese cruise travelers like Wang is on the rise. A report on China's cruise industry development by the China Cruise and Yacht Industry Association (CCYIA) showed that the Chinese have made about 1.5 million trips on cruise liners in 2014, 150-fold more than in 2005. It noted that revenue from cruises in the Chinese market will reach $11.5 billion in 2018 at the current growth rate.
However, this revenue is just part of the industry's income stream. "A cruise ship's contribution to the economy is not just from ticket sales. Besides tourists, ship design, manufacture, maintenance, operation and port services will all bring profits," said Han Luhai, Deputy Director of Cruising and Boating Research Department with Shanghai International Shipping Institute.
According to research by CLIA, the cruise industry in the United States created 356,000 jobs and created a revenue of $42.3 billion from all related income streams in 2012. Industries that are closely related include air transportation, travel agencies, advertising, catering, ship maintenance, oil refining and the wholesale sector. In addition, insurance, hospitality and retail sectors all benefit from the cruise industry.
"The cruise industry will greatly boost its related businesses. Generally speaking, investing $1 in a cruise ship will bring revenues of $10 to $14 to the whole industrial chain," said Han.
Hurdles ahead
With such a lucrative prospect, coastal cities in China are scrambling to build international cruise centers. Currently, four home ports have been completed in Shanghai, Tianjin, Sanya and Xiamen. Ports of call were built or are being planned in coastal cities like Qingdao, Ningbo and Zhoushan.
But insiders note that the cruise industry in China is still a fledging one. The home ports are designed inefficiently and are unable to operate cruise liners. Ports of call lack supporting facilities and tourism reception capacity.
"Chinese firms, no matter if state-owned or private, are now financially capable of purchasing cruise ships and even organizing a massive cruise fleet. But this doesn't mean they are competent cruise operators," said Zheng Weihang, Vice Chairman of CCYIA.
He noted that the cruise industry is both capital- and technology-intensive. Chinese companies lack operational experience and qualified professionals.
"International cruise liners are far ahead of Chinese operators, with a mature management system for marketing and on-board services," he said.
Besides, some laws and regulations restrict Chinese cruise operators. For example, as Chinese laws prohibit gambling, casinos are not allowed on board. "Playing at the casino on board is just a recreation, not gambling in the real sense. But as long as a cruise ship flies the Chinese national flag, casinos are prohibited," Zheng said.
However, China is making efforts to create a more favorable business environment for the cruise industry. The State Council's new regulation on promoting tourism investment and consumption highlights the development of this sector by pledging to support indigenous design, research and development, and manufacture of large cruise vessels. It also encourages domestic shippers to invest in the sector.
Copyedited by Sudeshna Sarkar
Comments to yushujun@bjreview.com