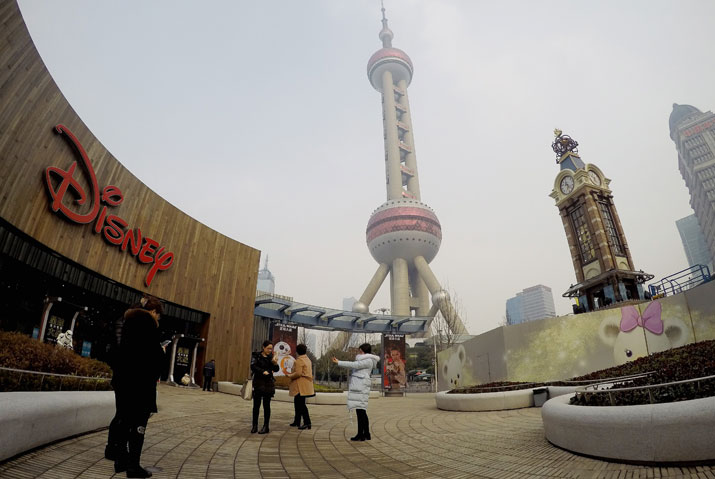 The Pudong New Area in Shanghai (XINHUA)
Following the establishment of free trade zones (FTZs), China has selected 12 cities and areas to try out a new open-economy system which is more open to foreign collaboration, Shen Danyang, spokesman of the Ministry of Commerce, announced on May 17 at a press briefing.
The overall goal of this experiment is to create new models of market-dominated resource allocation, new forms of economic management, new patterns for all round opening up and new advantages in international cooperation and competition. The experiment, scheduled to be completed in two years, is expected to accumulate experiences that can be replicated and expanded across the country.
The pilot will operate in six cities—Jinan, Nanchang, Tangshan, Zhangzhou, Dongguan, and Fangchenggang—as well as six areas including the Pudong New Area of Shanghai, the Liangjiang New Area of Chongqing, the Xixian New Area of Shaanxi Province, the Jinpu New Area of Dalian, the city cluster surrounding Wuhan, and the Suzhou Industrial Park.
In Shen's view, a new open-economy system is not only about opening up, but is actually geared to reform.
A complement to FTZs
Currently, the four FTZs established in Shanghai, Tianjin, Guangdong and Fujian serve as important platforms to push forward China's opening-up process.
So, why does China want to build pilot zones for a new open-economy system when it already has four FTZs set up?
Shen told the Economic Information Daily that the pilot zones and the FTZs are both aiming to experiment with a new system to bolster China's opening-up efforts. These experiments are set to provide the experience necessary for the results to be replicated nationwide. The two types of zones nonetheless differ in terms of function, location and size.
The FTZs, for example, are more advanced in terms of opening up because they comply with international trade and economic rules and standards by experimenting with key and sensitive opening-up issues such as the adoption of the negative-list approach. On the other hand, the new open-economy system works with cities and areas at various stages of development—unlike FTZs which are primarily located in developed areas—so as to facilitate the eventual spread of the system throughout the country.
The FTZs are focused on trade facilitation and the opening-up of the financial sector. Meanwhile, the new pilot zones are set to encourage local governments to form a public relations and public service system for opening up, including setting up trade associations and the establishment of a management system for state-owned enterprises' overseas investments.
Compared with FTZs, which are all located in coastal regions, the pilot zones are more widely dispersed. They are located both in coastal and hinterland areas and include both provincial capitals and second-tier cities. They also cover a larger area than FTZs, which cover an average area of over 100 square km, while some of the new pilot zones can exceed 10,000 square km.
As a consequence, the industries involved in the new pilot zones are also more varied, including modern agriculture, manufacture-related services, and high-end manufacturing industry.
Bai Ming, a researcher with the Chinese Academy of International Trade and Economic Cooperation, explained that these pilot zones are being set up because it's difficult to repeat the same process of high-level opening up undertaken by the FTZs throughout the country within a short period.
"The new experimental zones are more representative, as they are from a wider span of the country," Bai said.
"The pilot zones include cities such as Dongguan—a trade processing hub, the steel industry base Tangshan, as well as the industrial park in Suzhou. The variety will enable all kinds of cities in China to find a model to follow," Bai added.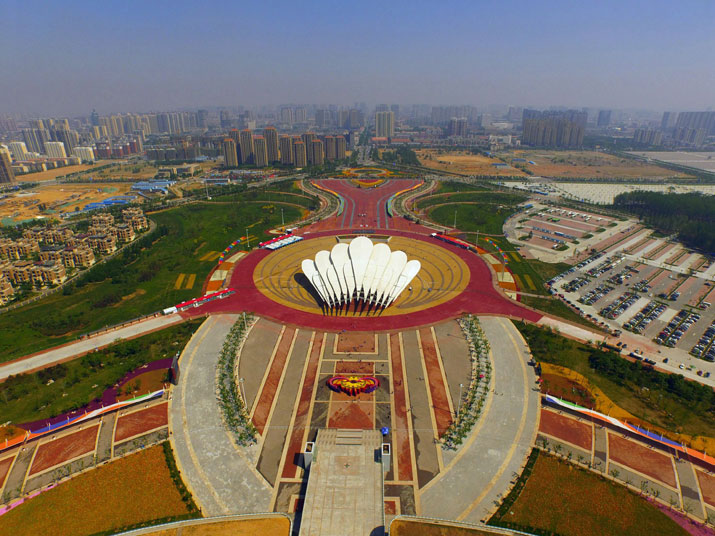 The site of the 2016 Tangshan International Horticultural Exposition on May 23
Missions
According to Shen, this experiment will focus more on reforms related to opening up so as to form new systems and mechanisms that can adapt to an open economy. He specified the main tasks of the pilot zones:
First of all, the pilot zones are set up to observe a new model of open economic management. On one hand, the government should streamline administration—on the other hand, the role of non-governmental organizations and market entities should be given full play in order to ensure regulated and orderly economic operation and market competition. For instance, when transforming the foreign investment management system from an approval-based one to a registration-based one, how can local governments provide better services for foreign investors?
A new coordinated system for opening up among all kinds of industrial parks and demonstration zones should be formed. National-level industrial parks, FTZs, and innovation demonstration zones are important platforms for opening up. However, these parks or zones urgently require upgrading and repositioning.
The experiment is designed to find new paths for international investment cooperation, including solving systematic problems in using foreign investment and carrying out overseas investments. For instance, problems such as how to attract high-end manufacturing and service industries to China and how intermediary organizations specializing in design consultation, asset evaluation, credit rating and legal services can globalize could be solved through experimentation.
A new foreign trade promotion system oriented at quality and efficiency is to be established. The focus should be to stabilize and improve foreign trade growth in order to enable China to gain an upper hand in the global industrial value chain. The system should boost both the trade of goods and services.
New ways to open up financial services are also to be explored. Focus should be placed on the globalization of financial services and the service industry in order to improve the influence of China's financial institutions around the world. The pilot zones can copy the financial industry practices that have been carried out in the Shanghai FTZ. Meanwhile, the weaknesses of financial institutions in serving the real economy, especially the open economy—such as mid- and long-term financing for equipment manufacturing enterprises and large projects—should be remedied.
"The highlight of the tasks is to create a new pattern of all-round opening up," said Shen. Local governments are invited to participate in national opening-up strategies so as to reinforce the overall process. For instance, they are encouraged to strengthen cooperation mechanisms with major cities of countries involved in the Belt and Road Initiative. The pilot zones can upgrade trade and economic cooperation with cities in other countries by setting up trade and economic agencies in other countries or by forging sister city relationships.
Application
Both central and local governments have a role to play in pushing for the formation of the new open-economy system.
"The Central Government should formulate policies to guide the establishment of the system, while local governments should experiment with the new open-economy system based on their own realities," said Shen.
"China is now deeply involved in the global economic system. Therefore, great importance should be attached to the relationship between opening up and national security. The trial will cope with unpredictable risks in opening up to ensure the smooth implementation of the new open-economy system nationwide," Shen added.
Many cities and areas involved in the new open-economy system experiment are highly anticipated candidates for the third batch of FTZs. Consequently, the question arises as to whether the approval of these pilot zones will delay the establishment of the third batch of FTZs.
Shen, however, didn't think that this would be the case. "The new open-economy system and FTZs are two separate developments," Shen added.
However, Lu Jinyong, a professor at the University of International Business and Economics in Beijing said, "The experiment for the new open-economy system is a test of the results achieved by FTZs ahead of their nationwide application. Therefore, their establishment may indeed put off the third group of FTZs."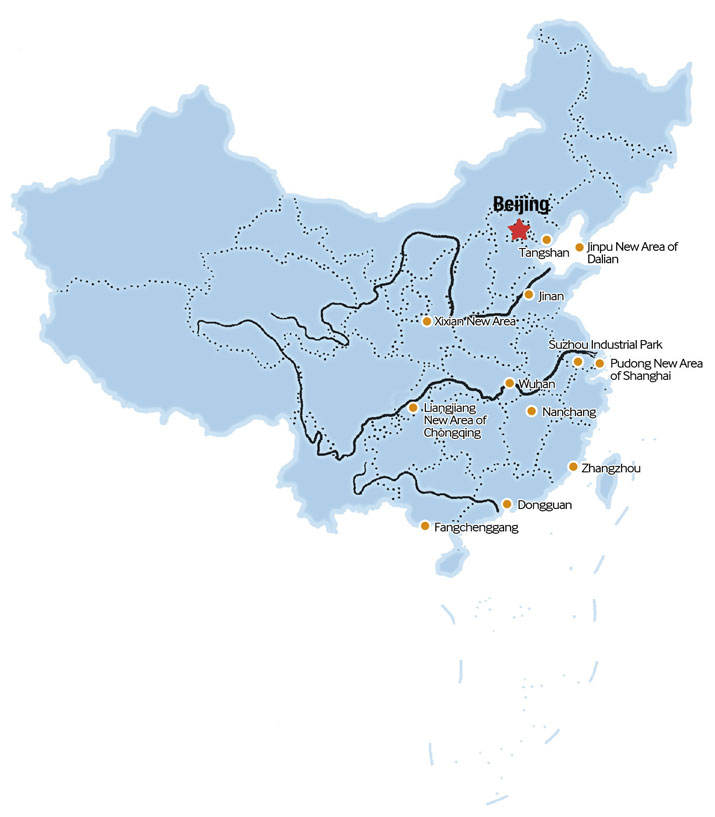 Pilot Cities and Areas of New Open-Economy System
-Jinan, capital of Shandong Province
Area: 7,998 square km
Population: more than 7 million
GDP (2015): 610 billion yuan ($93 billion), up 8.1 percent year on year
Pillar industries: shifting from heavy industrial sectors including iron and steel, automobile, machinery, chemicals and cement to emerging industry such as modern logistics
-Nanchang, capital of Jiangxi Province
Area: 7,402 square km
Population: more than 5 million
GDP (2015): 400 billion yuan ($61 billion), up 9.6 percent year on year
Pillar industries: automobile, metallurgy, textile, chemicals, pharmaceuticals, bioengineering, electronic information, new materials, software
-Tangshan, a heavy industry base in Hebei Province
Area: 13,472 square km
Population: 7.8 million
GDP (2015): 610 billion yuan ($93 billion), up 5.6 percent year on year
Pillar industries: iron and steel, cement, equipment manufacturing, oil
-Zhangzhou, a coastal city in Fujian Province
Area: 12,600 square km
Population: 5 million
GDP (2015): 277 billion yuan ($42 billion), up 11 percent year on year
Pillar industries: equipment manufacturing, special iron and steel, food and petrochemical industries
-Dongguan, a manufacturing and foreign trade hub in Guangdong Province
Area: 2,512 square km
Population: more than 8 million
GDP (2015): 628 billion yuan ($96 billion), up 8 percent year on year
Pillar industries: electronic information; electrical machinery and equipment; textile, apparels and shoes, food and beverage; papermaking; toys, stationery and sports goods; furniture, chemicals; packaging and printing
-Fangchenggang, a coastal city bordering Viet Nam in Guangxi Zhuang Autonomous Region
Area: 6,173 square km
Population: 918,400
GDP (2015): 62 billion yuan ($9 billion), up 10.2 percent year on year
Pillar industries: steel, energy, chemical engineering, food, edible oil and logistics
-Pudong New Area of Shanghai
Established in January 1993 and covering an area of 1,430 square km, it is the largest district in Shanghai and specializes in shipping, financial and tourism industries as well as law services.
-Liangjiang New Area of Chongqing
Established in June 2010, it has a planned area of 1,200 square km. It is an important hinterland base for advanced manufacturing industries and the modern service industry. It is also an economic, financial and innovation hub in the upper reaches of the Yangtze River centered on the rail transportation, electric equipment, new-energy vehicles, national defense and electronics industries.
-Xixian New Area of Shaanxi Province
Located between Xi'an and Xianyang of Shaanxi, it has a planned area of 882 square km. It concentrates on developing hi-tech industries and promoting environmental protection and preservation of cultural heritage. It is set to become an important hub on the Silk Road Economic Belt.
-Jinpu New Area of Dalian
Established in August 2015, it includes the central and southern parts of Dalian City, Liaoning Province. It is focused on developing equipment manufacturing, bio-pharmaceuticals, new-energy vehicles, automobile, electronics, petrochemical, fine chemical engineering and logistics industries.
-Wuhan and Neighboring Cities
Approved in 2007 and incorporating Wuhan and eight surrounding cities in Hubei Province, it is focused on developing hi-tech industries, agricultural products processing, machinery manufacturing, textile and environmental protection industries.
-Suzhou Industrial Park
Established in February 1995 and located in the east of Suzhou, Jiangsu Province, it covers 278 square km and is focused on developing emerging industries such as bio-pharmaceuticals, nanotechnology application and cloud computing industries.
(Compiled by Beijing Review)
Copyedited by Bryan Michael Galvan
Comments to jijing@bjreview.com