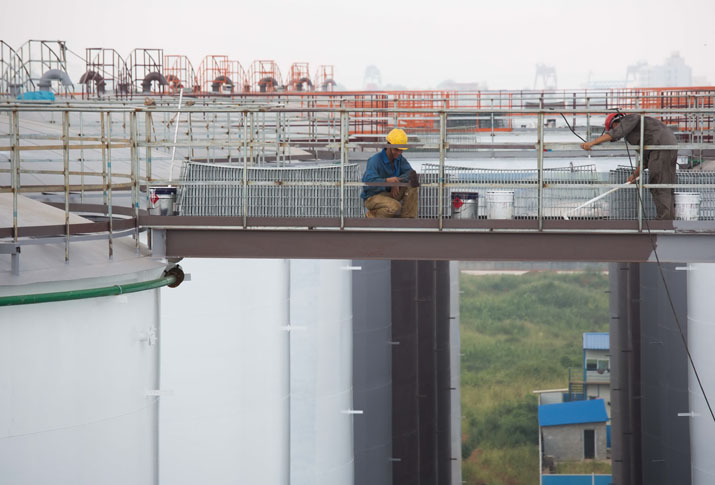 Construction continues in an industrial park invested by COFCO in Jiujiang, Jiangxi Province. The park will become the largest base in central China for grain storage, logistics and production (IC)
Chinese grain and oil giants Chinatex Corp. and COFCO Corp. have merged following an announcement by the State-Owned Assets Supervision and Administration Commission of the State Council (SASAC) on July 15. Both companies are centrally administered state-owned enterprises (SOEs) under the supervision of the SASAC.
The main reason behind the merger is the fact that both companies are engaged in the grain and oil industry. The union therefore accelerates COFCO's growth as a major international grain trader and ensures China's grain security, Li Jin, chief researcher with the China Enterprise Institute, told business news website Yicai.com.
Chinatex focuses on two core businesses: textiles and grain and oil. According to a news release by COFCO, after the reorganization, its oil-processing capacity in China will reach 24 million tons, raising its overall market share to 18 percent and making it a domestic leader. Currently COFCO and Chinatex are the largest and third largest grain and oil producers in China, respectively.
The alliance between the two serves as an example for China's efforts to revamp its anemic and moribund economic structure. "It is expected that in the next three years, the reorganization of SOEs will become more active, and various forms of restructuring will accelerate," said Li.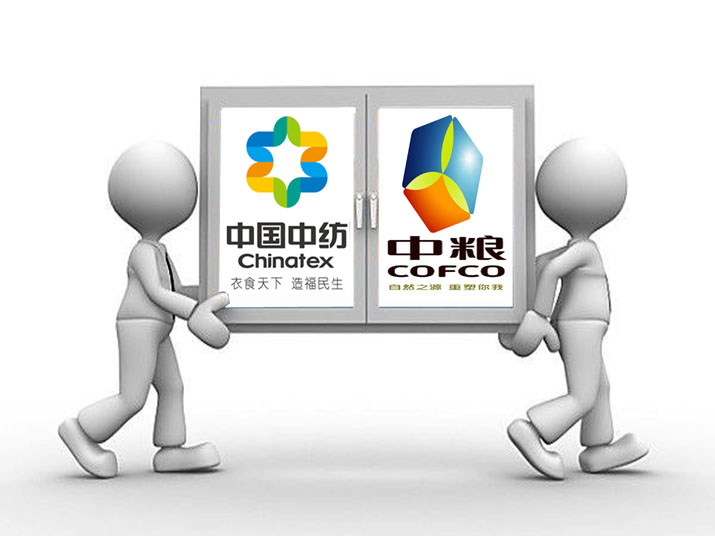 (CFP)
Roadmap clarified
This is regarded as a crucial move to kick off a new round of reforms for central SOEs.
The State Council on July 26 issued a guideline on the restructuring and reorganization of central SOEs, which says that by 2020, SOEs are to have more accurate strategic positioning, more reasonable general structures and remarkably improved efficiency in capital allocation. The guideline also aims to set up a group of innovative and competitive SOEs to become world-leading multinational corporations.
Various platforms will be established to strengthen research and development in SOEs, promote innovation cooperation among industries, enhance Internet Plus growth and support financial innovation, says the guideline. The Internet Plus initiative is the Chinese Government's attempt to fuse traditional industries with information technology in order to improve methods of production and other aspects of their operations.
Corporate restructuring will be strengthened in fields such as equipment manufacturing, construction engineering, electric power, steel and iron, nonferrous metals, shipping, construction materials, tourism and aviation services. These reforms aim to improve efficiency in the use of resources, reduce price competition and effectively reduce overcapacity, especially in the steel and coal industries. Despite these measures, more efforts are needed to reorganize enterprises that have been suffering losses for at least three years and are unlikely to show a profit in the next two years.
The guideline also asks related industries to stop operating non-key businesses and managing assets that lack market competitiveness. It requires state-owned capital to support key industries related to national security and economic growth as well as central SOEs undertaking major national programs.
The structure and flow of state-owned capital in central SOEs should be improved through restructuring those enterprises and exploring more effective business models, says the document.
Slimming central SOEs
Li said that the guideline highlights two main structural problems regarding central SOEs. First of all, the businesses are too diversified, and the core businesses are uncompetitive. Second, there are too many management levels, and the organizations are overstaffed.
"A tree can't have a strong trunk if it has too many branches, so we must cut its excess parts," he said.
According to SASAC figures, SOEs were involved in 39 major industries at the end of 2013, said Qi Yudong, Dean of the School of Business and Management at the Capital University of Economics and Business.
"SOEs must focus on major industries," said Qi, adding that central SOEs with too many management levels and covering too many industries must be reorganized, while those suffering heavy losses must quit the market.
A press release by the SASAC states that it will work on slimming down central SOEs by requiring them to reduce management levels, streamline business chains, improve management procedures and increase management efficiency.
The commission also urges central SOEs to accelerate the reorganization of internal resources, to sell non-core or uncompetitive businesses, and to promote the use of state-owned capital for key industries.
The SASAC also plans to reduce, within five years, 15 percent of the current production capacity of central SOEs in the steel and coal industries. In 2016 alone, those enterprises must cut 7.19 million tons of production capacity for iron and steel, while coal producers must reduce theirs by 31.82 million tons. The commission will also set up a company to serve as a platform for coal-related assets in central SOEs, with the aim of further reducing overcapacity in that sector.
Performance upturn
Nonetheless, according to SASAC figures, central SOEs are recovering. In the second quarter of 2016, central SOEs made total profits of 370.22 billion yuan ($55.84 billion). The average monthly profit was 123.41 billion yuan ($18.61 billion), up by 38.99 billion yuan ($5.88 billion) over the first quarter. In June, profits generated by central SOEs totaled 141.9 billion yuan ($21.42 billion), the highest in the first half of 2016.
During the first half, 38 central SOEs saw their profits grow by more than 10 percent, and 16 central SOEs saw their profits grow by more than 30 percent. Among the 18 central enterprises suffering losses in the first quarter, six rebounded in the second quarter. Meanwhile, the other 12 enterprises managed to mitigate their losses by a total of 7.06 billion yuan ($1.06 billion) compared with the first quarter.
Affected by a decline in the prices of bulk commodities such as oil, coal, steel, nonferrous metals and power, sales revenues in central SOEs decreased by 1.8 percent to 10.8 trillion yuan ($1.63 trillion) in the first half, but the decline improved month by month.
At the end of June, the average debt-asset ratio of central SOEs stood at 66.2 percent, 0.5 percentage points lower than the figure at the end of 2015, with 56 central SOEs reducing their ratios over the first two quarters.
In the first half of the year, net cash flow into central SOEs from sales totaled 711.04 billion yuan ($107.25 billion), up by 6.4 percent, or 43.06 billion yuan ($6.49 billion), from the same period last year.
Copyedited by Bryan Michael Galvan
Comments to wangjun@bjreview.com