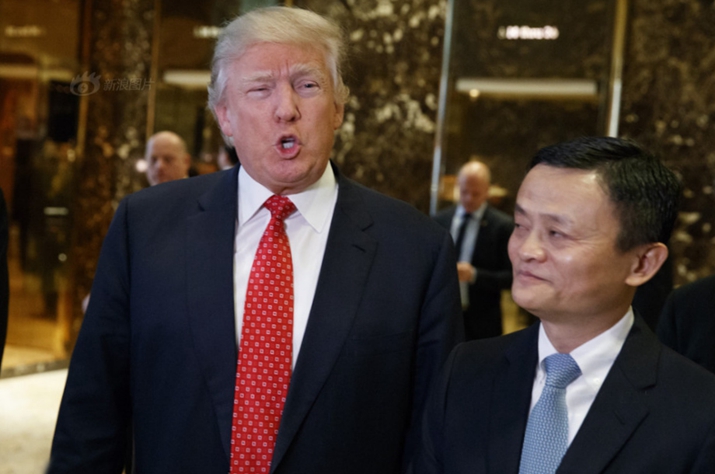 U.S. president-elect Donald Trump and Alibaba Executive Chairman Jack Ma speak with reporters after a meeting at Trump Tower in New York on January 9. They discussed bilateral trade and Alibaba's plan to generate jobs in the United States (VAN VUCCI/AP)
Alibaba's ambitious plan to create 1 million U.S. jobs has highlighted the importance of the Chinese market to the incoming Trump administration while boosting the win-win economic relationship between China and the United States, analysts said.
Alibaba Executive Chairman Jack Ma met U.S. president-elect Donald Trump on January 9 and laid out the e-commerce giant's plan to include 1 million small and medium-sized U.S. businesses on its websites to sell to Chinese consumers over the next five years.
The Chinese company expects the initiative to create the jobs as each company adds a position, an Alibaba spokesman said.
Ma, who oversees the world's largest online shopping sites, said the two shared "ideas about how we can improve trade".
After the meeting at Trump Tower in New York, Trump told reporters, "Jack and I are going to do some great things."
"We had a great meeting," Trump said. He called Ma "a great, great entrepreneur, one of the best in the world, and he loves this country, and he loves China".
Ma said he thinks Trump is "very smart" and "very open-minded".
Sang Baichuan, director of the Institute of International Business at the University of International Business and Economics in Beijing, said the meeting was a sign that the incoming Trump administration is optimistic that China's burgeoning middle class will continue to consume more foreign products.
China exports consumer goods in exchange for high-tech, energy, agricultural and automobile products from the United States, Sang said, adding that "most of the trade is complementary. It isn't direct competition."
Li Gang, vice-president of the Chinese Academy of International Trade and Economic Cooperation in Beijing, said small and medium-sized businesses in the U.S. are keen to ship their products to China however they can, including e-commerce.
"Giant companies such as Boeing, Honeywell International or Johnson Controls will also push their government to build healthy business ties with China to compete with their European and Japanese rivals," Li added.
Bilateral trade between two countries totaled 3.08 trillion yuan ($445 billion) between January and November, dropping by 1.7 percent year-on-year, according to the General Administration of Customs.
Over the next five years, the consumption demand of China's domestic market will reach $10 trillion, the Ministry of Commerce forecast last week. That will present attractive trade and investment opportunities to global companies.
The meeting with Trump is a good demonstration of Ma's earlier call to use the internet to knock down trade barriers and provide small and medium-sized enterprises easier access in global commerce, said Qi Xiaozhai, head of the Shanghai Society of Commercial Economy.
Alibaba already enables approximately 10 million merchants to sell to Chinese consumers, according to company data. It is considered to be responsible for creating more than 30 million jobs in China since 2003, when shopping portal Taobao was founded.
The e-commerce empire envisions 40 percent of its business coming from outside China in the next decade, with a long-term goal of serving 2 billion customers globally and supporting 10 million profitable businesses.
According to the 2016 Business Climate Survey conducted by AmCham China, 92 percent of respondents described bilateral relations between China and the U.S. as positive and extremely important to their business growth in China.
Vice-Minister of Commerce Wang Shouwen said bilateral trade has provided huge sales revenues to manufacturers in both countries, adding that it is unlikely either party would do something to sabotage already stable business ties.
(China Daily January 10, 2017)