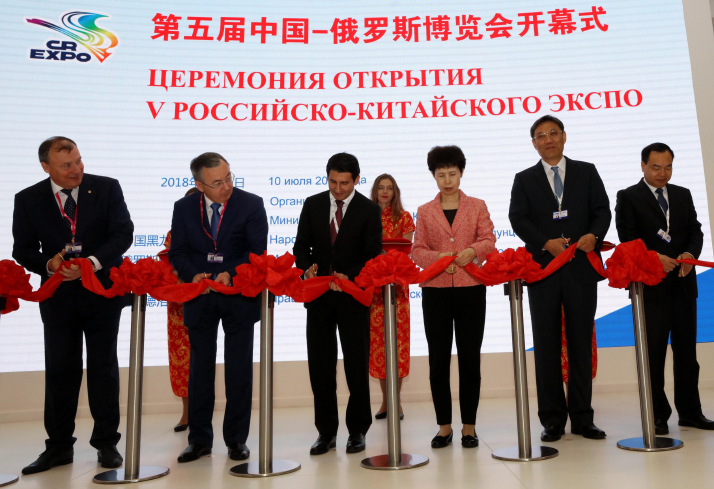 The opening ceremony of the fifth China-Russia Expo in Ekaterinburg, Russia, on July 10
Both Chinese and Russian officials agreed at a forum on July 10 that interaction between different regions of China and Russia has contributed to bilateral ties and that all-around interregional cooperation is looking promising.
A number of central and regional government authorities from China and Russia made the remarks at the first China-Russia Inter-regional Cooperation Forum under the framework of the fifth China-Russia Expo.
"China and Russia have entered an important period of their national development and rejuvenation. With highly compatible development programs, regional cooperation is very promising," China's Vice Minister of Commerce Gao Yan, said.
As bilateral trade continues to grow rapidly, mutual investment is expanding and large-scale strategic projects in the fields of energy, nuclear power, aerospace and infrastructure are being steadily advanced, she said.
China has been Russia's largest trade partner for eight consecutive years, with bilateral trade increasing by one third to $87 billion last year. As the trade volume reached $32 billion from January to April, it is expected to exceed $100 billion by the end of the year.
In order to step up interregional cooperation, Gao said China and Russia need to strengthen collaboration on policies, bolster industrial cooperation, promote trade growth and enhance cultural exchanges.
Interregional delegations from 23 Russian constituent entities participated in the forum. "Such a representative composition is more proof of Russia's deep interest in developing mutually-beneficial cooperation with China," Russian Deputy Minister of Economic Development Azer Talybov, said.
According to Talybov, more than 40 agreements, memoranda and protocols of intentions have been concluded by Russian and Chinese regions in the past two years, including the establishment of an intergovernmental commission for cooperation and development of Russia's Far East and Baikal region and the northeastern provinces of China.
He also said Russia will continue to explore the full potential of Russian-Chinese interregional and cross-border cooperation.
Echoing the Russian official's remarks, Chinese regional representatives, including Governor of Heilongjiang Province Wang Wentao, Mayor of Chongqing Municipality Tang Liangzhi and Deputy Secretary General of the Guangdong Provincial Government Lin Ji, expressed their readiness to promote interregional cooperation in various areas.
"We are happy to see that more and more Chinese and Russian government bodies, provinces, cities and counties are widely involved in promoting China-Russia regional cooperation. Using this event as an opportunity, we will further strengthen comprehensive exchanges and cooperation with Russian regions," Wang said.
Following the speeches, a number of documents were signed, including one on the establishment of a China-Russia science and technology cooperation alliance and a cooperation agreement between Chinese and Russian engineering colleges.
As the highest-level and largest comprehensive exhibition held by the two countries, the China-Russia Expo has played an important role in enhancing trade and economic ties as well as exploring regional and business cooperation.
Having built its reputation over the past four years, the annual event attracted more than 200 Russian and Chinese companies this year under the theme of New Beginning, New Opportunities and New Future.
In addition to a showcase of products from the two countries, 27 business events were scheduled throughout the expo in the fields of finance, electricity, technology, logistics and manufacturing, including 14 key events held at the state level.
This is an edited excerpt of an article published by Xinhua News Agency
Copyedited by Rebeca Toledo
Comments to zhouxiaoyan@bjreview.com