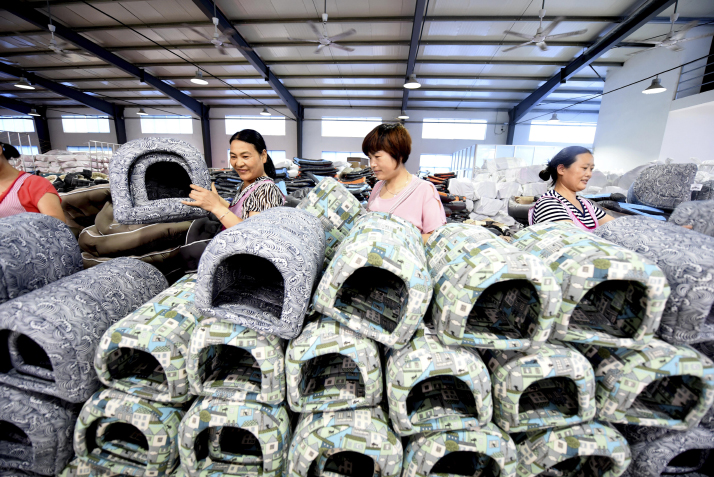 Workers clear up doghouses to be exported in a factory in Linyi, east China's Shandong Province, on July 4 (XINHUA)
How has China's foreign trade been affected one month after the start of the trade war waged by the United States? According to the latest figures released by the General Administration of Customs (GAC) on August 8, China's imports and exports totaled 2.6 trillion yuan ($379 billion) in July, with growth rising to 12.5 percent from 4.3 percent a month before, indicating that China's foreign trade is yet to feel any serious effects from the trade war.
Trade between China and the United States stood at 354.72 billion yuan ($51.71 billion) in July, an increase of 5.2 percent, remaining stable as the previous three months.
Analysts attributed the sound trade growth in July to measures aimed at stabilizing trade, the recovering global economy, diversification of China's export destinations and the depreciation of the renminbi, but they also warned that China may face more pressure as the trade war escalates and more tariffs are implemented in the coming months.
Better than expected
According to the GAC figures, the total volume of China's trade in goods reached 16.72 trillion yuan ($2.44 trillion) in the first seven months of the year, growing 8.6 percent year on year. Of the total, exports accounted for 8.89 trillion yuan ($1.3 trillion) and imports for 7.83 trillion yuan ($1.14 trillion), up by 5 percent and 12.9 percent, respectively, year on year.
Bai Ming, a senior researcher with the Chinese Academy of International Trade and Economic Cooperation, said that the internal reason for the unexpectedly positive trade performance in July was that China adopted various measures to ensure the stable growth of trade and address trade frictions.
"From outside China, the global economy and international markets are recovering, trade between China and its major partners maintains sound growth and many orders were 'rushed in' before trade frictions escalated," said Bai.
As trade confrontation with the United States intensifies, China is paying more attention to the diversification of its export destinations, with sales to markets other than the United States growing rapidly.
In the first seven months of the year, China realized growth in exports to major markets including the EU, the United States, ASEAN and Japan. Its trade volume with countries along the Belt and Road totaled 4.57 trillion yuan ($666.18 billion), an increase of 11.3 percent year on year, which was 2.7 percentage points higher than the country's foreign trade growth; this accounted for 27.3 percent of China's total trade volume, which was 0.7 percentage points higher than the same period last year.
Liu Xuezhi, a senior researcher with the Bank of Communications, said that at present, the global economy continues to recover and the U.S. economy maintains robust growth. Recently, the European economy has kept stable and prices are rising, while emerging markets are all growing. In July, China's exports to Japan, ASEAN, India and Russia all hit double-digit growth and stood at 12.3 percent, 15.4 percent, 14.8 percent and 11 percent, respectively.
According to Bai, the yuan's depreciation against the U.S. dollar since July has actually stimulated China's exports. This is more apparent in the monthly export data. Calculated in dollars, the growth of China's exports in July was 1 percentage point higher than that in June, but calculated in renminbi, growth was nearly 3 percentage points higher than that in the previous month. In July, the renminbi depreciated by 3 percent against the U.S. dollar.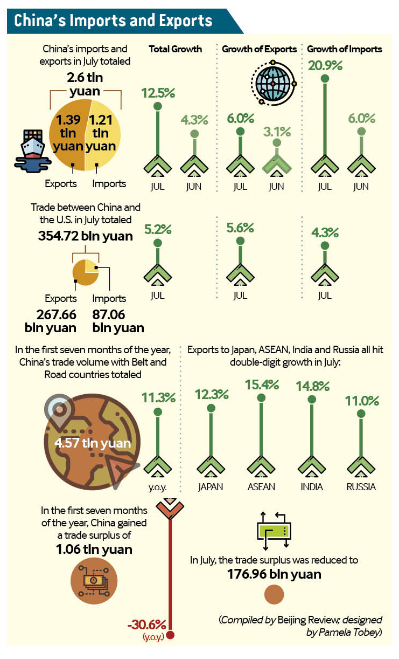 Narrower trade surplus
China's trade surplus continues to narrow. In the first seven months of the year, China gained a trade surplus of 1.06 trillion yuan ($154.52 billion), a decrease of 30.6 percent year on year, and in July alone, the trade surplus decreased by 42.6 percent to 176.96 billion yuan ($25.8 billion).
Bai said that China's recent import growth was faster than the growth of exports because the scale of China's exports was so big that it was difficult to maintain growth of the kind seen in previous years due to external pressure.
"More importantly, China has been working to expand imports in recent years by cutting or removing import tariffs on some products and hosting the China International Import Expo in November. All these measures will further stimulate the rapid growth of imports," Bai said.
In July, China's imports grew by 20.9 percent denominated in renminbi, but the growth was even higher at 27.3 percent if calculated in U.S. dollars. According to Liu, this indicates that China enjoys stable domestic demand. The country's macroeconomic policy is becoming more proactive and the real economy is improving, which stimulates corporations to increase their inventory and drives up imports.
The reduction of import tariffs has also spurred the imports of consumer goods. China significantly cut tariffs on the imports of automobiles and auto parts in July. During this month, the imports of automobiles and automotive chassis surged by 72 percent.
Li Chao, chief analyst of macroeconomic policy at Huatai Securities, said that as exports face increasing pressure and imports continue to grow, China's trade surplus is likely to remain low, contributing less to the country's GDP growth. The reduction of the trade surplus will also increase depreciation pressure on the renminbi.
Bai said that a narrower trade surplus will also apply some pressure to China's foreign exchange reserves. Considering the balance of international payment, China is now increasing the openness of its investment sector and local governments are working to introduce more foreign investment.
Future challenges
Zhang Yongjun, a researcher with the China Center for International Economic Exchanges, said that the figures for July depicted no significant influence from the Sino-U.S. trade war principally because the conflict has only just started and coincides with the recent depreciation of the renminbi.
However, the growth of exports to the United States in July has been destabilized by escalating trade frictions.
Bai said that in recent months, many Chinese exporters have been rushing in exports, and as the United States announced the second round of tariff measures on $200 billion worth of Chinese products, more exporters joined in the rush.
Although the figures were still steady, Bai emphasized that it would be ill-advised to believe that the impact of the trade war will be limited. The rush in exports and imports has overdrawn the potential for trade in the second half of the year, and as the trade war escalates and tariff measures are implemented, China may face serious pressure as trade declines in the future.
According to Li, it is very likely that China and the United States will actually implement the proposed tariff measures and that trade frictions will continue to escalate, which will have an unfavorable impact on China's exports.
Copyedited by Laurence Coulton
Comments to wangjun@bjreview.com