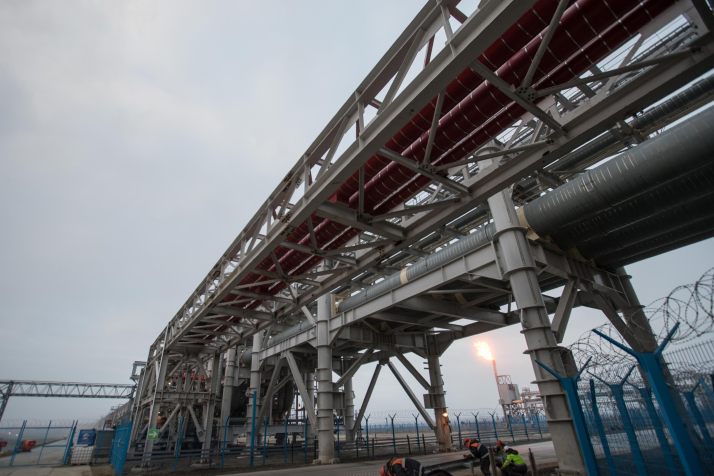 A section of the pipeline for the Yamal liquefied natural gas project built under the China-proposed Belt and Road Initiative in Russia's Arctic region (XINHUA)
The shopping list of many Chinese families during the Mid-Autumn Festival and the National Day holidays possibly included jewelry. This translated as precious opportunities for Russian state-owned diamond miner Alrosa.
"We pin high hopes on the Chinese market," said Sergei Ivanov, CEO of Alrosa, which did a survey last year showing that 86 percent of Chinese respondents planned to buy at least one diamond adornment this year.
Chinese families are ascending the financial ladder and have an increasing desire for jewelry and other high-end products, according to Ivanov.
Alrosa, the world's leading diamond miner, has established long-term partnerships with six major Chinese jewelry dealers and its sales revenue grew 18 percent year on year in 2017, Ivanov said.
"We expect more cooperation with Chinese partners, since we have high-quality Russian diamonds and excellent cutting expertise," he said. Last year, Alrosa and its Chinese partners experimented with making payments in the Russian ruble, which significantly simplified the transaction process.
Russia's largest petrochemicals company SIBUR also sees great potential in cooperation with China, according to its chairman, Dmitry Konov.
The two countries are highly complementary in oil and gas production and processing, and China needs an increasing amount of oil and gas supply alongside their other byproducts, he said.
Konov noted that China is replacing coal with natural gas and the petrochemical industry is a pillar of China's economy.
"SIBUR is determined to establish a long-term partnership with our Chinese counterparts as we see broad prospects," he said.
The Belt and Road Initiative proposed by Chinese President Xi Jinping in 2013 will help improve logistics routes in Eurasia and SIBUR has set up factories and a logistics center along the Silk Road Economic Belt, said Konov.
About 90 percent of SIBUR's products are shipped by train and the company keeps a close eye on railway development, he said, hoping that Russian exports of petrochemicals to China will grow significantly after the transportation infrastructure is overhauled.
Russia's Far East urgently needs construction or modernization of its railways, highways and bridges, and Chinese enterprises can participate in these projects, said Zhang Zongyan, President of China Railway Group Limited (CREC).
During the Fourth Eastern Economic Forum in Russia's Vladivostok in September, representatives of CREC, the Russian Ministry of Transport, the Ministry for the Development of the Russian Far East, Russian Railways and Russia's development bank Vnesheconombank discussed cooperation in infrastructure, logistics and investment.
Zhang said China Railway Eryuan Engineering Group, a subsidiary of CREC, has completed compiling all the design documents of the Moscow-Kazan High-Speed Railway and submitted them to the Russian side for review.
China and Russia are at different stages of infrastructure development with different technologies, expertise and industries. This in turn makes room for added cooperation between enterprises from the two countries, Zhang said.
Chinese and Russian enterprises are also planning to build a cableway for tourists over the Heilongjiang River, known as the Amur in Russia, which separates Russia's Far East from China's northeastern Heilongjiang Province.
Vasily Orlov, acting governor of Russia's Amur region, said he hopes the project will proceed rapidly. He expects a surge in the number of tourists when the cableway is complete and consequent economic prosperity across the border.
Firms from both countries are gearing up to strengthen cooperation as Xi and Russian President Vladimir Putin expressed their determination to promote bilateral ties at a meeting in Vladivostok in September.
"The close cooperation with China is very important for Russia. It is important for us to explore the Chinese market and proactively participate in the Belt and Road Initiative," said Andrei Ostrovsky, Deputy Director of the Institute of Far Eastern Studies of the Russian Academy of Sciences.
He said Russia, by joining the China-proposed initiative, will be able to improve its infrastructure, especially in the Far East, which will in turn create better conditions for bilateral economic and trade cooperation in the long run.
This is an edited excerpt of an article published by Xinhua News Agency
Copyedited by Rebeca Toledo
Comments to dengyaqing@bjreview.com