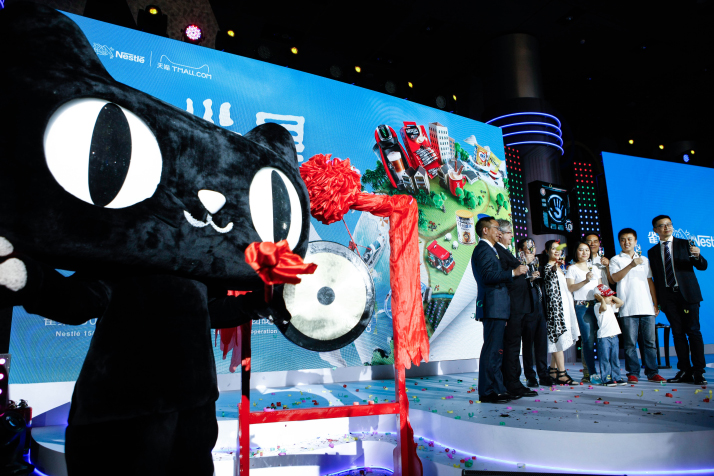 Nestlé and e-commerce giant Alibaba Group launch a partnership at a ceremony in Beijing on June 5, 2016 (XINHUA)
The newly adopted Foreign Investment Law is a gesture from the Chinese Government to further the process of opening up, said Bianka Bian, Executive Vice President and General Legal Counsel of Nestlé Greater China Region, in a recent interview with Beijing Review. According to Bian, the law not only promotes foreign businesses but also protects them and gives companies like Nestlé greater confidence in the Chinese market. Edited excerpts of the interview follow: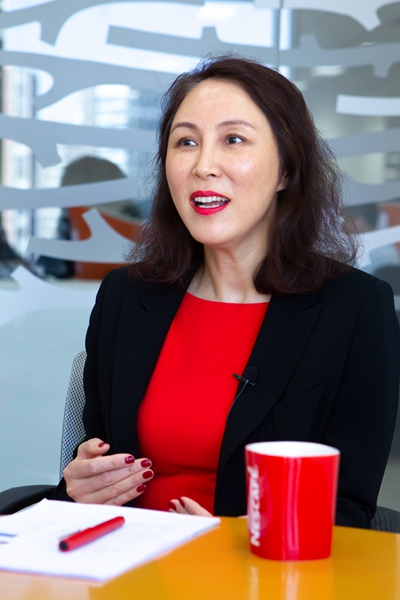 Bianka Bian, Executive Vice President and General Legal Counsel of Nestlé Greater China Region (WANG XIANG)
Beijing Review: Nestlé entered the Chinese market in 1987 and started local production in 1990. It has witnessed the development and further opening up of China. How do you think China's business environment has changed over the years?
China's opening up has brought unprecedented changes to Chinese society and its social and business environment. As for Nestlé, we feel deeply honored not only to be a witness of this transformation but also to participate in the process. As one of the first multinational companies to invest in China, we grasped many opportunities offered by China's opening-up process. In the 1980s, Nestlé built a dairy farm and a plant in China's Heilongjiang Province. Today Nestlé employs 40,000 people and operates 33 factories across China. Nestlé has become part of Chinese society, which is also in line with our philosophy—creating shared value. Nestlé believes if we want to succeed in the long term, we have to create value not only for our shareholders but also for society as a whole.
What kind of support have you received from the Chinese Government in your business expansion and have there been any difficulties?
I joined Nestlé in 1993 and have been involved in almost every operation that Nestlé has set up in China. I can tell that wherever we went we received strong support from governments at all levels. In some of the places we had never been to, we were not familiar with the business environment but the government supported us wherever possible. Nestlé is deeply indebted to the Chinese Government. Without its support, we would not be so successful today in China.
In 2017, China's food and drug authorities defined "food for special medical purposes" as an encouraged industry. Being a leading company in that area, Nestlé immediately seized the opportunity. We went to Taizhou City, Jiangsu Province, and set up a factory there. Because this was the first of this kind in China, the local government helped us accelerate the process. The factory was completed last year. Now it's in the process of getting a permit. As the business environment for foreign investors further evolves, I can see that the Chinese Government is encouraging overseas businesses to grow in the way Nestlé has been growing in China.
China currently has three laws regarding different types of companies with foreign investment. How do you evaluate the importance of adopting a new law to replace these?
In my view, the new law is a milestone. I see it as a gesture from the Chinese Government to promote further opening up. It is not just a law that promotes foreign investment but also protects foreign investment in China. It also gives foreign investors the same treatment as local ones. For example, foreign investors will have access to the same financing methods as local companies. We can raise money through the issuing of shares, or by borrowing from banks. Everything that is available to local Chinese companies will be available to foreign investors. As a foreign company operating in China, Nestlé welcomes and looks forward to the implementation of this law.
Under the new law, China will gradually abolish the administrative approval system for foreign investment. Instead, national treatment will be provided to foreign investors, with a negative list detailing sectors that are not open to them. What are your comments regarding the new system?
The Foreign Investment Law will be a fundamental law guiding foreign investment, like the beams and pillars of a house. It not only offers foreign companies equal treatment but also focuses on intellectual property protection. It ensures that no one, no government or Chinese partner in a joint venture can force technology transfers. And also for the first time, it stresses that the government needs to honor and respect the commitments made to foreign investors. This is a strong message that gives foreign investors the confidence they need.
Regarding the Foreign Investment Law, which, if any, parts of it caught your attention? How are these pertinent to Nestlé?
The negative list definitely is one that has caught my attention. In the early days, foreign investors could only invest in manufacturing companies and manufacturing companies could only sell their own products. But today, we can operate trading companies or service companies. If the sectors you are going to invest in are outside of the negative list, you can just do it. For a company like Nestlé, a food, beverage, and nutrition company, today there are almost zero barriers to entering the market. The updated 2017 catalog of restricted or prohibited industries already contained far fewer items than the 2015 version.
I personally have seen the changes over the past few years. The Chinese Government has made a great effort to facilitate and help foreign investors. In the old days, we had to get approval from several authorities, today, and especially with this new investment law, the approval system will be changed to a filing system. I see this as a tremendous change in the mindset of the Chinese Government—serving foreign investors. For Nestlé, we have benefited from the change. It is now much easier for my legal team to handle issues and if we have a share capital change or a shareholder change, we can get easier access to the filing system.
How do you foresee the market potential of China and what's Nestlé's strategy for future development in the Chinese market?
Over the years, the Chinese Government has implemented many policies such as increasing imports and encouraging consumption. They have also boosted cross-border e-commerce and free trade zones in cities like Shanghai and many other parts of China. China is one of the leading digital economies in the world. Digitalization has given many enterprises like Nestlé new opportunities. Of course, it also puts pressure on a company like us to quickly become digital-focused. Through our operations in China, we are breaking new ground and becoming a lighthouse for the Nestlé Group worldwide.
The changes taking place in China on a policy level and also in the real economy are giving companies like Nestlé many opportunities, if you have the determination, the vision and the passion to grow with China. The future for companies is tremendous, as China is still one of the top countries for attracting investment. I think this answers why people still want to invest in China. China has stability and certainty and the people are hard-working, which gives companies like us the confidence and the determination to not only stay in China but grow here too.
Copyedited by Craig Crowther
Comments to mamm@bjreview.com