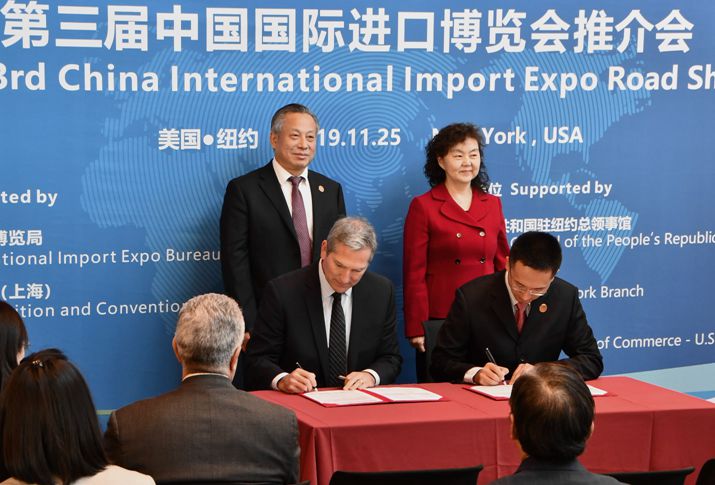 Officials witness the signing of an agreement between Aramark Corp. and the China International Import Expo Bureau at the Third CIIE Road Show in New York City on November 25 (ZHAO WEI)
Thirty-four U.S. companies have already signed up for the 2020 China International Import Expo (CIIE), as it has brought huge opportunities for many of them, said Liu Fuxue, Deputy Director of the CIIE Bureau, at a road show of the third CIIE held in New York City on November 25.
The second CIIE, which ended on November 10, attracted 192 U.S. companies, whose exhibition space, totaling 47,500 square meters, was the largest among 180 participating countries, regions and international organizations.
U.S. exhibitors also reached tentative deals of $12.96 billion, accounting for about 18 percent of the total value of all deals reached at the second expo, which totaled $71.13 billion, Liu added.
"These numbers illustrate that even during the hard times facing bilateral trade relations, the business ties between China and U.S. enterprises cannot be cut off," said Gu Chunfang, Economic and Commercial Counselor of the Consulate General of China in New York.
Xu Chen, President and CEO of Bank of China USA, agreed. Also Chairman of the China General Chamber of Commerce-USA, Xu had just attended the second CIIE. During the roadshow, he spoke to business leaders and participants, saying that he found U.S. companies are still giving a lot priority to the Chinese market and showing enthusiasm despite the current China-U.S. trade friction.
Xu Chen, President and CEO of Bank of China USA and Chairman of the China General Chamber of Commerce-USA, speaks at the Third CIIE Road Show in New York City on November 25 (ZHAO WEI)
He cited the words of Jacob Anderegg, Utah Senator and Chairman of the Utah International Relations and Trade Committee, saying, "When a great number of Chinese middle-class consumers are on the rise, to shrug off the Chinese market or even refuse to deal with China is quite shortsighted."
Aramark Corp., a U.S. food and uniform services, and facilities provider, signed an agreement with the CIIE Bureau during the road show. Jeff Zettel, Associate Vice President of Global Client Group Aramark, said he is looking forward to the Third CIIE after the company had a positive experience at the second expo, a platform which provided great opportunities to meet potential customers.
Leo Chan, Executive Director of the Greater Cincinnati Chinese Chamber of Commerce, said his member companies are enthusiastic about exporting their goods to the Chinese market. That's why he led several delegations to the previous two CIIEs and has secured an exhibition area of 150 square meters for member companies and a standard booth for the chamber for next year.
"Although they did complain about the decline of orders from China due to the trade tension, their enthusiasm in the Chinese market remains," said Chan, whose chamber represents more than 200 companies, including small and medium-sized companies and some major companies from the manufacturing and service sectors in the region. Member companies are optimistic and hopeful that the dispute between China and the U.S. can be resolved and a trade deal reached, he said.
Gu added that imports will play a more important role in China's economic development, and the country will continue to lower tariffs and transaction costs, and foster a number of demonstration zones to promote imports through creative means in order to encourage the import of more high quality goods and services from around the world.
(Reporting from New York City)
Copyedited by Rebeca Toledo
Comments to yushujun@bjreview.com