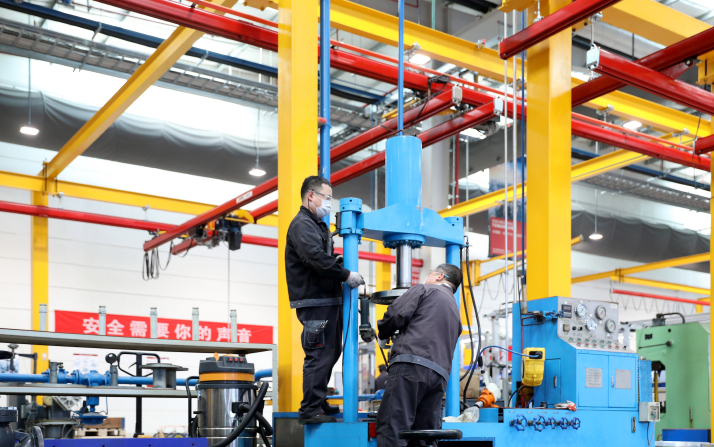 A foreign-funded company in Anshan, Liaoning Province, northeast China, resumes production on April 23 (XINHUA)
The first business dispute verdict since the new Foreign Investment Law came into effect on January 1 made Chinese American businessman Cheng An a very happy man this month. The roots of the case went back to 2009 when Cheng wanted to set up a trading firm in Shanghai to provide import and export services for his U.S. business.
He teamed up with a Chinese acquaintance, Zhang Yan, to start a joint venture (JV) but ran into a legal hurdle. According to the Chinese-Foreign Equity Joint Ventures Law prevailing at that time, a U.S. citizen could not start a JV with a Chinese. So Cheng brought in his brother, who had kept his Chinese citizenship, and funded Zhang and his brother through a legal process. The JV was registered and after some years, Cheng wanted his shares, which were being held in Zhang's name, to be transferred to his brother. However, Zhang refused and Cheng was forced to take him to court.
On May 14, the case ended with Cheng getting his stake back. In addition, under the new law, a foreign investor does not need to invest in other people's name as the restriction on foreign and Chinese natural persons floating JVs has been lifted.
"With an array of measures to stabilize foreign investment, foreign investors' confidence has strengthened and a number of major foreign-funded projects have been signed and implemented. Together with a lower base number in the same period last year, the actual use of foreign capital registered a positive growth in April," Ministry of Commerce (MOFCOM) spokesperson Gao Feng said at an online press conference on May 14.
In April, the actual use of foreign capital in China rose by 11.8 percent year on year to 70.36 billion yuan ($9.9 billion). From January to April, the total amount was 286.55 billion yuan ($40.3 billion). Though it was down 6.1 percent year on year, the decline narrowed by 4.7 percentage points compared with the first quarter of the year, according to MOFCOM.
"However, the pandemic is still severe around the world, resulting in sluggish global cross-border foreign direct investment. So this year, the situation is not optimistic for attracting foreign capital and there is great pressure to stabilize the base of foreign investment and foreign trade," Gao added.
Incentives to invest
The Foreign Investment Law is one of China's trump cards amid the novel coronavirus pandemic to stabilize foreign investment.
"This year we will put emphasis on the implementation of the law, creating a fair and competitive market environment and trying to engage foreign investors and giving them opportunities for further development," Minister of Commerce Zhong Shan said at a press conference on May 18.
He said it is crucial to continue to broaden market access and open up the service sector despite the difficulties. While promoting major strategies such as the coordinated development of the Beijing-Tianjin-Hebei region, the Yangtze River Economic Zone and the Guangdong-Hong Kong-Macao Greater Bay Area to boost regional opening up, it is essential to open up the central and western regions and the old industrial bases in northeast China.
The Yangtze River Economic Zone was created to foster integrated development of 11 provinces and municipalities while the Guangdong-Hong Kong-Macao Greater Bay Area comprises Hong Kong and Macao special administrative regions (SARs) as well as nine cities in Guangdong Province, all of them in south China. Zhong added that more supporting policies will be issued to bolster these areas.
At the press conference, Zhong also highlighted the importance of building new platforms to open up regions, including pilot free trade zones (FTZs) and free trade ports (FTPs). Eighteen FTZs have been built since 2013 and their actual use of foreign capital accounts for 15 percent of the national total. Besides, the FTZs also provide many replicable and transferable innovations and policies. Zhong said the scope of the FTZs will be enlarged and the construction of the Hainan FTP in south China speeded up.
Wang Xiaosong, a research fellow with the National Academy of Development and Strategy of Renmin University of China, told Beijing Review that streamlined trade procedures and regulations and the improved infrastructure of the FTZs and the FTPs will provide greater convenience and a transparent environment for investors. "With special management of foreign currency, free capital inflows and outflows and offshore payment and settlement, foreign investors' exchange risks can be minimized," he added.
Despite the uncertain global situation, China still has obvious advantages in terms of its actual use of foreign investment, abundant and high-quality labor resources and developed industrial support capacity, not to mention a domestic market of 1.4 billion people.
"No smart entrepreneurs will give up the huge Chinese market," Zhong said.
Bearing him out, U.S. electric carmaker Tesla's Chief Financial Officer Zachary Kirkhorn said at a recent financial briefing that the cost of production in Tesla's Shanghai factory proved lower than in the factory in Fremont, California, in the first quarter. The company plans to increase investment in Shanghai and Berlin.
Cristiano Amon, President of Qualcomm, the California-based top mobile chipmaker with substantial business in China, has affirmed China's leading role in global 5G development due to its quick economic recovery.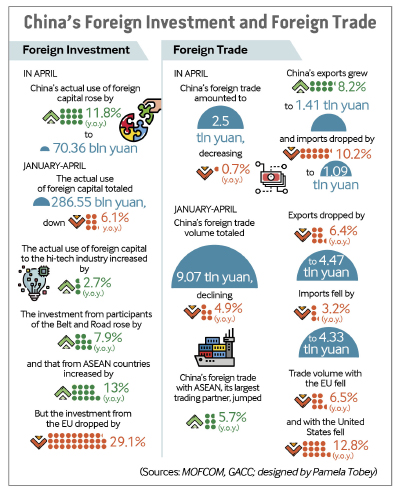 New trade drivers
On May 16, the first cross-border e-commerce freight train from Ganzhou in Jiangxi Province, east China, left for Duisburg, Germany. The new freight route will boost the development of Ganzhou's industries, which include home appliances, clothing and electric products, and enhance the logistics capacity of local cross-border companies.
With the epidemic largely under control in China, freight trains have restarted and foreign trade resumed in phases. In April, China's foreign trade amounted to 2.5 trillion yuan ($351.7 billion). The year on year decrease was 0.7 percent. Exports grew 8.2 percent to 1.41 trillion yuan ($198.4 billion) though imports dropped by 10.2 percent to 1.09 trillion yuan ($153.3 billion), according to the General Administration of Customs of China.
"Export growth in April can be attributed to multiple factors," Gao said. From the perspective of supply, domestic capacity recovered as enterprises accelerated their pace of resumption. As for demand, orders from Japan and the Republic of Korea increased while the Association of Southeast Asian Nations (ASEAN) market remained stable. ASEAN has become China's largest trading partner.
Zhong said the government is committed to tiding enterprises over headwinds. The measures taken so far include refunding export taxes faster and credit insurance for more companies. China Export and Credit Insurance Corp. has provided services for more than 110,000 enterprises. Besides, companies engaged in exports are being supported by the government to do domestic business.
"Despite the decline in demand globally, it doesn't mean there are no needs," Zhong said, pointing out that although the past four months saw foreign trade decline by 4.9 percent year on year, trade with the countries participating in the Belt and Road Initiative rose.
In addition, new business models such as cross-border e-commerce have become new growth drivers of foreign trade. This year, the number of cross-border e-commerce comprehensive pilot zones has increased from 59 to 105, Zhong said.
Wang said although cross-border e-commerce accounts for a relatively low proportion of total foreign trade, it has potential, growing 20-30 percent per year, which can solve the imbalance between supply and demand.
As he sees it, in the following months, the proactive actions of the government will make it possible to attract more foreign investment. However, due to the impact of the pandemic, China's trade partners, especially developed countries, will still have a slump in demand, which means exports may decline compared with the same period last year.
(Print Edition Title: Still With Trump Cards)
Copyedited by Sudeshna Sarkar
Comments to zhangshsh@bjreview.com