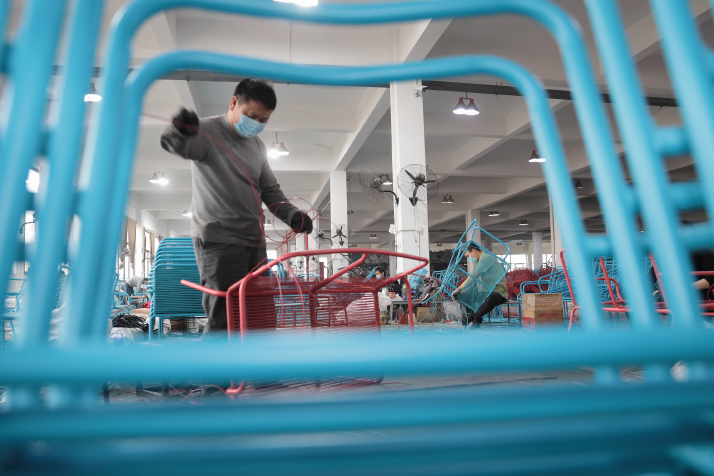 Workers of an export-oriented furniture company in Zhuji, Zhejiang Province in east China, make chairs on March 31. Due to the impact of the epidemic, the company is exploring ways to expand sales in the domestic market (XINHUA)
Electricity use, a key indicator of economic activities, shows that the Chinese economy is recovering from the impact of the novel coronavirus disease (COVID-19) epidemic. In May, total electricity consumption rose 4.6 percent year on year, an increase of 3.9 percentage points from that of the previous month, with power consumption in the manufacturing hub Guangdong Province in south China soaring 9.29 percent year on year to over 62.9 billion kWh, the first positive year-on-year monthly growth this year.
Amid continuing virus containment measures, China's economy has maintained an upward trend with major economic indicators gradually improving. As Liu Huan, a counselor with the State Council, China's cabinet, said at a briefing held by the State Council Information Office on June 11, the economy has seen recovery in the second quarter and will return to robust growth from the third quarter.
While recovery is visible, positive economic growth on a year-on-year basis is yet to come. Fu Linghui, a spokesperson of the National Bureau of Statistics (NBS), said at a press conference on June 15 that global economic recession caused by the pandemic and uncertainties surrounding the resurgence of the virus in some regions at home including Beijing are still posing challenges.
"Major economic indicators will take some time to fully recover. Instead of prioritizing GDP growth, the government needs to focus more on supporting enterprises with preferential policies to boost employment, ensure people's wellbeing and energize industrial chains," Liu said.
Driving recovery
The Chinese economy is showing positive signs after the gradual resumption of work and production in the recent months. Data released by the NBS on June 15 showed that total value added of industrial enterprises above designated size expanded 4.4 percent year on year in May, 0.5 percentage point faster compared with the previous month. Fixed assets investment in January-May contracted 6.3 percent year on year, recovering from the 10.3-percent slide in the first four months.
China's manufacturing purchasing managers' index showed a reading of 50.6 in May, marking the third straight month of manufacturing activities expansion amid the impact of the epidemic.
Among the enterprises surveyed by the NBS, 81.2 percent reached more than 80 percent of the normal production level in May. Huang Libin, a spokesperson for the Ministry of Industry and Information Technology, said at a press conference on May 20 that about 91 percent of small and medium-sized enterprises had resumed operation as of May 18 despite difficulties.
Retail sales dropped 2.8 percent year on year in May, narrowing 4.7 percentage points from the decline in April. The service production index went up by 1 percent year on year in the same month compared with a 4.5-percent decline in April, suggesting that the service sector was picking up, the NBS said.
According to Fu, the growth of the information, financial and property industries as well as the resumption of transportation and retail industries has given a significant boost to the service sector.
The economic recovery has been driven by the resumption of work and production, fiscal and monetary support policies as well as the digital economy including remote work, online education, unmanned retail and live-streaming, he said.
However, Fu stressed that many of the major economic indicators are still below the level of the corresponding period last year despite the improvement. Notably, many offline consumer industries are still facing difficulties amid lingering concerns over gatherings and close contact with people. As of early June, the proportion of enterprises in the hotel, catering and entertainment industries across China which had resumed over half of original operation was less than 60 percent. The government needs to boost employment to drive consumption and shore up financial support for enterprises to ensure sound development of the service industry.
As Wang Zhaoxing, another counselor of the State Council, said at the briefing, the government needs to enhance disposable income of people and improve product and service supplies in sectors with high demand including housing, education and elderly and medical care to unleash the potential of consumption-driven economic growth.
The government can also expand the issuance of treasury bonds and local government bonds to enhance the fiscal support for consumption, Wang said.
As Li Daokui, Director of the Center for China in the World Economy at the School of Economics and Management of Tsinghua University in Beijing, told Guangzhou Daily, automobile and property industries, which have great growth potential, can be expanded to boost domestic demand. While car purchase taxes can be reduced to boost sales, land supply for residential buildings can be increased to meet the demand for better housing.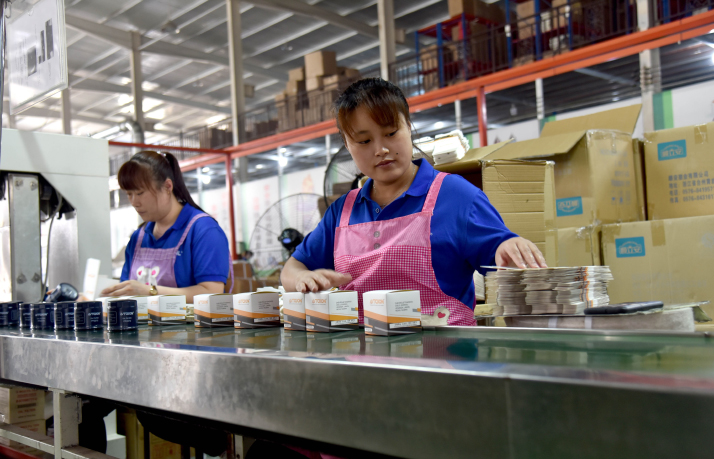 Employees work on the production line of an auto part enterprise in Weixian County, Hebei Province in north China on June 15. The local tax bureau has launched preferential policies to support enterprises since the epidemic started (XINHUA)
Policy support
To support enterprises tide over difficulties and boost the real economy, a slew of fiscal and monetary policies have been introduced. According to the government work report delivered on May 22, the government plans a 1-trillion-yuan ($141 billion) increase in fiscal deficit over 2019 and will issue 1 trillion yuan ($141 billion) of special government bonds for COVID-19 control this year. Taxes and fees will be further cut, which can save enterprises more than 2.5 trillion yuan ($348.8 billion) throughout the year.
As demand in foreign markets continues to shrink due to the pandemic, China's import and export index remains low, according to an analysis by Zhao Qinghe, a senior NBS statistician. NBS data showed that the new export order index and import index for the manufacturing sector in May were 35.3 and 45.3, respectively. "Although rising by 1.8 and 1.4 points, respectively, from the previous month, the figures were still at historically low levels," Zhao said.
Despite the easing of lockdown in some countries and regions, it will still take time for the demand to recover due to increasing uncertainties in global trade, Zhang Li, an official with the Ministry of Commerce (MOFCOM), said at a press conference on June 12.
MOFCOM pledged on June 10 to boost foreign trade businesses with targeted efforts. It will support exporters to sell their goods in the domestic market and expand imports to promote high-quality development of foreign trade.
Sound foundation
Although enterprises and self-employed businesses in China are resuming production, the pressure on the job market still remains due to the lingering effects of the epidemic. According to Fu, the number of newly created urban jobs totaled 4.6 million in January-May, down 1.37 million year on year. Key groups such as college graduates entering the job market this year may see higher unemployment.
At a press conference held after the Two Sessions this year, Premier Li Keqiang said there are still 600 million Chinese living on an average monthly income of less than 1,000 yuan ($141). The epidemic has made the lives of people in low-income groups even harder.
However, the large domestic market is an advantage for China to further economic growth, with opportunities for low-income groups to move up to the middle-income category, Fu said. Not setting a specific annual economic growth target, the government has instead outlined employment and poverty alleviation goals to achieve expected growth.
Analysts remain upbeat about China's economic performance in the second half of this year. With a strong industrial foundation, complete infrastructure systems and support policies, China can increase demand and supplies to ensure stable economic growth, Wang said.
(Print Edition Title: Sustained Rally)
Copyedited by Madhusudan Chaubey
Comments to lixiaoyang@bjreview.com