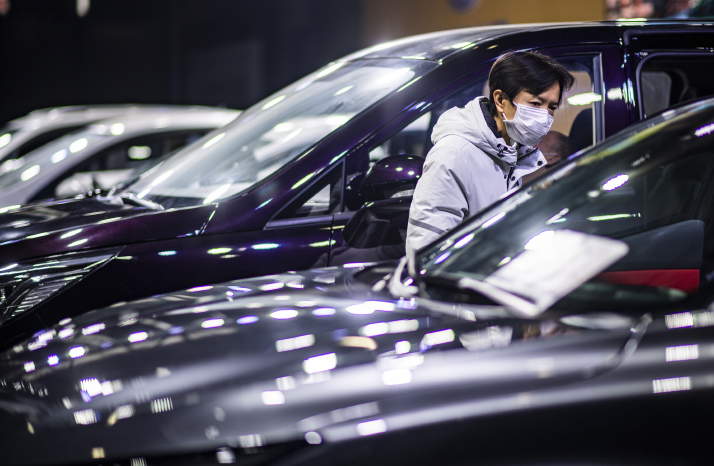 A visitor checks out a new-energy vehicle at a car sales promotional event in Kunming, Yunnan Province in southwest China, on December 4 (XINHUA)
Before Zhou Qingwen went to a chain dessert shop recently, she was not using e-vouchers to get a discount on her purchases.
At the shop, she did it for the first time when the assistant told her that if she spent more than 80 yuan ($12), she would get an e-voucher. "It seems I've missed out on a fortune," the 27-year-old exclaimed.
An office clerk in Beijing, Zhou had seen some of her colleagues use e-vouchers in the malls since June, when the first e-vouchers were issued by the local government to boost consumption hit hard by the coronavirus epidemic.
"This shopping experience taught me that I have to grab my e-vouchers at the year-end," she said.
According to online payment service Alipay, 9 million brick-and-mortar stores have their end-year promotions on the platform in December and are issuing vouchers, starting with the annual Double 12 shopping carnival on December 12.
Statistics from the platform in August showed that vouchers for over 30 billion yuan ($4.6 billion) had been issued since March, when local governments began to spur on the economy affected by the epidemic. A 1-yuan ($0.15) voucher is estimated to drive 10-yuan ($1.5) of expenditure.
"With various measures implemented, the consumption market has shown stable recovery in recent months," Vice Minister of Commerce Wang Bingnan said at a press conference on November 27. In October, retail sales of consumer goods increased by 4.3 percent year on year, achieving growth for three consecutive months.
The next stage
Apart from issuing vouchers, holding food and cultural festivals and rebuilding offline shopping scenarios, Wang said the next step will be shoring up automobile, home appliance and catering spending as well as consumption in rural areas.
The Communist Party of China (CPC) Central Committee's proposals for formulating the 14th Five-Year Plan (2021-25) as well as the long-range objectives through 2035 adopted in October underline the need to facilitate consumption in a comprehensive way, once again highlighting its importance to optimize the economic structure.
Qian Keming, another Vice Minister of Commerce, said at a recent forum that the experience of developed countries such as the U.S., UK, Japan and Germany shows that domestic demand plays an increasingly important role once an economy thrives, with consumption accounting for 50 to 90 percent of economic growth.
The past six years have seen consumer spending become the primary driver of China's economic rise. According to the National Bureau of Statistics (NBS), it contributed 57.8 percent of the GDP growth in 2019, which laid a solid foundation for dual circulation, China's new design for economic development. Proposed in May at a key meeting of the CPC, in the new strategy, the domestic market is developed as the mainstay of the economy while the domestic and foreign markets complement and reinforce each other. Therefore expanding domestic needs has become a long-term mission.
Shoppers at a duty-free store in Haikou, Hainan Province in south China, on November 10 (XINHUA)
New measures
Automobiles account for about 10 percent of China's retail sales of consumer goods. An executive meeting of the State Council on November 18 decided that automobile spending should be a pivot to boost consumption.
As part of the efforts to ease traffic congestion and address air pollution, some large and medium-sized cities have imposed limits on annual increase of vehicles. The State Council now encourages local governments to increase the quota of license plates. It also called for a new round of subsidies for rural residents to buy new vehicles.
Local governments have rolled out measures to stabilize and vitalize the market. Hubei Province in central China is an example. Hubei residents who buy locally manufactured vehicles will get a 3-percent subsidy, while subsidies on new-energy vehicles will be continued to the end of 2022. There will also be a 75-percent discount on the value-added tax for second-hand car purchases in the province.
According to the China Association of Automobile Manufacturers, China's production and sales of automobiles increased by 11 percent and 12.5 percent year on year, respectively, in October. The sales growth has stayed above 10 percent for six consecutive months.
Home appliances also have potential. Business insiders estimate that 100 million old home appliances are liable to be replaced or upgraded. Subsidies are being offered to encourage people in a favorable situation to scrap their old appliances and purchase green and intelligent ones.
"Automobile and home appliances account for a large amount of residential expenditure. Policy stimulus on these staple commodities will boost consumption," Pan Helin, Executive Director of the Digital Economy Academy of the Zhongnan University of Economics and Law, told Beijing Review. He said there has always been a demand for them, it did not disappear but was restrained by the epidemic. The new policies will help release the purchasing potential.
Pan predicts that consumption of staple goods will drive the whole industrial chain, which will empower the industries and thus increase the income of their workers.
According to the NBS, the growth rate of catering revenue turned from negative to positive in October, signaling that offline consumption is recovering.
A report of the Financial Research Center of Bank of Communications said offline sales, which have enough potential to revive, will become a key factor for the recovery of consumption, especially for service industries like catering, tourism and accommodation. But it also pointed out that the accumulated increase rate of consumption from January to October was minus 5.9 percent, making it hard to register growth for the whole year.
The rural factor
Rural residents also have the power to improve consumption. Though they account for more than a third of the population, they contribute less than one seventh of the retail sales of consumer goods.
"Unlike urban areas, large commercial facilities are inadequate in rural areas. To boost their spending vitality, it's important to facilitate logistics and build e-commerce outlets," Pan said. It's feasible to encourage greater automobile and home appliances sales in rural areas and introduce high-quality products. Besides, more polices should be rolled out to increase the sale of agricultural products and boost rural residents' income, he suggested.
According to the NBS, China's GDP totaled 99.1 trillion yuan ($15.2 trillion) in 2019 and per-capita GDP reached 70,892 yuan ($10,832). Per-capita disposable income of residents was 30,733 yuan ($4,706), accounting for 43.4 percent of per-capita GDP.
But a report issued at the China Finance 40 Forum in August said only 21,559 yuan ($3,301) of the income was translated into final consumption. So there is great potential to expand actual spending.
Han Yongwen, Vice Chairman of the China Center for International Economic Exchanges, said at a forum on China's reform on November 29 that supply-side structural reform should be advanced so that supply is in line with demand.
He said emphasis should be given to enlarging the consumption of the middle-income group, with efforts to increase their number to 40 percent of the total population from 29 percent, or 400 million, at present.
"If the target is achieved, it will contribute a lot to expanding the consumer market and enhancing economic growth," Han said.
(Print Edition Title: Putting the Wind In the Sales)
Copyedited by Sudeshna Sarkar
Comments to zhangshsh@bjreview.com