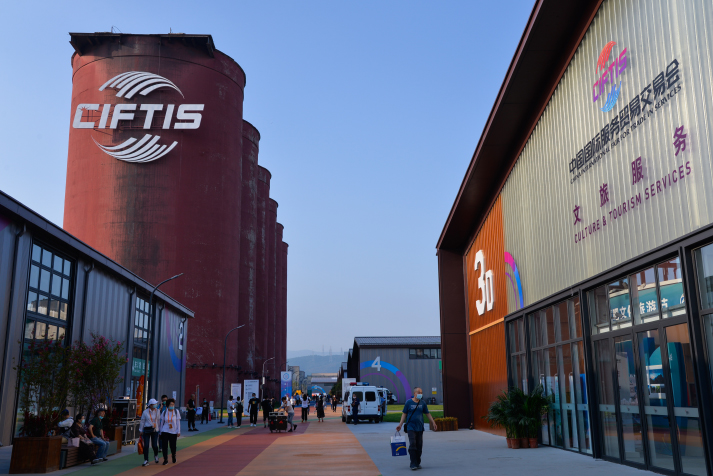 Exhibition halls of the China International Fair for Trade in Services (CIFTIS) in the Shougang Industrial Park in Beijing. The event ran from September 2 to 7 (XINHUA)
Major global financial services provider Ernst & Young (EY) was a highlight of the 2021 China International Fair for Trade in Services (CIFTIS), taking place in Beijing from September 2 to 7. Especially its China Overseas Investment Network caught great attention. The system covers around 70 countries and regions, and helps Chinese companies enter these markets through services such as feasibility analysis, risk evaluation, policy introduction and legal consulting.
"EY has provided these services to over 3,000 Chinese enterprises, launching more than 60,000 overseas investment projects over the past three years," Beatrice Lian, Public Relations Manager of EY Beijing, told Beijing Review. The company was one of the enterprises attending the digital service zone at this year's CIFTIS.
Established for the first time in 2021, the zone carried the theme Enabling a Digital Future, Driving Development With Services. CIFTIS is a major platform for trade in services in China. With an exhibition area of approximately 130,000 square meters, the 2021 edition attracted more than 10,000 enterprises from 153 countries and regions. Among them, 2,400 firms showcased their products and services offline, with the remainder making use of the fair's digital platforms. It also featured eight thematic exhibitions.
Digital trade and services such as online education, medical care and financial services for foreign trade enterprises were a major focus this year. These sectors have recently seen growing demand, especially during the COVID-19 pandemic.
As of September 7, a total of 1,672 agreements had been signed, according to its organizers.
A growing market
In contrast to merchandise trade, trade in services refers to the sale and delivery of intangible products such as transportation, tourism, telecommunications, construction, advertising, computing and accounting.
China has continuously expanded opening up in the service industry. According to a report that was released during this year's CIFTIS, in 2020, China had 21 pilot free trade zones and 31 cities where trade in services were encouraged. After the government unveiled its plan to build a digital trade demonstration zone in Beijing in 2020, it added four new pilot zones for trade in services in Hainan Province, Tianjin, Shanghai and Chongqing in April.
Data from the Ministry of Commerce (MOFCOM) showed that China's trade in services rose by 7.3 percent year on year to nearly 2.81 trillion yuan ($435.02 billion) in the first seven months of this year. The share of trade in technology-intensive services in the total service imports and exports exceeded 40 percent. In January-July, Chinese enterprises signed service outsourcing contracts worth about 976 billion yuan ($150.47 billion), up 27.8 percent year on year.
Wang Dongtang, a senior official at MOFCOM, said during a CIFTIS forum that China's digital trade, which includes services provided through online channels and technology outsourcing services, has expanded in recent years. It has seen improving digital infrastructure, legal systems on digital trade and opening up of the telecommunication sector. Chinese digital service providers have also gained growing shares of global markets.
"The CIFTIS can drive the export of China's services and expand the opening up of the service industry. To boost trade in services, more efforts will be made, including easing market access in key sectors, introducing a nationwide negative list of restrictions for cross-border trade in services and rolling out more supporting policies," Wang Bingnan, Vice Minister of Commerce, told a press conference prior to the fair.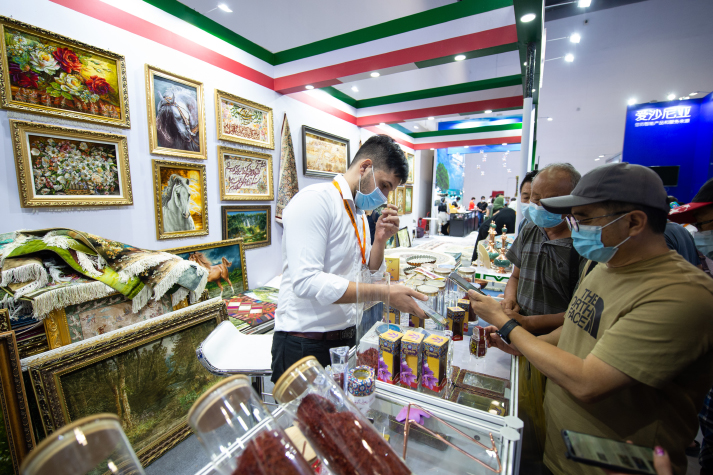 The booth of Iran at the CIFTIS 2021
(XINHUA)
Smarter and greener
As the number of Chinese enterprises in the service industry increases, many have pursued technological competitiveness and green development. At CIFTIS 2021, many homegrown enterprises presented technologies and products in the fields ranging from artificial intelligence (AI), 5G and big data to digital payment, remote sensing and smart medical treatment.
Tech companies such as Alibaba, Huawei and Baidu showcased the way in which they apply new technologies to industries such as medical care, transportation, e-commerce and manufacturing.
To support small and medium-sized enterprises engaging in cross-border business, Alibaba provides one-stop global trading solutions covering procedures including customs clearance, logistics and tax payment.
Huawei's exhibits focused on its 5G and AI technologies. Baidu gave prominence to its Apollo driverless cars, which have been licensed for road tests in most cities across China. On-demand service platform Meituan said the built-in smart devices now allows users to unlock its for-hire bikes using the mobile touch solution based on the near field communication technology adopted by the digital yuan wallet service, even when the phone is not connected to the Internet.
Many of the smart technologies focus on improving the quality of life for the elderly. For example, Baidu's AI-based voice assistant system Xiaodu can make it easier for senior people to use home appliances.
Exhibitors from the tourism and culture sector delivered experiences to visitors through virtual reality and 3D technologies.
Emerging startups also made a splash at the fair. Attending for the first time this year, Livox Technology Co., a lidar sensor company established by drone maker DJI in 2016, showcased an autonomous logistics vehicle equipped with its proprietary lidar system. "Our system can sense the external environment in a more accurate manner than other lidars, which can improve the safety and operation of driverless vehicles," Zhu Yanchen, a big data engineer at Livox, told Beijing Review. According to Zhu, the company's partners include several domestic autonomous delivery vehicle makers and electric vehicle startup Xpeng, as well as other enterprises in 20 countries and regions.
For many Chinese enterprises, green operation and production have become increasingly important, as China aims to peak its carbon dioxide emissions before 2030 and achieve carbon neutrality before 2060. At the fair, Huawei displayed its new-generation data centers that only use refrigeration facilities in summer. During other seasons, the centers use renewable power resources such as wind to cool down machines.
Beijing-based CHN-Run Super Lube Technology Development Co. Ltd. has cooperated with several domestic research institutes in the creation of an environmentally friendly graphene lubricant. As company representative Liu Shuang told Beijing Review, compared with its counterparts on the market, the company's product can form a protective coat on components that can reduce their maintenance needs and thus extend their durability, subsequently cutting carbon emissions.
During the fair, Amap, a mobility and location-based service platform, and a subsidiary of Beijing Construction Engineering Group (BCEG) signed a cooperation agreement to reduce carbon dioxide emissions by 15,000 tons. Under the deal, the first of its kind in China, users of the Amap app can obtain coupons for public transportation if they choose green methods of travel. The results are submitted by Amap to the transportation authorities for the calculation of saved emission allowances, which later can be purchased by the BCEG subsidiary.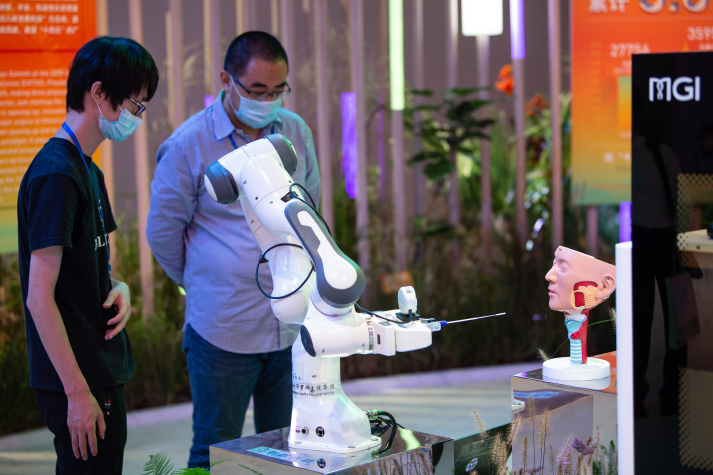 Visitors view a robot for COVID-19 nucleic acid testing at the CIFTIS 2021
(XINHUA)
Two-way exchanges
This year's CIFTIS illustrated how Chinese enterprises are going global and are widening China's gateway for international products and services.
China National Biotec Group, a subsidiary of Chinese vaccine producer Sinopharm, presented its self-developed vaccines. Sinopharm developed the world's first inactivated COVID-19 vaccines; these have been approved by the World Health Organization for emergency use.
Engineering companies are also gaining global presence at "China speed." "With subsidiaries in over 30 countries and regions, BCEG has participated in the building of the Capella Hotel, a landmark in Bangkok, Thailand, and the National Stadium in Abidjan, Côte d'Ivoire," Guo Shuangchao, vice manager of the General Contracting Department of the company, told Beijing Review.
Enterprises and organizations from over 60 countries brought distinctive goods and services to the event.
This year marks the 50th anniversary of the establishment of diplomatic relations between China and Peru. The Peruvian Embassy's booth showcased organic food made from grains and vegetables, coffee beans, and toys made from alpaca wool. Paola Rosario Gutierrez Ramos from the embassy told Beijing Review that the trade between China and Peru has become more diversified in recent years.
"Chinese enterprises operating in fields including medical facilities, mining and telecommunication services have established subsidiaries in Peru. Some of them have also participated in the building of infrastructure in Peru," she said.
Four Irish state agencies shared a booth to promote the European country's dairy products, beverages, medical technologies and university-based consulting services. China and Ireland have developed strong cooperation on trade in services, especially in education, tourism, financial service and pharmaceutical sectors. Over the past three years, trade in services between the two sides has increased by 30 percent.
"Although challenges remain when doing business in China, there are many opportunities as China is the world's largest consumer market and it's still opening up. Trade between Chinese enterprises and their European counterparts is going to increase in the coming years," Gareth Hargadon, head of the Economic Section of the Embassy of Ireland, told Beijing Review.
Irish Ambassador to China Ann Derwin said the CIFTIS shows that China is ready to drive trade in services along with other countries. "China's opening-up measures, especially those in the financial industry, are inspiring and can encourage the entrance of more foreign investors. Foreign enterprises expect a more open Chinese market with a more favorable business environment," she said.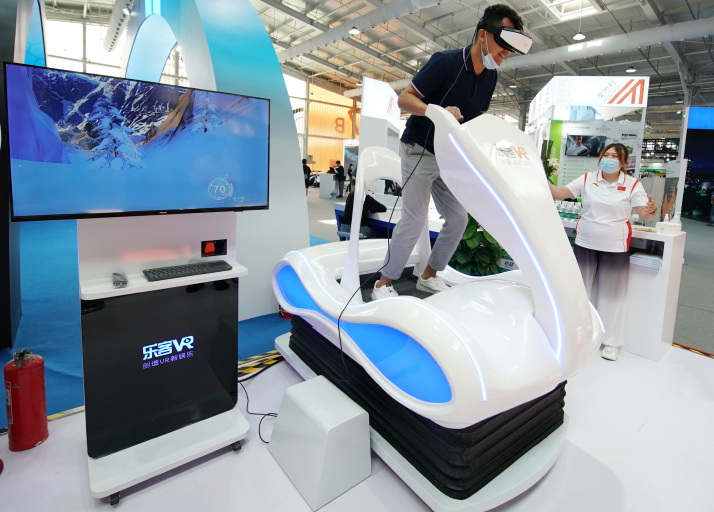 A visitor experiences a skiing game based on virtual reality technology at the CIFTIS 2021 on September 3
(XINHUA)
Unleashing potential
China's trade in services has more room for expansion than its trade in goods, Yu Miaojie, Deputy Dean of the National School of Development at Peking University, said. Currently, the service industries that have a trade surplus are mainly tourism, engineering and transportation, which feature lower added value compared with sectors such as finance and insurance.
The service industry contributed around 54 percent to China's GDP growth in 2020, lower than the global average level of 67 percent. Experts said policies for opening up the service sector are inadequate and the competitiveness of Chinese service exports have been slow to rise.
"Efforts are needed to reduce our service trade deficit through developing high value-added industries, and expanding the global presence of engineering and processing services through increasing their competitiveness. To improve opening up, a nationwide negative list for trade in services is needed," Yu told Beijing Review.
Growth potential is seen in exports of digital, traditional Chinese medicine and culture services. China's imports and exports of digital services or services through digital platforms are likely to exceed $400 billion by 2025, accounting for 50 percent of total trade in services, according to Wang Dongtang of MOFCOM.
"Nevertheless, a lot remains to be done to improve the research and development of key technologies, the training of hi-tech professionals, as well as the policies and laws on trade in digital services," he said.
(Print Edition Title: Trading Together)
Copyedited by G.P. Wilson
Comments to lixiaoyang@bjreview.com