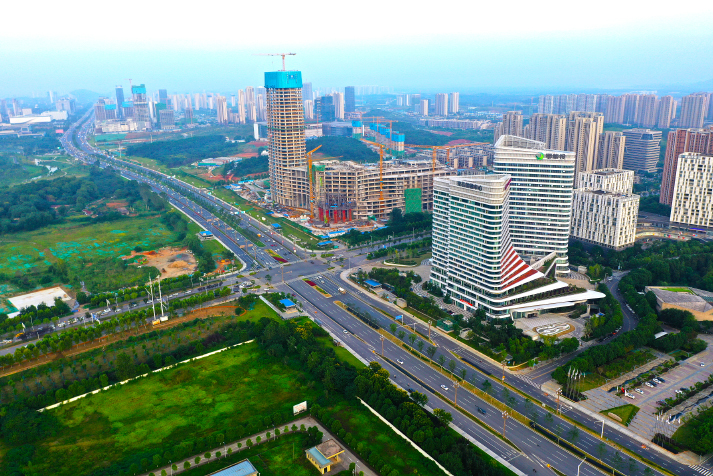 The Optics Valley hi-tech zone in Wuhan, Hubei Province, on August 29 (VCG)
At a workshop in Pingxiang, Jiangxi Province, workers pour resin into models to make wind turbine blades more than 60 meters long. With their special design, they are able to catch the air currents from all directions, turning wind energy into electricity.
"Against the backdrop of low-carbon development, we are confident about our market prospects," Wen Jingbo, Vice General Manager of the company, a subsidiary of hi-tech giant Sinoma Science and Technology Co. Ltd., said.
Pingxiang, which once relied heavily on coal and steel, has switched to emerging industries such as equipment manufacturing, electronics and environmental protection. The city's transformation illustrates the way in which central China is pursuing sustainable development as the country moves up the industrial ladder.
New guidelines released by China's central authorities in July have named 2025 and 2035 as milestones in the development of the central region. By 2025, the region will achieve breakthroughs in improving the quality, efficiency and driving forces of development, as well as establish an integrated system of science and innovation-based industries. And by 2035, it will have largely realized modernization and made substantial progress toward common prosperity.
"The guidelines also set quantitative targets in innovative, coordinated, green, open and shared development," Cong Liang, deputy head of the National Development and Reform Commission, said at a press conference on September 13.
Huge potential
Covering the provinces of Shanxi, Henan, Anhui, Hubei, Jiangxi and Hunan, the central region has continuously improved its position in China's regional development landscape over recent years. According to Cong, during the 13th Five-Year Plan (2016-20) period, its annual GDP growth averaged 8.6 percent, the highest among the country's four regional divisions, namely east, central, west and northeast. From the third quarter of 2017 to the end of 2019, the central region took the lead in GDP growth for 10 quarters in a row.
In 2020, the central provinces, which account for 10.7 percent of China's land area and 25.8 percent of its population, contributed 22 percent to the country's GDP. In the first half of this year, their GDP combined reached 11.8 trillion yuan ($1.83 trillion), up 14.7 percent year on year. The growth was 2 percentage points higher than the national average and the highest among the four regions.
"With solid economic foundations, strong momentum and huge potential, the central region is capable of assuming the tasks of fostering high-quality development in the new era," Cong said.
In 2006, the Chinese Government launched an initiative to develop the central region into a national base of grain production, energy and raw material supply, modern equipment manufacturing and hi-tech industries, as well as a comprehensive transportation hub.
"However, unbalanced and inadequate development remains a serious challenge," Cong said. For instance, the per-capita GDP of Hubei is 1.43 times that of Shanxi, and the urbanization rate of the six provinces is about 6 percentage points lower than the national average.
Cong stressed that the new guidelines aim to continuously narrow the urban-rural and regional gaps, and elevate the overall strength and competitiveness of the central provinces. He explained that these goals would be accomplished by further integrating the region into the country's major regional development strategies, advancing integrated urban-rural development, promoting urban renewal, accelerating agricultural modernization, and boosting inter-provincial cooperation.
"Promoting the common prosperity of urban and rural areas, and among different regions, and forming a new pattern of coordinated development are the next key tasks for the region," he said.
Provincial plans
Li Lecheng, Vice Governor of Hubei, said at the press conference that Hubei will implement the guidelines by accomplishing a number of goals. For instance, it will build itself into a science and technology powerhouse and create an innovation center with national influence. It will also accelerate the modernization of agriculture and transportation industries while taking the lead in green transformation.
Similarly, Anhui has been developing a province-wide system of science and technology innovation. In 2020, strategic emerging industries accounted for 40.3 percent of the total turnover of the province's leading companies, up from 22.4 percent in 2016. "In the future, Anhui will further leverage its advantages in science and technology innovation," Executive Vice Governor Deng Xiangyang said.
The July guidelines singled out two major industrial clusters along the Yangtze River—Speech Valley in Hefei, Anhui, and Optics Valley in Wuhan, Hubei.
Since 2012, more than 1,000 companies working in the fields, ranging from voice recognition chipsets to wearable devices and educational artificial intelligence (AI) systems, have set up shop in the Speech Valley.
One of these companies, iFLYTEK, a renowned AI and speech technology company, has registered strong net profit growth amid booming demand for its services. It raked in a net profit of 419 million yuan ($64.8 million) in the first half of the year, up 62 percent year on year, according to company statistics.
"The Speech Valley aims to resolve some of the most pressing technological challenges facing the country by pooling industries, capital and research personnel," said Qi Dongfeng, President of the Anhui Information Investment Co. that operates the zone.
The Optics Valley, established in 1988 with optoelectronics and healthcare as its two pillar industries, plans to increase the number of its hi-tech firms from 3,100 at the end of last year to 10,000 by 2025.
Investment in research and development is expected to account for more than 10 percent of the zone's GDP by 2025, and the number of patents held by its companies will double in the next five years.
"Hunan will become a national hub for advanced manufacturing and sci-tech innovation, and champion reform and opening up in inland areas. The city cluster of Changsha-Zhuzhou-Xiangtan will be turned into an engine for development in the central region," Executive Vice Governor Xie Jianhui said.
As a major grain producer, Henan will contribute to national food security by ensuring the annual grain output surpasses 65 billion kg, Executive Vice Governor Zhou Ji said. This constitutes approximately 10 percent of China's total grain production in 2020.
Vice Governor Wei Tao said Shanxi, a major coal producer, is accelerating its energy revolution and will carry out pilot reforms on its transition away from a natural resource-based economy.
Jiangxi will be committed to creating a modern industrial system, advancing green development and improving people's livelihoods, according to Executive Vice Governor Yin Meigen.
(Print Edition Title: Core Strength)
Copyedited by G.P. Wilson
Comments to wangjun@bjreview.com