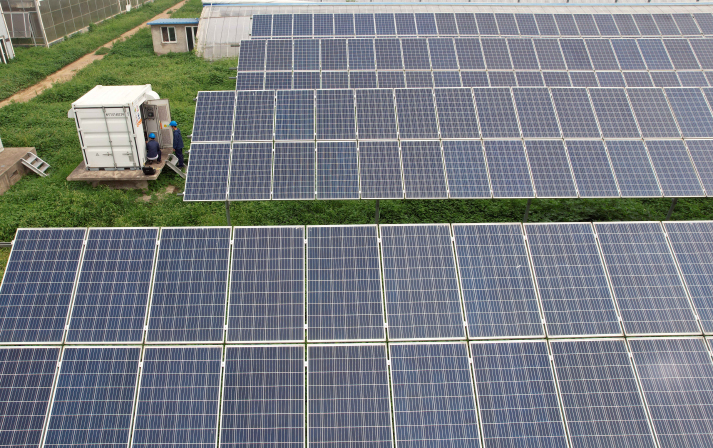 A photovoltaic power station in Xingtai, Hebei Province, on August 18 (XINHUA)
China will step up its support for other developing countries in developing green and low-carbon energy, and will not build new coal-fired power projects abroad. President Xi Jinping made the announcement at the general debate of the 76th Session of the UN General Assembly on September 21.
These new commitments once again prove that China is serious about addressing climate change, according to Shakeel Ramay, CEO of the Asian Institute of Eco-civilization Research and Development. "China doesn't only talk. It also delivers," he said to Xinhuanet News Agency.
One year ago, Xi said, while addressing the general debate of the 75th UN General Assembly, that China aims to have its carbon dioxide emissions peak before 2030 and to achieve carbon neutrality before 2060.
From then on, China has demonstrated unprecedented powers to take action, according to a report released at a webinar hosted by the Chongyang Institute for Financial Studies at Renmin University of China and China International Publishing Group (CIPG) on September 22. The report, Carbon Neutrality: China in Action, was compiled by think tanks including the Chongyang Institute and the Academy of Contemporary China and World Studies under CIPG.
Currently, more than 130 countries have set goals to reach carbon neutrality by the middle of this century. Former Slovenian President Danilo Türk said despite China being the world's largest developing country, its pledge constitutes the shortest interval between carbon peak and carbon neutrality of any commitment made by any country thus far.
Promising yet challenging
Last year, China's investment in renewable energy projects, including solar, wind and hydro power, accounted for about 57 percent of its overall energy-related investment, according to statistics compiled by the Green Belt and Road Initiative Center.
"China has been a global leader in calling for an urgent response to the extreme challenges posed by global warming," Mahbub Uz Zaman, Bangladeshi Ambassador to China, said at the webinar, adding that he hopes his country can learn more from China's practices.
He was echoed by Palitha Kohona, Sri Lankan Ambassador to China. Kohona spoke highly of China's measures to shift industry away from fossil fuels and to accelerate the electrification of transportation, saying they have made him confident China will meet its commitments.
"At the time it reaches its peak in carbon emissions, China's per-capita GDP will be lower than that of developed countries such as the U.S., European nations and Japan when they each reach their respective peaks. This will bring about a profound and far-reaching economic and social transformation that will require great efforts to manage," Xie Zhenhua, China's Special Envoy for Climate Change, told participants in the event.
Gao Anming, Vice President of CIPG, pointed out that despite the achievements China has made in its low-carbon transition, making climate targets a reality is a greater challenge.
As of late 2020, clean energy accounted for almost one fourth of China's energy consumption. During that year, China led the world in installed capacity of wind and solar energies, while carbon dioxide emissions per 10,000 yuan ($1,547) of GDP almost halved from 2005. "China is the largest manufacturing power in the world and is still in a phase of rapid growth. It's very difficult for China to reduce carbon emissions," Gao said, adding that the COVID-19 pandemic and the complex international environment both make it more challenging for China to achieve carbon neutrality.
Growing green finance
Former Australian Prime Minister Kevin Rudd said during the webinar that China has taken greater concrete action as it forges ahead to meet the climate targets. "What is especially encouraging is the development of green financing."
China has seen more financial resources funneled toward green projects as it embarks on the path of carbon neutrality, according to the report. By the end of the second quarter of this year, the balance of loans for green projects, in domestic and foreign currencies, reached 13.92 trillion yuan ($2.16 trillion), up 26.5 percent year on year. Loans for projects with the potential to result in direct and indirect reductions in carbon emissions stood at 6.79 trillion yuan ($1.05 trillion) and 2.58 trillion yuan ($400 billion), respectively. These together accounted for 67.3 percent of green loans, the report read.
Chinese financial institutions are scaling up their green finance businesses. By the end of 2020, the green loan balance of the Industrial and Commercial Bank of China, for example, had reached 1.85 trillion yuan ($290 billion).
China's national carbon market, which is the world's largest, began online trading on July 16, marking a significant step in helping the country reduce its carbon footprint and meet emission targets.
"All of these measures illustrate China's responsible approach and action taken to address the climate crisis," Rudd said. "They have also demonstrated China's leadership on climate issues, as these actions have exerted positive influence on global climate action, as well as the actions in other countries."
Time for action
A stark choice confronts the international community: to continue with business as usual and risk significant breakdown and perpetual crisis, or to make concerted efforts to break through and achieve an international system that delivers for people and planet, UN Secretary General Antonio Guterres said in a recent UN report.
The problem of global warming is at the center of this fundamental, historically important choice, Türk pointed out. "While the main measures have to be taken domestically, they should be coordinated internationally to the largest extent possible so as to create synergistic effects," he added.
China attaches great importance to international cooperation on green transformation. In June, the country and another 28 participants of the Belt and Road Initiative jointly launched the Initiative for Belt and Road Partnership on Green Development to inject new impetus into building the green Silk Road. Under the program, they will step up cooperation in such areas as green infrastructure, green energy and green finance, and develop more environment-friendly projects of high standard and high quality.
However, some major carbon emitters seem to be hesitant to act. At the UN Climate Change Conference in Copenhagen, Denmark, in 2009, wealthy countries promised that by 2020, they would provide $100 billion a year for climate change adaptation and mitigation projects in the world's poorest nations.
The latest report from the Organization for Economic Cooperation and Development showed that these wealthy nations mobilized $80 billion in climate financing in 2019, but much of it was in the form of loans. The U.S. had the biggest shortfall among 23 countries, fulfilling just 4 percent of its $43-billion promise, it said.
In her State of the Union address on September 15, European Commission President Ursula von der Leyen said the EU had delivered on its commitment by contributing $25 billion a year.
"But we expect the U.S. and our partners to step up, too," she said.
(Print Edition Title: Honoring Promises)
Copyedited by G.P. Wilson
Comments to mamm@bjreview.com