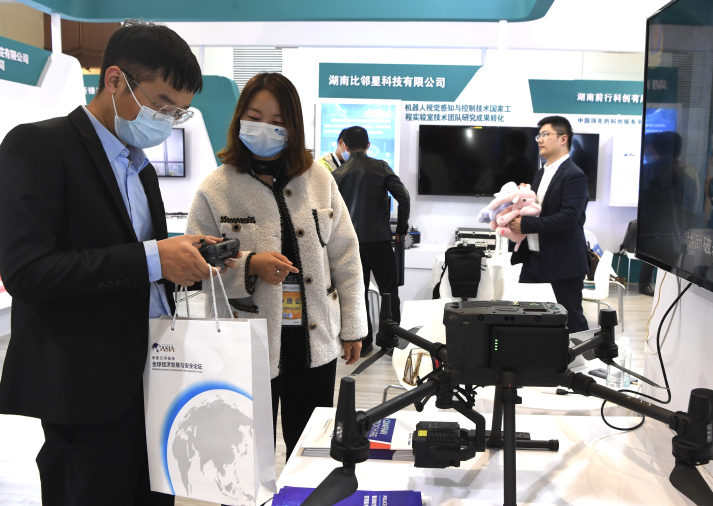 A drone on display at an exhibition during the First Global Economic Development and Security Forum of the Boao Forum for Asia in Changsha, Hunan Province, on October 20 (COURTESY PHOTO)
'Competition, yes. Enemies, no." This was how Carlos Gutierrez, former U.S. Secretary of Commerce, characterized relations between the world's two largest economies during the First Global Economic Development and Security Forum (GEDS) of the Boao Forum for Asia (BFA), which took place in Changsha, Hunan Province, on October 18-20.
In a video speech, Gutierrez expressed his concerns about the recent deterioration. "Technology competition seems to have expanded beyond just the commercial leaders, and supply chains built over many years are not functioning," he said.
However, it is his hope that the U.S. and China can solve their problems through dialogue. "Because we have done better in the past. Talking, listening, arguing, but always with the goal of fixing the problem, always with the goal of understanding and minimizing impact. We have also learned that we can coexist in an environment of mutual respect."
China-U.S. relations are just one of the many hot topics for debate at the three-day event that featured 22 sub-forums and drew more than 2,600 participants onsite and online.
"The theme of the conference, Economic Security and Sustainable Development in a Changing World, covers a broad range of questions to which we all are trying to find answers," Ville Skinnari, Finland's Minister for Development Cooperation and Foreign Trade, said in his video remarks.
Economy, security and beyond
Ban Ki-moon, former UN Secretary General and Chairman of the BFA, quoted Chinese President Xi Jinping in his opening remarks, "Security is a prerequisite for development, whereas development safeguards security."
Ban said he believes that GEDS explores the right balance, interdependence and interplay of development and security. "Doing a good job on two fronts and along two parallel lines is the key to the sustainable future of us all," he continued. "The call to action, solidarity and multilateralism has been echoed, loud and clear, in this part of the world and at this conference."
The BFA announced back in 2019 its plans to host a forum on global economic development and security. However, due to the outbreak of COVID-19, organizers had to postpone the inaugural event. "But it also reinforces the necessity of establishing this international platform," BFA Secretary General Li Baodong said at a news conference.
Focusing on economic and non-traditional security issues in fields such as climate, food, finance, cybersecurity and supply chains, the GEDS established the goal of building a major international forum and dialogue platform for finding solutions, and galvanizing joint action to deal with global challenges.
"This forum explores many aspects of security. In the face of great uncertainty, I believe we must prioritize human security above all else," Filippo Grandi, UN High Commissioner for Refugees, said. He emphasized that human security cannot be achieved by UN agencies alone, but needs governments, businesses, civil societies and local communities to share their expertise and resources.
Pooled wisdom
Eco-security and carbon neutrality have become common global concerns in recent years. The closely related topics also made up one of the sub-forum themes. Chinese business representatives shared their views and suggestions on the development of green energy at the session.
Li Yilun, General Manager of China General Nuclear Power Corp. (CGN), said China would completely revolutionize its power generation sector in the coming decades. "This year, the government proposed the building of a new energy system with green fuel at its core. It means that the future energy structure of China will rely more on nuclear, wind and photovoltaic power," he said.
According to Li, CGN had produced about 263 billion kWh of clean and green electricity by 2020, equivalent to more than 803 billion tons of carbon dioxide reduction.
Zhang Yue, Chairman and CEO of BROAD Group, suggested the construction industry pay closer attention to building insulation. "More than 5 billion square meters of buildings are built globally every year. If these buildings are not well insulated, the cooling and heating systems will generate a lot of carbon emissions over the next few decades," he explained. Zhang said his company has developed sustainable technologies to solve this problem, and called for greater industry-wide efforts to improve related standards and policies.
It is widely acknowledged that the current international economic governance is unable to keep up with economic globalization, and that this may partly explain the instability and uncertainty currently plaguing the world economy, especially after the outbreak of COVID-19. At another GEDS sub-forum, experts proposed possible solutions.
Michele Geraci, former Undersecretary of State at the Italian Ministry of Economic Development, likened strong government intervention to the role of a director in a movie production, saying it could help economies better weather crises.
BRICS New Development Bank (NDB) President Marcos Troyjo stressed that the traditional system has to be modernized, and new players are taking on important roles and providing important services in the global economy. These include the NDB and the Asian Infrastructure Investment Bank, which, since their founding, have been working to promote the development of infrastructure and other production facilities in developing countries and regions.
More than words
The GEDS also hosted a 5,000-square-meter exhibition featuring breakthroughs made by participating organizations. More than 40 enterprises, including BROAD Group and CRRC, the Beijing-based world's largest supplier of rail transit equipment, showcased their latest technologies and research results for boosting food, globalization and energy security.
GDU-Tech Co. Ltd. in Shenzhen, Guangdong Province in south China, specializes in the research, development, and manufacturing of industrial drones. Energy safety is one of the company's focuses and it has developed technologies including a photovoltaic inspection system, which uses infrared imaging to assist in the daily inspection of photovoltaic enterprises. "Efficiency can be increased by at least three times compared with the traditional, manual methods," Gerry Che, Marketing Manager of the company, told Beijing Review.
He added that the company also provides solutions for environmental safety and rescue technologies for emergencies and natural disasters. "GEDS provides a premium platform. Some visitors showed an interest in our products and we have established contact with them," he said.
In support of environmental sustainability efforts, GEDS organizers implemented a zero waste plan from the preparatory stage, and followed waste reduction and recycling protocols throughout the sessions. All participants received a backpack made from recycled beverage bottles when they registered. The same technology was also applied to the T-shirts worn by the forum's 300 university student volunteers.
"This T-shirt is very comfortable and light to wear. I will keep it and wear it afterward," volunteer Li Xinnuo said. "Environmental protection needs to become a common concern of the whole world, and we will take action in daily life to support recycling and the use of renewable resources."
(Reporting from Changsha, Hunan Province)
(Print Edition Title: Global Security Drives Common Development)
Copyedited by G.P. Wilson
Comments to zhaowei@bjreview.com