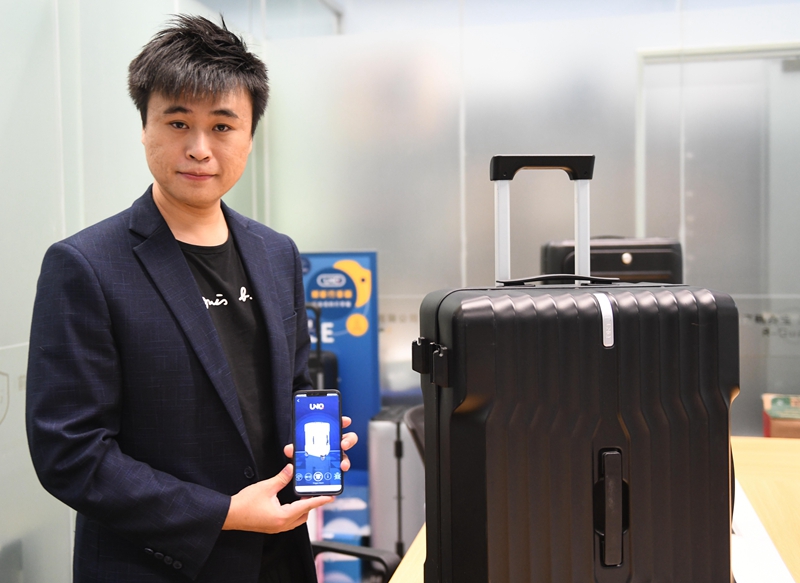 Kwok Wai Keung shows a smart suitcase of his company R-Guardian in Shenzhen, Guangdong Province, on September 10, 2020 (XINHUA)
For entrepreneurs and innovators, the Qianhai Shenzhen-Hong Kong Modern Service Industry Cooperation Zone in Shenzhen, Guangdong Province, has been a magnet in recent years. Kwok Wai Keung, a Hong Kong resident born in 1990, is one of those attracted to the zone, where he has now achieved his entrepreneurial dreams.
"The complete industrial chains and supportive measures in Qianhai are quite appealing. The cooperation between Shenzhen and Hong Kong has also allowed us to enjoy the preferential policies of both places," Kwok, who is co-founder of R-Guardian, a smart device startup, told Beijing Review. In October 2016, his team established operations in the Shenzhen-Hong Kong Youth Innovation and Entrepreneur Hub in Qianhai.
Following the establishment of the zone in 2010, the hub was launched in 2013. As of June 2021, it had incubated 524 startups, of which 245 were established by people from Hong Kong. Over 11,000 Hong Kong-funded enterprises are now registered in Qianhai. Last year, the central authorities unveiled new development plans for Qianhai and Hengqin, an island in nearby Zhuhai City, to further boost development in the Guangdong-Hong Kong-Macao Greater Bay Area (GBA).
Majoring in information engineering, Kwok graduated from the Chinese University of Hong Kong in 2015. While studying for his master's degree, Kwok established his own business based around smart suitcases--his creation for an undergraduate project. These suitcases are now one of his company's major products.
"The location of R-Guardian smart suitcases can be traced on a smartphone app. They can also be unlocked using fingerprint technology and also display their own packed weights," Kwok said, adding that the company has also developed mobile chargers and smart bags.
R-Guardian has obtained 12 patents. The company also has partnerships with more than 10 bag and suitcase brands from China and abroad and sells its products around the world. Its estimated market valuation exceeds 100 million yuan ($15 million).
Kwok and his team members first established the company in Hong Kong, but soon found its supply chain restraints and financing difficulties were hard to overcome there. They decided to move to Qianhai in order to expand the business.
"In Qianhai, we can access funds and enjoy reduced office and housing rental prices as well as lower taxes. Government departments aiming to promote entrepreneurship have also provided sound business registration and taxation services and established an effective regulatory framework," Kwok said.
The company is riding the tide of smart technology and domestic demand. According to Kwok, in some circumstances such as in moving vehicles, the suitcases' warning signals of being stolen can be inaccurate and his team is working on creating a solution. Also, as people may not charge their suitcases every day, the team is working on enhancing the battery life of its products.
"From my point of view, the economy of the GBA has developed rapidly, and people's consumption power has increased. Where once the major demand was for simple items, demand now is for high-end and more diverse products, which is bringing great opportunities," he said.
According to Kwok, COVID-19 has had an impact on R-Guardian's supply chains in recent months, pushing the company to look for backup suppliers in other cities.
"The GBA cities have been making the most of their respective advantages to drive complementary development. We have planned supply and assembly centers in Huizhou and Dongguan which are among the nine cities in the GBA as alternative bases of Shenzhen. With our production base in the bay area, our company is planning to cover more of domestic market," he said.
Copyedited by G.P. Wilson
Comments to lixiaoyang@cicgamericas.com