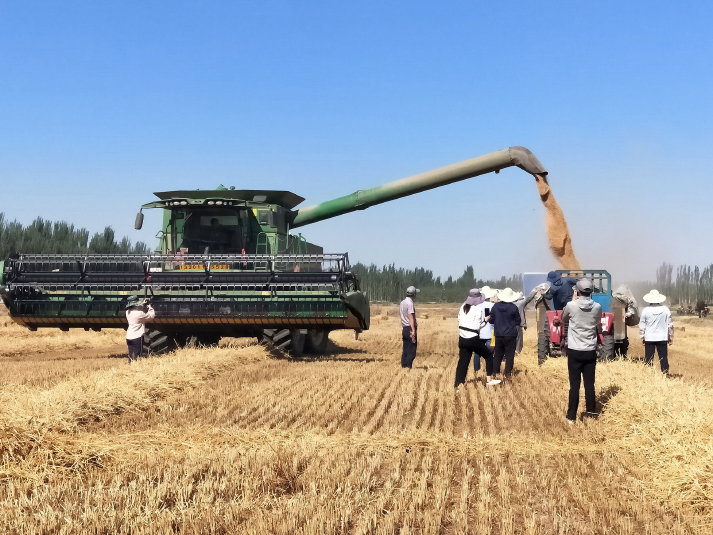 Wheat is harvested in a test field of the Xinjiang Academy of Agricultural Sciences in Urumqi, capital city of northwest China's Xinjiang Uygur Autonomous Region, on June 29 (XINHUA)
Every summer, ripe wheat ripples across large stretches of fields on the North China Plain, a major crop producing area, painting the landscape a mellow yellow and filling farmers' hearts with joy.
Liu Weike, a 37-year-old farmer in Nanhe County of north China's Hebei Province, told the media in mid-June that the wheat yield of his and his neighbors' fields in the first half of the year was higher than that of the same period last year.
Across the country, the yield of summer crops is also pleasing. The National Bureau of Statistics (NBS) announced on July 15 that in the first half of 2019, the overall output of summer grains was 141.74 million tons, up 2.1 percent, hitting the highest record equal to that of 2017.
This is heartening news for China, a country that has only 7 percent of the world's arable land yet about 22 percent of the global population.
China has successfully solved the food problem for its nearly 1.4 billion people, and moreover, Chinese people have basically realized the transformation from having enough food to having quality food, said Guang Defu, a spokesperson for the Ministry of Agriculture and Rural Affairs (MARA), at a press conference on June 26.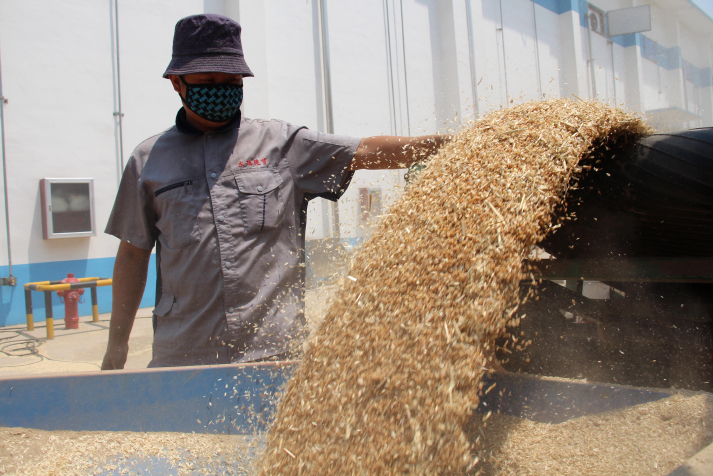 A worker inspects wheat in a warehouse in Binzhou City of Shandong Province on June 14 (XINHUA)
Higher quantity and quality
Summer grains mainly refer to wheat and early rice. The growth in total summer grain output has been achieved by an increase in yield per hectare, while the total sown area has decreased, said Huang Bingxin, a senior statistician with the NBS. The output of wheat increased by 225 kg per hectare in provinces such as Shandong, Henan, Anhui and Jiangsu, he said.
Meanwhile, the total sown area of summer grains dropped by 1.3 percent from last year, Huang said, explaining that this drop was mainly caused by agricultural supply-side structural reform carried out in recent years. Under this reform, grain-producing fields have been reduced due to a shift in production to cash crops such as rapeseed and vegetables or fallow tillage and field rotation in areas with a high incidence of crop diseases such as scab and stripe rusts and in areas where groundwater is over-exploited such as the North China Plain, he said.
Despite a mild decline in total sown area, the total summer grain yield has increased, while more high-quality wheat has been sown, he said, noting that the main reason for the increase in summer grain production per unit of area in the first half of the year was favorable weather and relatively light damage from disasters.
Liu said that he grew a new variety of high gluten rice, which recorded a yield of 8,250 kg per hectare this summer and can bring 3,300 yuan ($480) more per hectare than regular wheat varieties.
Data from the National Disaster Reduction Commission showed that in the first half of the year, the area suffering partial or total loss of crops due to disasters was down by 45 percent and 56 percent, respectively, year on year, and the incidence of pests and diseases was also lower because of good weather conditions and effective disaster prevention and control measures.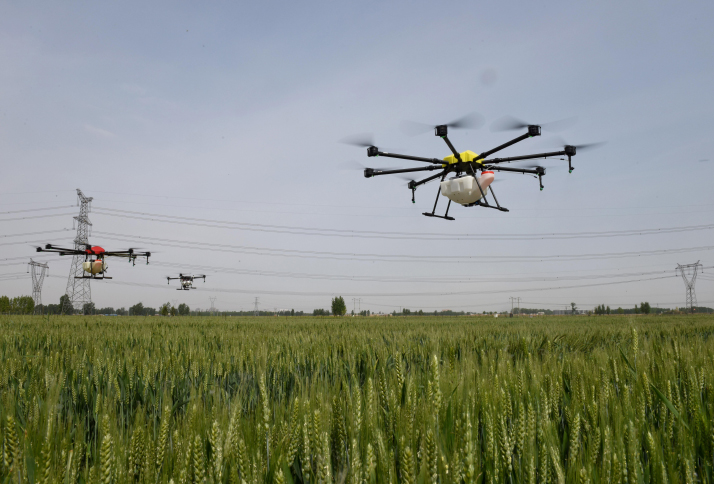 Drones spray pesticide on a field in Nanhe County, Hebei Province, on May 15 (XINHUA)
Grain security
Although summer grain output accounts for about one quarter of China's total grain output, the harvest of summer grains is important for the country's grain security since wheat and rice are Chinese staples.
"The success of summer grains lays the foundation for a grain bumper harvest throughout the year, which is conducive to ensuring grain supply, stabilizing prices, improving people's livelihood and boosting confidence," said Han Changfu, Minister of Agriculture and Rural Affairs, during his visit to major summer grain production areas in June. "With grain in hand, people will not panic," he said.
So far, China has realized 95 percent self-sufficiency in grains and 100 percent self-sufficiency in grain for human consumption, said Zhang Yong, Vice Minister of the National Development and Reform Commission, in May at a meeting of the National Committee of the Chinese People's Political Consultative Conference, China's top political advisory body. He said that currently, China's per-capita grain possession is 480 kg per year, 37 percent higher than the world average.
China has taken measures to boost agricultural production since the launch of reform and opening up. Nonetheless, urbanization has been accompanied by the migration of rural labor to cities and loss of farmland to industrialization and commercial property development.
To guarantee grain security, China has set a "red line," or bottom line, of 120 million hectares of cultivated land. "We have adopted special conservation mechanisms to ensure that quantity and quality are not reduced," said Guang at the press conference in June.
The country has also improved agricultural efficiency and output by developing agricultural science and technology. Currently, the contribution rate of science and technology progress to agricultural growth in China is at 58.3 percent; new crop varieties have been planted on a large scale; and the mechanization rate of crop cultivation and harvest has exceeded 68 percent, Guang said.
Moreover, food sources have been diversified to ensure food security. China has vast areas of mountains, woodlands, grasslands and oceans and rich bio-resources, and farmers have been guided to tap these resources to diversify their crop choices, he said.
To stabilize grain production, China has also implemented a minimum grain purchase price policy. Under the policy, if the market price of a grain falls below the government-set minimum grain purchase price, the government will entrust qualified food corporations to buy the grain at the minimum grain purchase price. The policy was implemented for rice in 2004 and for wheat in 2006.
Although bumper harvests have been achieved in recent years, grain supply in China is still tight and structural problems are still salient, Zhang pointed out. For instance, domestic soybean supply falls far behind demand, and 80 percent of soybean consumption is met through importation. Meanwhile, grain production costs remain high, making domestic producers less competitive on the international market.
Since 2005, China has turned into a net importer of agricultural products, Zhang said. Given China's national conditions, it has a comparative disadvantage in producing land-intensive agricultural products. Hence, 100 percent self-sufficiency in agricultural products will come at a high economic and environmental cost, he said. So, while China will mainly depend on domestic production, it will also make good use of the international market and step up international cooperation.
Ready for autumn
After summer grains are harvested, farmers will focus on autumn grains, which account for about three quarters of the annual total, said Pan Wenbo, Director of the MARA farming supervision department, at the press conference in June.
Autumn grains such as maize and soybean were planted in the spring and summer, and due to plenty of rainfall, these crops are doing well so far, he said.
A soybean revitalization policy was initiated in this year's No.1 Central Document. Pan said that the policy aims to expand soybean acreage to about 9.3 million hectares in 2020 and increase yield per hectare and soybean quality, adding that the total soybean growing area in China has increased for four consecutive years.
Data released by the General Administration of Customs showed that in 2018, China's import of soybean dropped by 7.6 percent year on year, while the total import of grains and grain powder went down by 20 percent. As soybean imports from the U.S. plummeted, those from other countries such as Brazil surged.
Although there are still uncertainties ahead for the upcoming autumn grain production, such as the threat of disasters, a good start has been made, Pan concluded.
Copyedited by Rebeca Toledo
Comments to wanghairong@bjreview.com