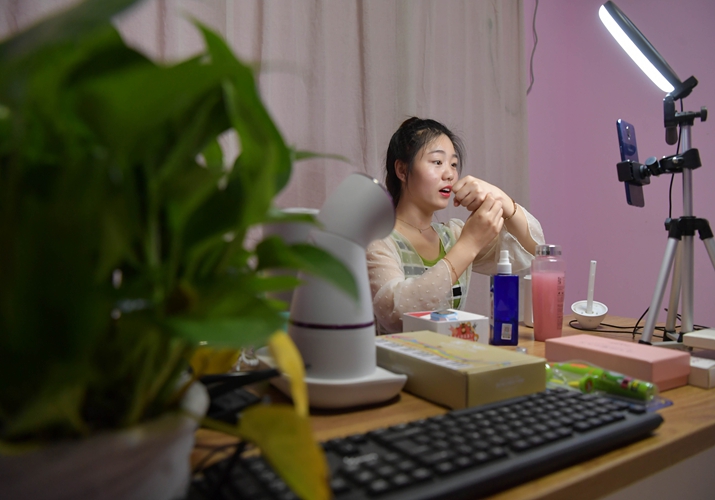 An anchor sells cosmetics through live-streaming promotion at an e-commerce logistics park in Nanchang, Jiangxi Province in east China, on May 3 (XINHUA)
The cosmetics market in China has maintained rapid growth in spite of the impact of COVID-19. An online live-streaming promotion can sell products worth tens of millions of yuan. However, new trends must be taken into account for the industry to achieve robust growth.
The younger generation is becoming the main consumer force of this industry, with their burgeoning demand for higher quality and healthier products. Also, they like choosing products based on their own preferences rather than being influenced by branding strategies.
For example, when buying a skin care product, they try it out before buying, check out other buyers' comments, and study its ingredients. Statistics show that consumers tend to choose products with natural ingredients or plant extracts, which are healthier than chemicals.
The Chinese Government has put in place regulatory measures that clarify enterprises' responsibility for the quality and safety of the cosmetics they make and sell. The enterprises have begun to add tracing codes on products so that a prospective buyer can find out more about the production process.
China is the world's second largest cosmetics market with retail sales reaching 299.2 billion yuan ($44.76 billion) in 2019. The cosmetics industry should devote time to improving the quality and safety of its products to meet buyers' growing expectations.
This is an edited excerpt of an article originally published in People.com.cn on October 16
(Print Edition Title: Cosmetics Consumption)