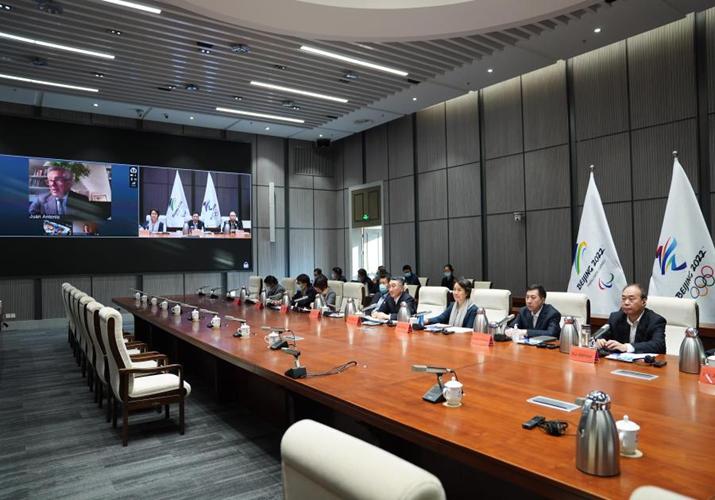 International Olympic Committee (IOC) Coordination Commission chair Juan Antonio Samaranch (on the screen, L) addresses the virtual International Olympic Committee - International Paralympic Committee (IPC) Project Review for Beijing 2022 Olympic and Paralympic Winter Games on November 19(XINHUA)
International test events for the 2022 Winter Olympic and Paralympic Games in Beijing are set to be replaced by an adapted testing program because of the COVID-19 pandemic.
As global travel restrictions are largely likely to remain for the coming months, Beijing 2022 organizers have decided to cancel a series of test events that had been planned for the first quarter of next year.
The four parties involved are the Beijing 2022 organizing committee (BOCOG), the Winter Olympic International Federations, the International Olympic Committee (IOC) and the International Paralympic Committee (IPC).
"It doesn't mean that there will be no tests for our venues and games operation," a top BOCOG official told Xinhua. "We now enter into discussions with each international federation to determine the details of the adapted testing program, in liaison with the IOC and the IPC."
It is understood that facilities and services will be put through their paces, but not necessarily in an international competition format.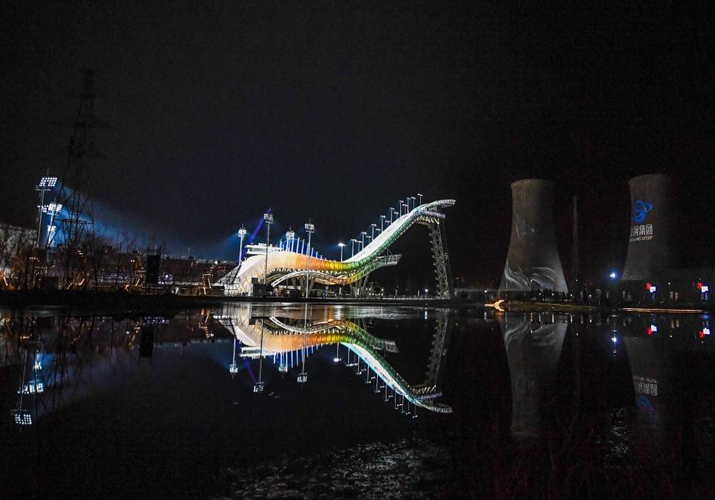 Photo taken on December 14, 2019 shows the Shougang ski jumping platform in Beijing(XINHUA)
Adapting to changes
A COVID-19 countermeasures working group has been set up for Beijing 2022, following a virtual joint project review by the IOC, IPC and the Beijing 2022 organizing committee.
"Acknowledging the difficulties experienced this year, the progress being made by Beijing 2022 has been remarkable," IOC Coordination Commission chairman Juan Antonio Samaranch said during the review meeting.
"This has been reflected through positive feedback from several international federations that have visited Beijing in recent weeks."
"There will be challenges ahead, however, which is why - through, for example, the COVID-19 countermeasure working group - we are fully preparing for all eventualities," he added.
By Tuesday, the International Skating Union, the International Biathlon Union (ISU), the World Curling Federation (WCF), the International Ice Hockey Federation (IIHF) and the International Ski Federation (ISF) had revised their calendar for the 2020-21 season with multiple events originally scheduled in China either postponed or canceled.
"With more possible changes to come, BOCOG is keeping close communications with the international federations to figure out, case-by-case, suitable testing programs for each discipline that is safe under the current COVID-19 situation," BOCOG said.
According to BOCOG, the Chinese government has coordinated resources at a national level and established a health coordination group for Beijing 2022, an epidemic prevention and control task force and an expert panel to work on COVID-19 countermeasures.
"We strive to overcome various difficulties and have made solid progress. In the coming days, facing the new situation and challenges, cooperation among all parties will be even further strengthened, thus laying a solid foundation for a successful Beijing 2022 Games," said BOCOG executive Vice President Zhang Jiandong.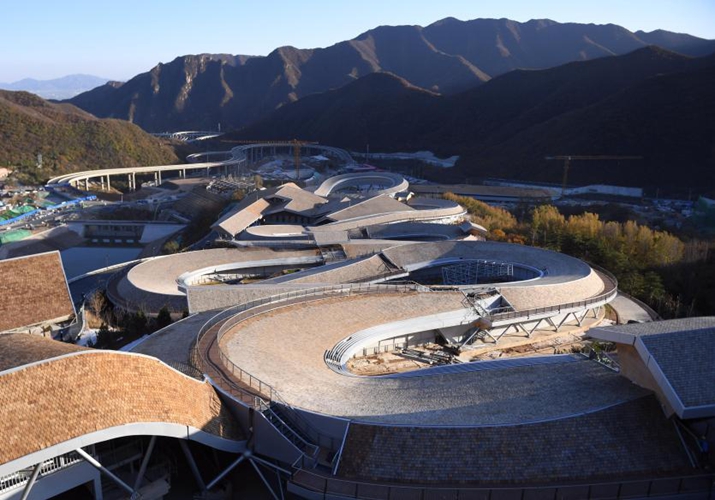 Photo taken on October 18 shows the National Sliding Center in Yanqing Zone for the 2022 Winter Olympics(XINHUA)
Progress through difficulty
Despite the pandemic, Beijing 2022 reported that construction of competition venues remained on track to be completed by the end of this year.
The progress was confirmed following a number of recent visits to the venues by international federations, including the International Bobsleigh and Skeleton Federation, the International Luge Federation, the International Biathlon Union, the World Curling Federation, the International Skating Union and the International Ski Federation.
A highlight was the successful pre-homologation test runs of the National Sliding Center, which will host the bobsleigh, skeleton and luge competitions during the 2022 Winter Games. Test runs were carried out by the Chinese bobsleigh and skeleton teams, as well as luge athletes from overseas.
"We have seen an excellently-prepared track and were impressed by the smooth and perfectly-organized event which was held under strict hygiene measurements due to the COVID-19 pandemic. This was definitely the most impressive pre-homologation we have seen," IBSF President Ivo Ferriani said after his technical inspection.
"I want to thank the Beijing 2022 organizing committee for the outstanding work they have done so far. Additionally, huge thanks to the Chinese national athletes and their coaches for conducting the test runs," he added.
Stretching 1.9 kilometers, the tracks are the first ever in China and the third in Asia for the sport.
The National Speed Skating Oval, the National Alpine Ski Center and the National Ski Jumping Center also impressed officials and experts of the relevant international federations.
"It was truly impressive to see the jumping hill and cross-country stadium in their finished shape and form. We are currently having productive meetings with the local organizing committee which will benefit us greatly for the test events and Olympic Games to come," said Nordic Combined Race Director Lasse Ottesen.
Beijing 2022 also released the seventh edition of its competition schedule last week after approval by the IOC. Curling's mixed doubles will be the Games' first event of 109 across 15 disciplines in seven sports.
A milestone in media operation was reached earlier in October when the virtual World Press Briefing (WPB) for Beijing 2022 welcomed over 400 representatives. With on-site visit impossible, BOCOG combined panorama pictures and 3D simulation display to enable the participants to have a "real" venue tour.
"I think BOCOG did an amazing job under the circumstances. We are very much looking forward to visiting at some point before the games," said Michael Heiman, Vice President of Global Editorial Operations of Getty Images.
Photo taken on January 2 shows students participating in the Olympic winter camp play at the National Stadium, or the Bird's Nest, in Beijing(XINHUA)
Making vision a reality
Although last winter season was seriously hit by the pandemic, sports events are returning to normal amid China's stringent epidemic prevention and control measures.
Earlier this month, the Cup of China ISU Grand Prix of Figure Skating was held in Chongqing, which not only provided event operation experience for other ice competitions, but also helped promote the winter sport in the southwest Chinese city.
With some 400 days to go before Beijing 2022 opens on February 4, 2022, the vision to engage 300 million people across China in winter sports is gradually becoming reality.
In Chongli, which will host six disciplines during the 2022 Winter Olympics, the ski resorts have been open to the public since mid-October, and a large number of ski enthusiasts have poured in to share the fun of ice and snow sports.
Zhao Qiong, a marketing manager of the Chongli Secret Garden ski resort, told Xinhua he was "totally astonished by the significant boost of income" during this year's "Double 11" online shopping festival on November 11.
In Zhao's estimation, two million RMB ($308,000) in sales income would have satisfied him. However, he saw the amount quickly exceed this, finally climbing over 9.4 million RMB ($1.45 million), representing a year-on-year increase of 815 percent.
Just like the Secret Garden resort, many other companies from the ski industry joined China's annual Singles' Day shopping festival - so called because November 11 represents four single 1's - and profited from the growing interest in winter sports.
According to data from Alibaba's e-commerce platform Tmall, overall sales income of ski equipment increased 100 percent during this year's "Double 11" compared with 2019, among which ski boots marked the most significant boost of 556 percent. Winter sports-related tourism products also enjoyed year-on-year growth of 110 percent.
"The Olympic spirit encourages young people and much of the general public to participate in sport. We just want to let more people love winter sports and enjoy the Winter Olympics," said Yang Yang, China's first Winter Games gold medalist.