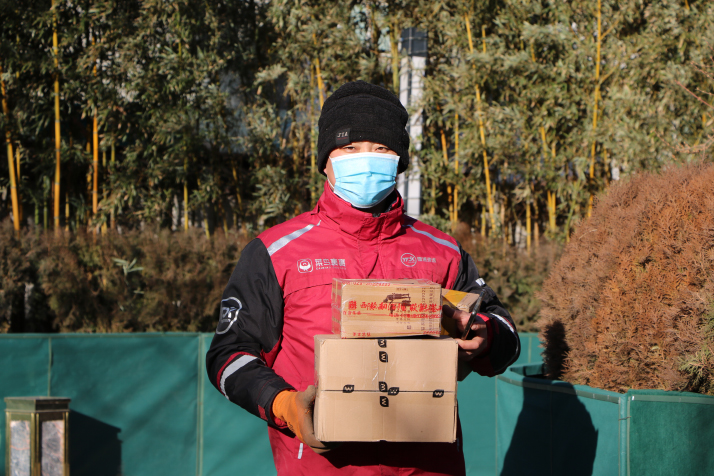 Yang Lianfu carries packages for delivery on January 28 (LI KAIZHI)
After riding an electric tricycle to an office building and putting his packages in order, 39-year-old Yang Lianfu began to call the customers. Within minutes, all the customers in the block had been informed about their deliveries.
"To improve the efficiency of delivery, I have to race against the clock," Yang told Beijing Review on January 28. As a courier for the Beijing Financial Street branch of YTO Express, a Shanghai-based enterprise, he shuttles through the skyscrapers every day to deliver parcels in the neighborhood.
This year, most of the non-local staff working in Beijing will not travel back to their hometowns for the Spring Festival holiday to avoid non-essential travels. This is likely to increase the workload of the delivery personnel.
Like many people, Yang will not go back this year. "Because of the demand, we have to beef up the service. Today, the number of express deliveries in our branch can exceed 10,000 pieces, and I can deliver more than 250 pieces," Yang said.
Yang has worked in express delivery for about 10 years after coming to Beijing in 2011. He and his wife moved to Beijing together. "She works in the customer service department of my company," Yang said.
Yang has already become a veteran in his branch. "The job is relatively flexible," he said. However, young people usually do not stay long on the job while older people are not suitable because of the hard work—only middle-aged people can do it.
"I need to walk 30,000 to 40,000 steps a day, and in some old buildings with no elevators, more than 100 pieces of packages per day have to be delivered to people living on the fifth or sixth floor," Yang said.
He makes at least two trips a day to the local distribution station to pick up packages. He has delivered so many packages in the neighborhood that the faces of some customers have become familiar.
In the service industry, which requires dealing with all kinds of people, it is inevitable for Yang to encounter some customers who are fussy and don't care about the feelings of the delivery personnel. However, according to him, most people are kind and understand their difficulties. "I still remember last summer I delivered a package to an old apartment on the fifth floor, and an elderly couple offered a bottle of water from their fridge and insisted that I take it. I can never forget their kind faces," Yang said.
In March 2020, Beijing issued measures to ensure orderly resumption of work by express enterprises and made sure that couriers could deliver packages to communities without coming into direct contact with customers by setting up intelligent express lockers and other contactless distribution facilities.
Yang's company has strictly implemented epidemic prevention and control measures for its employees, and prepared anti-virus materials for the frontline delivery staff, including masks, disinfectants and hand sanitizers.
"In the distribution station, disinfectant is sprayed on all surfaces and packages at least twice a day. When the epidemic was at its peak, we carried disinfectant with us and sprayed it on a package before picking it up," Yang recalled.
On January 17, Yang received a vaccine shot for the novel coronavirus disease. "The government of Xicheng District where I work and live organized vaccination for nine types of high-risk personnel including couriers and catering personnel," Yang said.
As for not being able to go back home for the Spring Festival, Yang said his family members understand the situation. "I transferred some money and my wife sent some packaged food as gift for my family. We plan to call our family on the New Year's Eve via video," he said.
(Print Edition Title: DELIVERING HAPPINESS)
Copyedited by Madhusudan Chaubey
Comments to wanghairong@bjreview.com