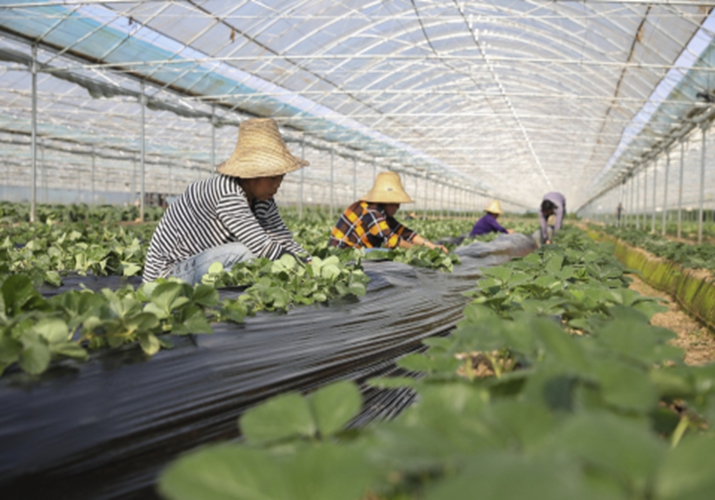 Local workers install mulch films inside a vegetable greenhouse at a vegetable planting demonstration base in Lixian county in northwest China's Gansu province on October 12, 2019. The greenhouse offers many job opportunities to the nearby locals (XINHUA)
Tucked away in the mountains of northwest China's Gansu province, Lixian county, known as the cradle of the State of Qin (dating back to 770 B.C.), is considered to have a rich cultural and historical background but is lacking economically.
Rather than constituting a delightful landscape to appreciate, the precipitous hills and deep ravines that cover over 90 percent of the county instead seem to create barriers for the villagers to gain a sense of happiness and fulfillment.
In 2013, 154,100 residents in Lixian county, 32.3 percent of the total population, were registered as living below the poverty line, making the county one of the "hardest nuts to crack" in Gansu's poverty alleviation endeavor.
That was until last year when the problem was finally solved. By the end of 2019, poverty had been eradicated for 142,000 of the previously poor residents, with only 2.5 percent remaining under the poverty line. In November last year, the Gansu provincial government declared that its final eight remaining most impoverished counties, including Lixian, had cast off poverty.
Relocating away from the mountains
"My family and I now live in a two-story house equipped with tap water and a flushing toilet, which was beyond my imagination before," grinned Wu Pingshun, a villager who once lived in a ramshackleadobe house on the mountainside.
Thanks to the government's policy to relocate people from inhospitable areas, adobe houses and bumpy roads have become things of the past for villagers living in the mountains. They now call neat bungalows or two-story houses with tidy and cozy courtyards and smooth paved roads built in the flatterareas home.
Relocation also means better transportation as well as easier access to doctors, jobs, and schools for children.
At the relocation sites in Lixian, kindergartens and factories of various kinds have been established for the convenience of education and employment.
E-commerce boosts distinctive local industries
As the temperate continental monsoon climate brings sufficient sunshine and a significant variation in temperature between day and night, Lixian county boasts favorable natural conditions for apple cultivation in the fertile soil along its rivers.
Zhang Jiacheng is a fruit farmer in the mountainous Longhuai village of Lixian county who used to wait for customers to visit his village and sell apples to them to earn a year's living expenses. Now, the 60-year-old is an internet celebrity who sells apples by livestreaming on Alibaba's e-commerce platform Taobao as well as short-video platforms Douyin (the Chinese version of Tiktok) and Kuaishou.
In 2019, a poverty relief specialist from the e-commerce behemoth Alibaba came to Zhang's hometown to help the development of local e-business. Under the program, Zhang attended a livestreaming training class and grasped the relevant techniques.
During last year's National Day holiday, Zhang sold around one-tenth of the apples from his orchard. "Every day from about 5 am to midnight, my daughter, my son, and my daughter-in-law took turns livestreaming and loading apples that were ordered. We sold more than 2,500kg of apples in seven days."
"In the past, my family's income was quite low, but now it's over 100,000 yuan (15,480 US dollars) a year. What a difference [e-commerce makes]!" said Zhang.
Currently, apples from Lixian are exported to over 20 countries and regions through cross-border e-commerce.
In addition to fruit, Sichuan peppercorns, Chinese medicinal herbs like rhubarb, and other traditional industries in Lixian have also boomed.
A coordinated e-commerce operation system has taken shape in Lixian, including online stores, express delivery sites, cold chain storage systems, and Taobao service centers, etc.
Distinctive local industries coupled with incentivizing policies and relevant facilities for e-commerce have secured the county a total of 2.41 billion yuan (about 373 million US dollars) in e-commerce transactions (including about 364 million yuan last year), benefiting more than 11,000 local residents.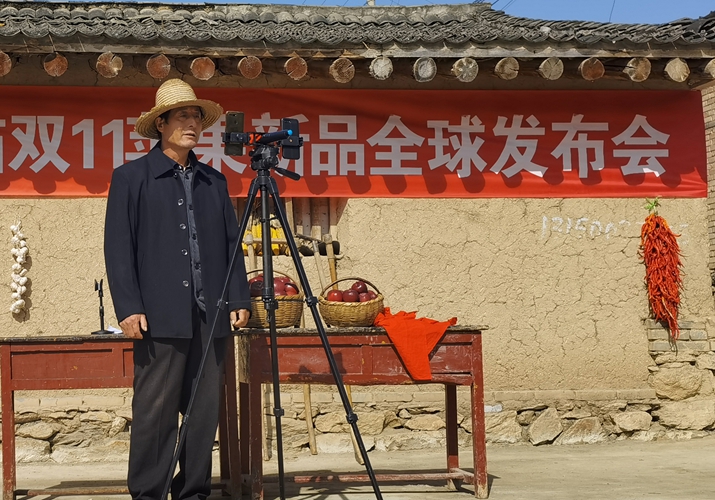 Facilitating employment
As a big exporter of labor, Lixian county has set up over 30 intermediary labor agencies to help locals who want to earn a living outside of the county.
The county has also created channels for its residents to find employment in places close to their homes.
For instance, through financial support and preferential policies, the county government has attracted many enterprises to open affiliated workshops in the county so as to provide job opportunities to locals.
Xinqiao GarmentCo., Ltd. in a nearby city set up a total of 15 workshops in various towns and villages in Lixian with the help of the local government. Businesses range from making uniforms and branded clothing to fulfilling foreign trade orders.
Pan Ting is a mother of a primary school student and was once among the registered poor. To take care of her child and the household, she wasn't able to travel far away from home to work, making her husband the only breadwinner in the family.
Nonetheless, she now contributes to the family income with some 2,000 yuan (310 US dollars) a month by working in a garment workshop near her home. "The workshop offers flexible working hours and piece-rate pay. Thus, I can make money while tending to my family," Pan said with satisfaction.
Besides moms like Pan, left-behind women, the elderly with work capacities, and people with disabilities are also beneficiaries of the workshops for they too can become employed and earn a living near their homes. Some workshops have been specially established near relocation sites so that residents who move to the area can find a new job and settle down.
Back in 2013, China had 832 severely impoverished counties with more than 80 million residents. As of November 2020, China had achieved the feat of delisting all 832 poverty-stricken counties, one month ahead of schedule.