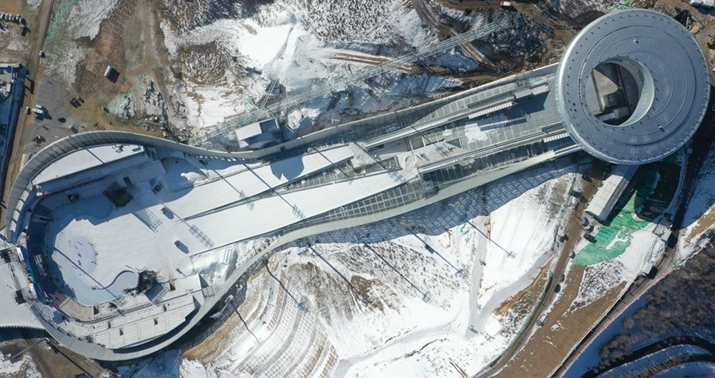 This aerial photo taken on December 21, 2020 shows the National Ski Jumping Center in Chongli District of Zhangjiakou City, north China's Hebei Province. (XINHUA)
Almost six years after winning the bid to host the 2022 Olympic Winter Games, Beijing on July 19 will mark 200 days before the competition's opening ceremony at the city's National Stadium.
Venue construction as a priority
Construction on all 12 competition venues in Beijing has been completed, and all venues have been inspected and certified by international winter sports organizations. All 76 Winter Olympics projects in the Zhangjiakou competition zone were also completed ahead of schedule.
The construction of venues and infrastructure is the top priority of the preparation work. Early this year, the three competition zones successfully underwent various testing programs.
"We did our best to test all possible scenarios mainly in five areas," said Yan Cheng, head of human resources at the Beijing organizing committee (BOCOG). "I think the infrastructure and facilities have met the Olympic requirements."
"We got positive feedback from the International Olympic Committee (IOC), international institutions and athletes. Based on that feedback, we worked on areas where some final touches were needed."
After the testing programs, workers at the National Speed Skating Oval, known locally as the "Ice Ribbon", have been working on installing accessible facilities and optimizing traffic flow and service facilities. At the National Aquatics Center, known as the "Water Cube", great efforts have been made in improving the ice quality and venue operations.
In the second half of 2021, all construction and renovation work of competition venues will be completed, including the implementation of epidemic prevention and control measures and all other supporting facilities.
Meanwhile, in the Zhangjiakou competition zone, all seven core substations were put into operation earlier this year, forming a "double ring network and double radiation" power grid structure in the core Winter Olympic area. With a designated electricity trading mechanism, 100 percent green electricity supply will be achieved for the first time in Olympic history at the Beijing Games.
At present, Zhangjiakou is building a low-carbon zone to promote 100 percent green power supply, where electric vehicles and fuel cell electric vehicles (FCEVs) will be available in the second half of 2021 to achieve carbon neutrality in the core area.
During the 2022 Winter Olympics, Zhangjiakou is expected to deploy 515 hydrogen fuel cell buses for transportation services, which will operate despite temperatures plunging to minus 20 degrees Celsius.
Supporting service as a duty
To host a successful Winter Games, talent cultivation, event service, Games guarantee, and market development all need to be carefully considered.
"There is a shortage of winter sports professionals in China, so we need to cultivate our own talents," said Yan. "A batch of domestic technical officials, professional workers, security personnel and other professional teams were gradually introduced."
Relying on the city's resources, BOCOG has formed a team of 622 professional skiers, half of whom have already participated in operations and security during the testing programs. International experts were also invited to help further boost the level of expertise. Zhangjiakou has recruited more than 14,000 volunteers in the city and nearly 5,000 at the venues.
Over the past five years, BOCOG has coordinated and implemented more than 400 training programs, covering over 40,000 people. The IOC has promoted the work in Beijing in its core publication for five consecutive years, saying that "talent cultivation is the cornerstone of the preparation for Beijing 2022."
The Beijing Disabled Persons' Federation announced earlier that the installation of accessible facilities in key areas related to the Beijing 2022 Winter Olympic and Paralympic Games will be all but done by the end of 2021.
Based on the 2020 renovation plan, the Beijing Disabled Persons' Federation has reinforced its 2021 plan in three key areas: the surroundings of the Winter Olympic and Paralympic venues, downtown areas within the city's Fourth Ring Road, and the Beijing Municipal Administrative Center, with focuses on city roads, public transportation, public service venues and information exchange.
"In addition to accessible facilities, the Beijing Winter Olympics will also strive to provide the best quality services in accommodation, catering, transportation, medical care, security, registration and other aspects, as an approach to show the identity of the capital city and the elegance of its citizens," said Xu Jicheng, Director General of BOCOG's Media Operations Department.
Olympic legacy as a responsibility
As China fulfills its commitment to the Olympic Movement and delivers its Olympic spirit to the world, BOCOG has released a Legacy Report on June 23, 2021, that outlines the pre-Games legacies achieved by Beijing 2022 in 13 areas, including the popularization and development of winter sports, urban transformation and upgrade, and regional transformation contributions to poverty alleviation.
Currently, there are nine ski resorts in Zhangjiakou which feature 177 pistes of various difficulties. Genting Snow Park, which will host a number of events during the Beijing Games, was named among the "Top 10 Ski Resorts in China in 2020" in the rankings by Chinese Ski Association. 19 indoor skating venues, which can be used for short track speed skating, figure skating, ice hockey, curling and other activities are also available for people to participate in winter sports.
To date, Zhangjiakou has organized more than 200 ice and snow sports events, and has encouraged more than five million people to take part in ice and snow sports, according to statistics released by local authorities.
As part of the Olympic commitment led by the Beijing Municipal Commission of Planning and Natural Resources, related departments and experts have established a "Green Snow Sports Venue Standards and Certification Systems", aimed at leaving an Olympic legacy in the planning and construction of the Beijing Winter Olympic Games.
In the next 200 days, Beijing will enter the final stretch of preparation work as a series of Olympic and Paralympic test events and the International Training Period (ITP) will take place from October to December, featuring events like the ISU Speed Skating World Cup, World Wheelchair Curling Championship, and IBSF World Cup finals.
Facing a greater workload and a faster pace, BOCOG will focus on areas such as the torch relay, opening and closing ceremonies, medal release and other related cultural and sports activities, paving the way for the Winter Olympics to open.
With just 200 days to go, Beijing is shaping up for a final sprint toward the finish line in February 2022.