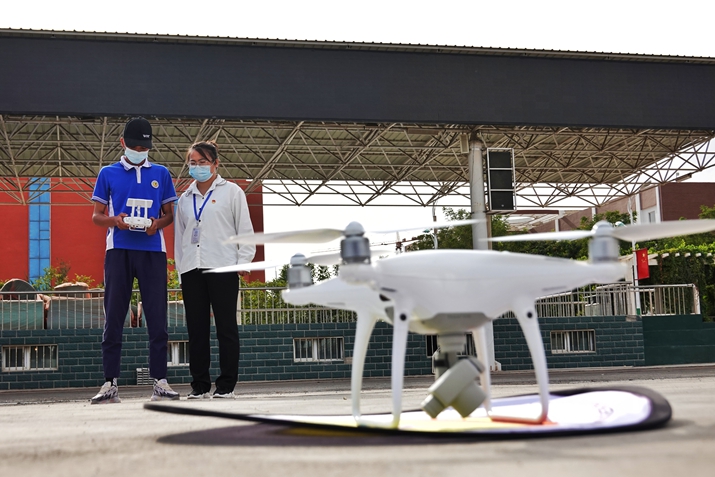 A student learns operating a pesticide spraying drone at the Kuqa Secondary Vocational Institute in Aksu Prefecture, Xinjiang Uygur Autonomous Region, on September 16 (WANG XIANG)
In the southern part of Xinjiang Uygur Autono-mous Region, a key battlefield in the fight against terrorism and extremism in China, extremist ideas once strongly influenced people's minds, particularly prior to 2016.
Deceived and manipulated by extremists, local residents were not able to live a normal life. "Those plagued by extremist ideas wouldn't hold banquets for weddings. They wouldn't sing or dance; at funerals, some wouldn't even cry," Mahmut Saidil, a former village head in Aksu Prefecture in south Xinjiang, told Beijing Review.
Many people there fell prey to extremist thoughts because of poverty. According to the Plan of Action to Prevent Violent Extremism published by the United Nations, the absence of alternative employment opportunities can make violent extremist organizations an attractive source of income.
Vocational education has played a key role in extricating locals from the haunts of extremism and terrorism by supplying the labor market with skilled workers and hence driving economic and social development.
After Xinjiang's rural areas shook off poverty in 2020, the next goal is to boost sustainable development. The region, alongside other parts of China, continues to consolidate poverty alleviation outcomes, promote all-round progress, and strengthen assistance to low-income rural residents on a regular basis. Vocational education has a big role to play in these endeavors.
Driver of social progress
The Aksu Vocation and Technical College (AVTC) in Aksu Prefecture is a school that has trained skilled workers for local job market. Over 90 percent of graduates are from the Uygur ethnic group.
"The majority of students here like to work close to their homes," Pu Sixiong, AVTC head, told Beijing Review. "But some students have settled down after moving to other provinces for work."
The AVTC has now established partnerships with more than 160 companies and organizations to offer internships to its students. At the same time, professional technicians from these companies also participate in teaching at the college. There are also classes that are tailored to meet the specific needs of the companies that will employ the students after graduation.
The Kuqa Secondary Vocational Institute is another major vocational school in the city of Kuqa, an old town on the ancient Silk Road route. Mamat Alshir, 21, now teaches numerical control as part of a partnership between his company and the Kuqa Secondary Vocational Institute, of which he is a graduate. A graduation rate of more than 90 percent makes it attractive for students. And many of them aspire to set up their own businesses when they are ready.
Healthcare, repairs, agriculture and information engineering are popular choices in vocational education in Xinjiang, but institutions each have their own featured courses based on market demand.
These vocational institutions have an important role in helping students, especially female ones, better understand the world. This is a key difference between these institutions and the short-term vocational training offered to rural residents looking to leave farming.
In the past in Xinjiang, it has been common for young women to become housewives immediately after graduating from compulsory education. However, in recent years, increasing numbers of young women are choosing to work or pursue further studies before marriage.
Eighteen-year-old Munawar Turdi is proud of her future job as a nurse. After her graduation from a vocational school in her home city of Kuqa, the third-year student wants to work at a hospital.
Munawar did an internship with a community health center, which she described as stressful yet fulfilling. For her, medical workers on the frontlines of the battle against the pandemic are inspiring her to be a great nurse. "I come from a rural area. I'm not afraid of hardship," she said.
Sixteen-year-old Gulmira Rozi is studying pre-school education at the Aksu Education Institute, a secondary vocational school in Aksu. She told Beijing Review that vocational education has offered her a life different from that of her older sister.
"My sister got married after graduating from high school. She is now a mother, and occasionally the victim of domestic violence," Gulmira said. She also said she is determined to become economically independent through study.
"Studying here is not as demanding as it was in my middle school classes. My head teacher likes to smile and she really cares about us," Gulmira said while recalling memories of her teacher reassuring her when she had troubles with friends.
Catalyst for change
Xinjiang falls behind eastern provinces in terms of industrial development and its industries tend to be more labor-intensive. The development of vocational education in Xinjiang is also at an earlier stage in comparison with eastern provinces such as Zhejiang.
To improve its vocational education, Xinjiang has invited experienced teachers to share their expertise in the region. The AVTC has exchange programs with vocational schools in other provinces, providing students with opportunities to study outside of Xinjiang and broaden their horizons.
"Xinjiang's vocational education falls far behind that of east China in terms of educational concepts and management, largely due to the gap in economic development," Pu said.
Xu Gaofeng, a member of faculty at the Zhejiang-based Hangzhou Vocational and Technical College, arrived in Aksu on September 3. He will work at the AVTC for a year and a half as a teaching planner on a partnership project between the two colleges.
"Although both colleges are different in their locations and many other aspects, we share the same goals," Xu said. "Both colleges provide students with skills needed to enter a particular occupational field in the local market."
Seventeen-year-old Ilham Ghulam is majoring in welding at the Kuqa Secondary Vocational Institute. Born in the city of Kuqa, he hopes he can become financially independent as soon as possible to help ease his parents' burdens. Welding is popular among local male students and a skilled worker can earn 5,000-6,000 yuan ($774-929) per month, which is above the average local salary of around 4,000 yuan ($619).
Additionally, as people begin paying more attention to their health, the AVTC is expanding its health subjects to meet the needs of this booming sector. For instance, it has added rehabilitation nursing to its curriculum.
In the AVTC, instilling positive values and attitudes toward life and society, and fostering good lifestyle habits go hand in hand with professional training. "We hope our students can transfer smoothly from their campus life to career life. At the same time, sustainable careers are also essential," Xu said.
"One person possessing a skill has the potential to raise the living standard of an entire family," said Ablimit Qadir, vice head of the Kuqa Secondary Vocational Institute.
From September 26 to 28, the first national vocational skill competition for rural workers and students took place in Urumqi, Xinjiang's regional capital. Candidates were all from rural areas across China. Of the 684 candidates, 22 came from Xinjiang.
"China is aware of the significance of vocational education, which has developed fast in recent years and has strong momentum to flourish," Xu said.
(Print Edition Title: Vocational Education Booms in Xinjiang)
(Reporting from Xinjiang Uygur Autonomous Region)
Copyedited by G.P. Wilson
Comments to ffli@bjreview.com