Before the start of the Chinese lunar Year of Tiger, China's National Bureau of Statistics (NBS) released the latest economic data, showing that the country's GDP grew 8.1 percent year on year to RMB 114.37 trillion in 2021. Facing head-on the pressure of demand contraction, weakening expectations, and other unfavorable factors amid a complicated external environment further exacerbated by intermittent COVID-19 resurgences, China has continued on the path of a stable recovery, spearheading both global economic development and epidemic control.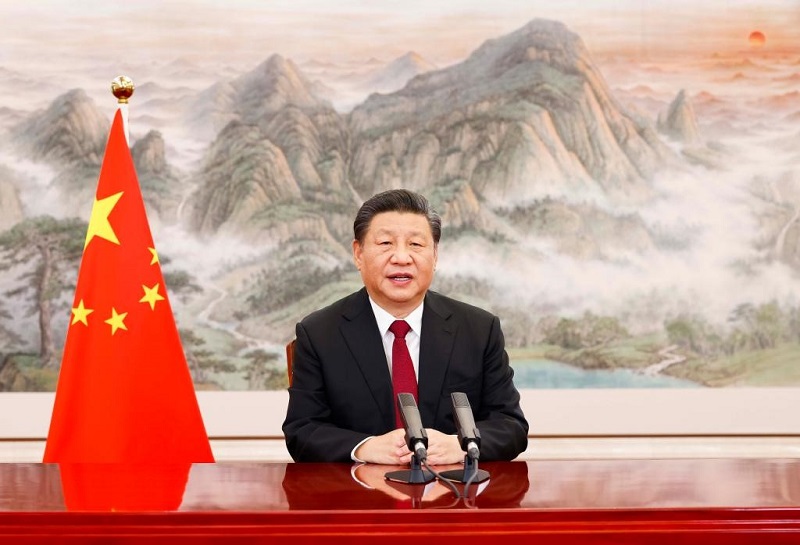 Chinese President Xi Jinping delivers a special address at the 2022 World Economic Forum virtual session, in Beijing, on January 17, 2022. (Xinhua/Huang Jingwen)
"China will stay committed to pursuing high-quality development. The Chinese economy enjoys a good momentum overall," Chinese President Xi Jinping indicated in his speech delivered to the 2022 World Economic Forum (WEF) virtual session. He pointed out that the fundamentals of the Chinese economy, characterized by strong resilience, enormous potential, and long-term sustainability, remain unchanged. "We have every confidence in the future of China's economy," he continued.
The whole world is an interconnected body as globalization has further interlinked all countries closely together. No country can stand unscathed while many parts of the world are mired in crises, thus making them a community of shared future. Therefore, at the general debate of the 76th session of the United Nations General Assembly held in last September, President Xi proposed a Global Development Initiative, aiming to steer global development toward balanced, coordinated, and inclusive growth amid the once-in-a-century pandemic, by calling on the international community to join hands in rising to the challenges and seizing the opportunities. "The Initiative is a public good open to the whole world, which aims to form synergy with the 2030 Agenda for Sustainable Development and boost common development across the world. China stands ready to work with all partners to jointly translate the Initiative into concrete actions and make sure that no country is left behind in this process," Xi noted in the 2022 WEF speech.
To that effect, true multilateralism should be upheld. "We should remove barriers, not erect walls. We should open up, not close off. We should seek integration, not decoupling. This is the way to build an open world economy," Xi observed.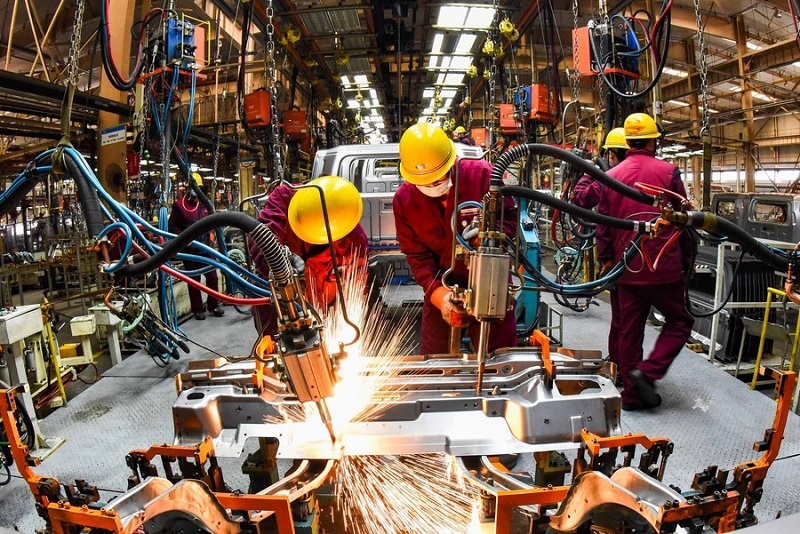 Workers weld components at a workshop of an automobile manufacturing enterprise in Qingzhou City, east China's Shandong Province, on February 28, 2021. (Photo by Wang Jilin/Xinhua)
The Regional Comprehensive Economic Partnership (RCEP) agreement, the world's largest free trade deal to date, came into force on January 1, representing a landmark victory for multilateralism and free trade. A modern, comprehensive, high-quality, and mutually beneficial free trade agreement, the RCEP covers about 30 percent of the world's population, as well as 30 percent of the world's economic and trade volume.
"In addition to tariff reduction, the RCEP has also set a benchmark for economic and trade rules in the Asia-Pacific region," Foreign Ministry spokesperson Wang Wenbin said at a recent regular press conference, adding that the RCEP's commitment to high-level opening-up regarding trade and investment in services will facilitate the smooth flow of various economic factors, while further improving the industrial, supply, and value chains in the region. Having simplified administrative procedures and reduced trade barriers, the RCEP is expected to provide a strong boost to deeper regional economic integration.
As the Omicron variant of COVID-19 quickly engulfs the world, many countries have gone through renewed surges of infections. They have been put on guard again by tightening their epidemic control measures. Vaccines have become even more important. When the new year started, health workers globally had vaccinated 49 percent of the population. However, only four percent of people in the poorest countries have been fully vaccinated. China was the first country proposing to make vaccines a public good, to ensure their equitable distribution and close the global immunization gap. China has honored this commitment. As of now, the country has sent more than two billion doses of vaccines to over 120 countries and international organizations. In the global fight against the pandemic, facts have shown once again that the whole humanity is a community of a shared future. "Countries need to strengthen international cooperation against COVID-19, carry out active cooperation on research and development of medicines, jointly build multiple lines of defense against the coronavirus, and speed up efforts to build a global community of health for all," Xi said.
Meanwhile, for China, this February is in particular momentous since the much-expected Beijing 2022 Olympic Winter Games overlaps with the country's most important festival, the Chinese New Year. As a strong chorus of support grows around the major international sports event, China is ready to welcome Olympic athletes from across the globe.
In Chinese culture, the tiger symbolizes bravery and strength. To confront the severe challenges facing humanity, we must "add wings to the tiger," and act with the courage and strength of the tiger to overcome all obstacles on our way forward, Xi said in his WEF speech.