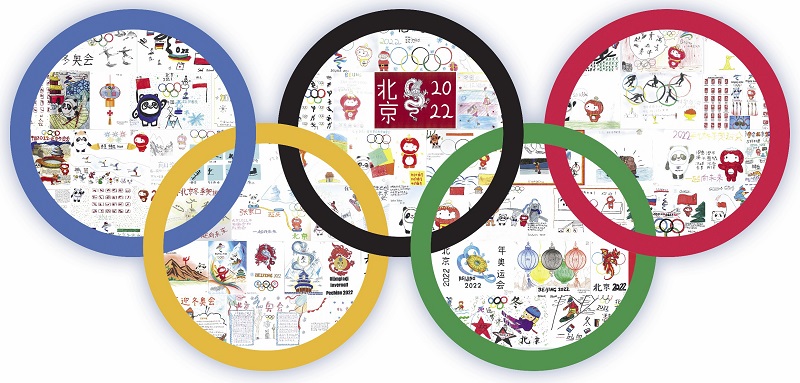 With only 100 days left to the opening ceremony of the Beijing 2022 Olympic and Paralympic Winter Games (Beijing 2022), an exhibition of hand-written posters selected from the "Draw Beijing 2022 Winter Olympics & Learn Chinese" activity kicked off online.
Organized by the Beijing-based Center for Language Education and Cooperation, the activity was opened to primary and secondary school students in Europe, aiming to help them better understand the Olympic spirit and savor the charm of Chinese culture.
A total of 231 hand-written posters by some 330 students from 46 primary and secondary schools in 16 countries were submitted. These pieces of artwork offer a peek into European children's understanding of China and the Winter Olympics.
In addition to the online exhibition, the exceptional works will also be displayed offline at the three competition zones of the Beijing 2022 in downtown Beijing, Yanqing, and Zhangjiakou.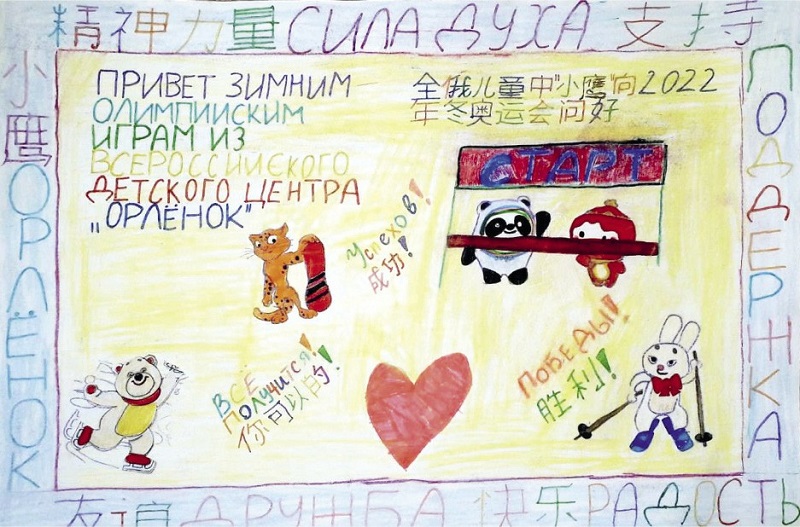 Marina Mukhina and Julia Vozniuk, Russia
Marina Mukhina and Julia Vozniuk from Russia co-created a poster titled "Friendship Between the Olympic Mascots." In their poster, the Beijing 2022 mascots Bing Dwen Dwen and Shuey Rhon Rhon, together with cartoon images of a leopard, bear, and rabbit, all well known animals in Russia, symbolize the friendship between China and Russia.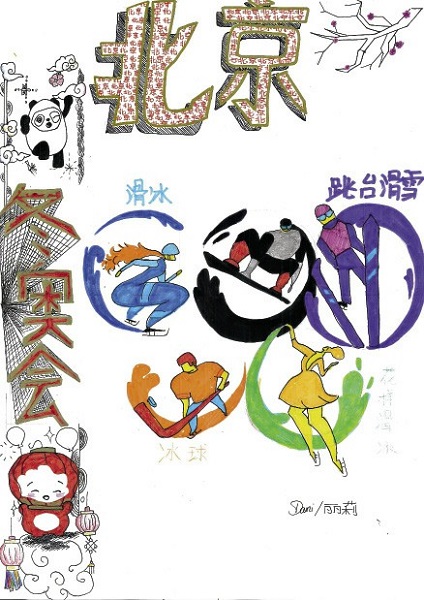 Dani Esteves, U.K
"I have been learning Chinese for three years. Even though I haven't had a chance to visit Beijing yet, I know it is a beautiful ancient city. I hope I can speak fluent Chinese and visit Beijing one day." Dani Esteves from Hautlieu School in the U.K. depicted the mascots of the Beijing Winter Olympics, and different Winter Olympics events including ski jumping, ice skating, and ice hockey, forming a unique symbol of Olympic rings. She expresses her best wishes for each athlete from around the world and a successful Beijing Winter Olympics.
Alicja Franiel from BurgGymnasium in Kaiserslautern of Germany drew a giant panda in addition to several general Olympic symbols, such as the Olympic rings. She said she hoped to visit the beautiful country of China one day and see the lovely Bing Dwen Dwen with her own eyes.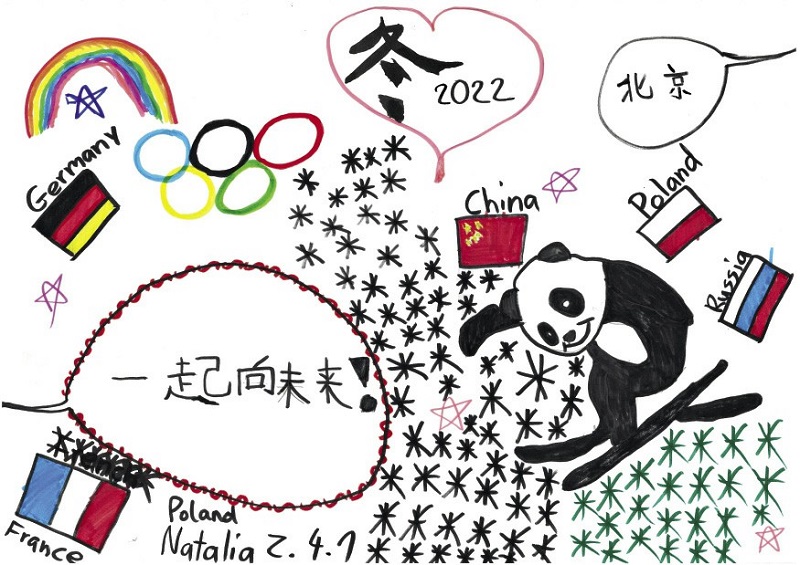 Natalia Zaremba, Poland
Natalia Zaremba from the International Trilingual School of Warsaw in Poland said in fluent Chinese, "I like learning Chinese very much, and I also like sports. One saying I learned in my Chinese class is 'friendship first, competition second.' This is exactly the spirit of the Winter Olympics." In her poster, she depicted a lively giant panda flying through the air on skis.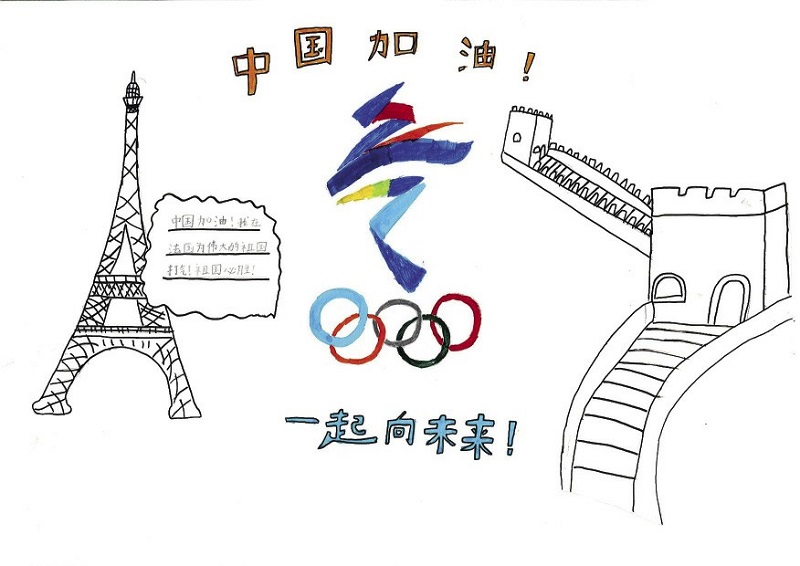 Chen Hu Qiuyue, France
Chen Hu Qiuyue from Lycée Janson de Sailly in Paris, France, included the Chinese and French cultural symbols of the Great Wall and the Eiffel Tower in her drawing. "I am in France cheering for my great motherland," she wrote on her poster.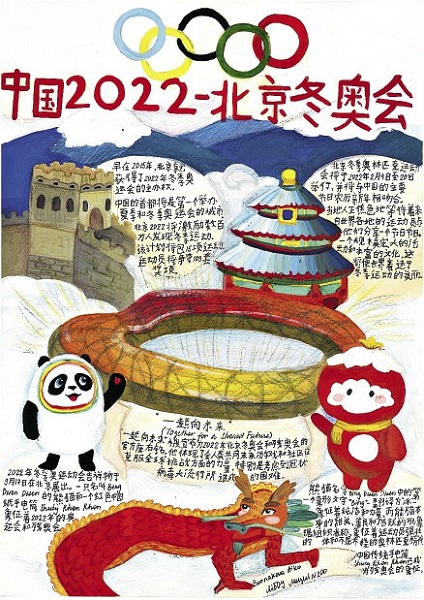 Aiko Burnakova, Russia
"The Chinese capital will be the first city to host both the summer and winter Olympic Games. This time, it is going to share the most festive atmosphere with athletes from around the world during the 2022 Lunar New Year, China's most important holiday," Aiko Burnakova, a student from Novosibirsk, Russia, wrote in her poster. "Given the difficulties and challenges posed by the COVID-19," she wrote, "The slogan, 'Together for a Shared Future,' embodies the common future of mankind."