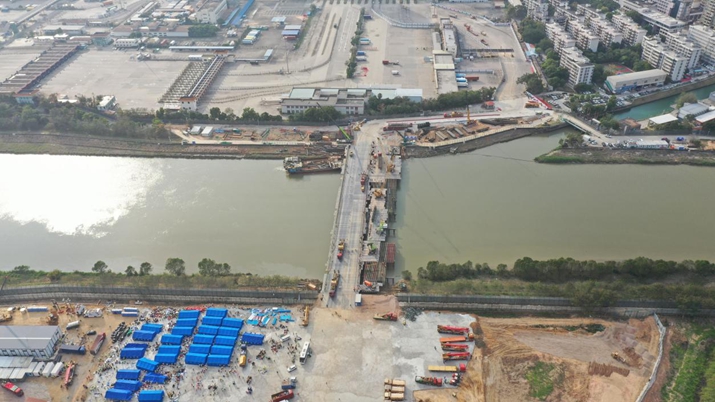 A temporary bridge connecting work sites at the Lok Ma Chau Loop on the border between the Hong Kong Special Administrative Region and Shenzhen in Guangdong Province on March 5 (COURTESY PHOTO)
The rapid spread of the Omicron variant has outstripped Hong Kong Special Administrative Region (HKSAR)'s existing capacity in testing, isolation and treatment, resulting in serious bottlenecks.
After Hong Kong's request for help was sent, the Central Government responded by promptly deploying and mobilizing resources from provinces and cities across the country to help the SAR contain the outbreak.
With the support of mainland authorities, an emergency hospital with 1,000 beds and community isolation and treatment facilities which will provide 10,000 beds began to be built at the end of February in Hong Kong's Lok Ma Chau Loop area, a small piece of riverside land close to the Shenzhen border on the Chinese mainland.
"I have strong faith in the use of this emergency hospital to alleviate the heavy burden on our public health system," said John Lee, Chief Secretary for Administration of the HKSAR Government, in an interview with China Daily in March.
A major challenge in the early phase of the construction was setting the piers for a temporary bridge, built to facilitate the rapid movement of construction personnel and materials from Shenzhen into Lok Ma Chau Loop.
"What we did was to open up the only access to the area," Wang Wei, a 36-year-old administrative employee of China State Construction Engineering Corp, told Beijing Review.
Starting on February 26, he was seconded to the bridge project from his own position in Zhoushan, Zhejiang Province, and worked around the clock with nearly 300 colleagues to prepare for construction.
Setting the piles into the riverbed was not as easy as expected, as the irregular depth caused the barges to regularly run aground. "We had to dredge the riverbed, which brought us a lot closer to our deadline," Wang said.
"I have to admit that we were under a lot of pressure," he said. "If we couldn't finish the bridge project on time, the following construction would be delayed." Through their joint effort, the two-way bridge was completed in seven days.
After completing the bridge project, Wang returned to Zhoushan, some 1,500 km away, with his face peeling from sunburn.
Working on an urgent project like that, and being able to truly help people in need, was perhaps a once-in-a-lifetime opportunity for Wang. "I was touched to see workers from all around China volunteering to participate in the project, even though they knew they might be at risk of infections."
Luckily, with prevention and control measures in place, none of the builders were infected.
The first phase of the emergency hospital, providing 500 beds, was put into use on April 7.
Copyedited by G.P. Wilson
Comments to mamm@cicgamericas.com