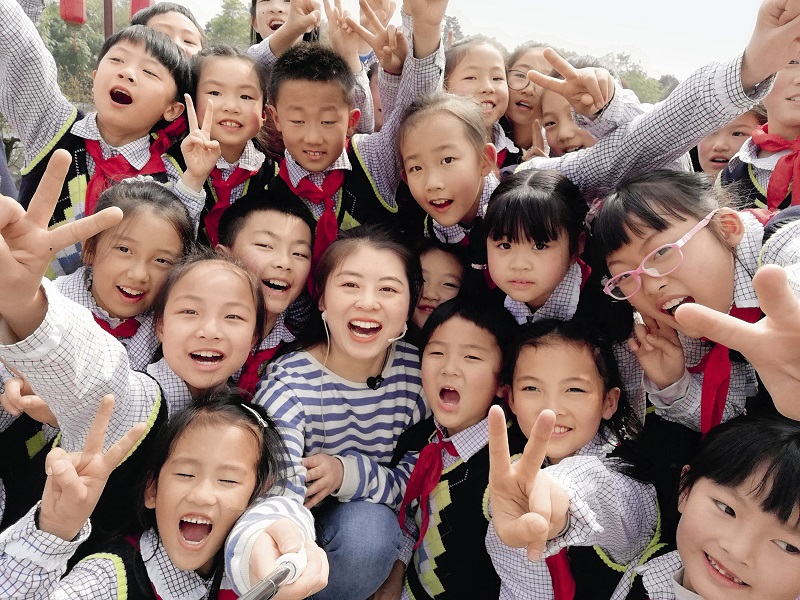 Xu Ping with students of Caotang Primary School in Chengdu in March 2019.
"This is the fifth year I have come to Beijing to attend the annual session of the National People's Congress (NPC), but I'm just as thrilled today as I was the first time," said Xu Ping. A 25-year-old young woman from a village which was heavily damaged in the massive Wen-chuan earthquake in 2008.
Growth Through Adversity
In the afternoon of May 12, 2008, Xu, in her first year of junior middle school, was waiting at the school gate for the bell ring to enter the campus. Suddenly, the ground began to shake, and Xu, thanks to her classmates who grabbed her and rapidly ran outside, luckily escaped the disaster. But other classmates, standing just a few steps behind her, were not that fortunate, they were crushed under the school gate when it collapsed.
In an instant, 12-year-old Xu lost her parents, teachers, and many classmates in the deadly earthquake. At that time, many kind-hearted people offered to help rebuild the region. A couple from Taizhou, in east China's Zhejiang Province, paid her school tuition fees, and after her graduation, continued to keep in touch with her.
"I clearly remember that most of the people who rushed to the frontlines to save lives and led the post-disaster reconstruction were members of the Communist Party of China (CPC). Although I was only 12 years old at that time, I made up my mind I was going to become a Party member when I grew up," Xu said. That wish came true after she entered college.
"I am very grateful and hope to contribute more to the society," Xu said. After she entered college, Xu often participated in volunteer activities. She once served as a volunteer teacher at Ya'an (a city in Sichuan Province, which had also been hit by a deadly earthquake), where she spent a summer break with children in the mountains. She also helped at rehab centers for people with disabilities.
In 2016, while studying a major in broadcasting at Sichuan University of Media and Communications, Xu did an internship at Chengdu Jingdianhui Cultural Communication Technological Co.. After graduation, she stayed on in this company and grew into a firm asset, making plans for cultural and artistic exchanges, undertaking big projects, and creating global art network platforms. Today, she works as the director of the general office of the company's art committee and is also a member of Sichuan Youth Federation.
Like Xu, several of her childhood friends from the earthquake-stricken areas around Wenchuan have also started their careers and found their way in life. Some are working in the field of foreign trade in Chengdu, while others have returned to their hometowns and are working as teachers.
Xu Ping, deputy to the 13th NPC and a member of the Youth Federation of Sichuan Province.
Honor and Responsibility
"I did not expect to get elected as an NPC deputy. I did not have a real feeling of the honor of this position until I began to work with other deputies," said Xu. She considers being the youngest deputy in the Sichuan delegation to the NPC not only an honor, but also a heavy responsibility.
Recalling the first time she walked into the Great Hall of the People for the 2018 NPC session, she said that she was nervous and excited. Learning from seasoned delegates, Xu soon became familiar with how to carry out her responsibilities. After that, she set out to visit and do research on communities and schools.
"As a female NPC deputy and a young woman who received much support from the All-China Women's Federation in my youth, I have always had a passion about the protection of women's rights and interests," Xu said. For the 2022 session, Xu handed in two proposals, one on popularization of voluntary free inoculation of domestic 2-valent human papillomavirus (HPV) vaccines for women of appropriate ages and the other about anti-trafficking and anti-fraud awareness education for female migrant workers from rural areas.
During the past year, Xu busied herself collecting ideas and suggestions of the public through research and participation in community activities, while at the same time keeping up with trendy news on the Internet. After getting some preliminary ideas for her suggestions, she visited government departments and local communities. Xu said, "I've been active in the deputy liaison station in my jurisdiction. These activities help me to understand the social situation and public opinion. The most honorable moment for me while serving as a deputy to NPC is when the proposals I made can produce real results, and progress can be made in the direction that the people wish."
Since the outbreak of COVID-19, to achieve higher efficiency in performing her duties, Xu has made short videos and posted them on online platforms. In May 2020, she opened a Douyin account in order to solicit a wider range of public opinion, popularize NPC knowledge, and interact with netizens. At the same time, she actively interacted with young netizens, many of whom made suggestions through the two livestreams she made on Toutiao. Xu believes that the combination of offline and online activities has enabled her to perform her duties more efficiently.
"In general, I have been able to receive a lot of information from offline activities and online interaction with people. And these activities enabled me to make the two proposals that I submitted this year," said Xu. During this year's NPC session, she continued to interact with netizens on social media platforms, and shared what she learned from attending the session while listening to the voices of the people.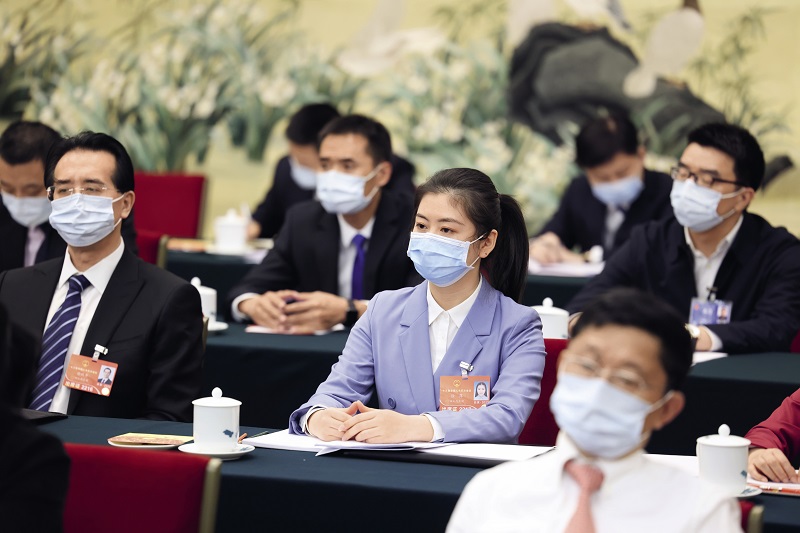 Xu attentively listening to a speech at the fifth session of the 13th National People's Congress.
Looking Back and Moving Forward
"I came from Muyu Village, Muyu Town, Qingchuan County in Guangyuan City, and has stayed in Chengdu for work after graduation. This enables me as an NPC deputy to better understand public opinions and speak for the people." Xu recalled how she spoke for the first time in the Great Hall of the People.
She remembers that one of her proposals in 2019 was about strengthening anti-sexual harassment education and raising gender awareness on campus. One month after submitting her proposal, a staff member from All-China Women's Federation contacted her requesting details about the research she had done for the proposal. Later she received a formal letter of reply. It not only gave Xu a great sense of accomplishment, but also inspired her to better fulfill her duties as a deputy to the NPC.
The year 2022 is the last year for the deputies to the 13th NPC to perform their duties. "Those five years are very valuable. Speaking of fulfilling duty, with the help of other deputies and staff, my work experience has gotten richer every year, and I have become more mature in planning my work," Xu said.
During the past five years, what impressed Xu most was that two of her proposals were adopted into laws. She handed in a proposal on family education for two consecutive years, and in October 2021, the 31st session of the Standing Committee of the 13th NPC voted to adopt the Family Education Promotion Law.
The second proposal is one she made in 2019 on strengthening anti-sexual harassment education and raising gender awareness on school campuses, in which she pointed out the importance of providing the legal definition of sexual harassment. The Civil Code was later adopted at the third session of the 13th NPC in 2020, and Article 1010 establishes the definition of sexual harassment. This is of great significance in accurately holding perpetrators of sexual harassment accountable and protecting the rights and interests of victims.
"This annual meeting is like an examination to test how well we have done over the past year, and thus sustain deputies' enthusiasm for performing our duties." As a member who survived a catastrophic earthquake, Xu has always been grateful for life and hopes she can repay the community and help more people though her efforts.