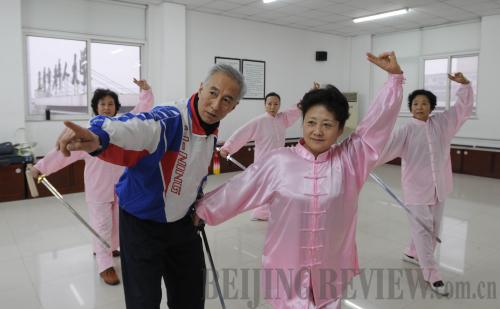 HAPPY AND FULFILLED: An expert teaches students Tai Chi sword skills at Tianjin Seniors University (CFP)
Hu Dayuan (COURTESY OF HU DAYUAN)
China Central Television released the results of its recent happiness survey on January 12. The results show that almost 45 percent of more than 80,000 respondents—all Chinese—feel happy or very happy; about 11 percent are not happy. Recently, Beijing Review interviewed Hu Dayuan, Deputy Director of the China Center for Economic Research (CCER) at Peking University. Hu was a consultant on the survey and has done research on happiness for several years.
Beijing Review: Why have people become so concerned about happiness in recent years?
Hu Dayuan: It is not only in China. Many people in countries all over the world are very concerned about this topic. For Chinese people, food and clothing now are no longer factors that make them worry, so they pay more attention to their overall feeling of happiness. They want to improve their quality of life in other ways such as travel, health, going green and so on. They want more freedom to do what they want. All these things are related to happiness. Although GDP has grown fast in China in recent decades, the public doesn't measure their happiness according to GDP.
What's the significance of the survey?
First, it complements all kinds of statistics from China's National Bureau of Statistics (NBS). So far, NBS has not collected statistics about people's happiness. Second, the survey offers useful and up-to-date data about people's lives. With China's rapid economic development, the government now pays much more attention to statistical data. Although the survey may not directly influence government policy, it can provide the government reliable data about people's current hopes and future plans. Since 2006, we have accumulated data on more than 400,000 people. Some may say we could get information about people's happiness from the Internet. However, since Internet users do not represent an accurate cross-section of the population, using the Internet to measure public opinion creates skewed results. This survey adopted the same sampling method used by NBS for its economic census. Respondents represented 300 counties in 104 cities of 31 provinces, municipalities and autonomous regions, ensuring a sufficiently large and varied sample.
In which regions is people's happiness index high and which regions low? Why?
Generally speaking, people's happiness index is high in provinces such as Heilongjiang, Jilin, Liaoning, Anhui and Shandong. The average GDP of these provinces is relatively low, but people's happiness index is very high. I think this is based on two factors. One is that people living in the north tend to be straightforward. They are easily satisfied and are not so fastidious about happiness. Second, the frame of reference is different in different regions. The standard of living in the north lagged behind that of the south in the past. Thus, northerners are more sensitive to improvements in their living conditions nowadays. However, this is only my personal viewpoint. Frankly, this geographic variation rightly offers us a new research subject. We need to study this subject further and try to find proof to support our viewpoints.
In some other provinces such as Gansu, Guizhou and the Ningxia Hui Autonomous Region, where average GDP is also low, the happiness index of people is low. This suggests that people's happiness is related to economic factors.
Almost 80 percent of the respondents are urban residents, with only 20 percent from rural areas. Since the majority of China's population is rural, how does this affect the accuracy of the survey?
First, I should say this is mainly a technical problem. Techniques such as weighting—a universally used statistical method—will be applied to the results. In general, when conducting this kind of survey, most respondents tend to be city dwellers. Second, now we cannot simply consider farmers to be the majority of the Chinese population. Migration in China is very common, mostly from rural area to cities. Many farmers are now working in cities. The survey categorizes respondents according to where they are living now, not where they come from. The survey has captured people of all age groups, educational backgrounds and income levels.