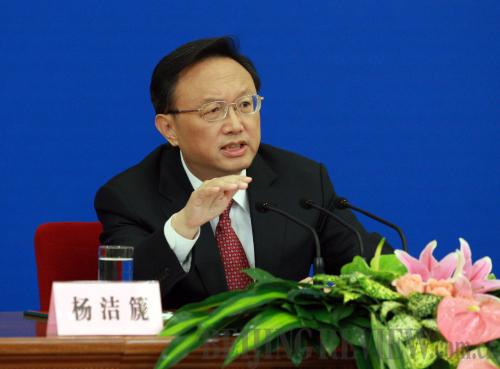 MEETING THE PRESS: Chinese Foreign Minister Yang Jiechi speaks at a press conference in Beijing on March 7 (JIANG XIAOYING)
On March 7, Chinese Foreign Minister Yang Jiechi spoke to Chinese and foreign media at a press conference at the Fourth Session of the 11th National People's Congress. Edited highlights follow:
China and the United States
There is now a good atmosphere in Sino-U.S. relations. Over the next few months we have a full agenda to develop Sino-U.S. relations. Chinese Vice Premier Wang Qishan and State Councilor Dai Bingguo will co-chair with their U.S. counterparts the third round of the Sino-U.S. Strategic and Economic Dialogue.
State Councilor Liu Yandong will attend the second meeting of the Sino-U.S. High-Level Consultation on People-to-People Exchange. Moreover, U.S. Vice President Joe Biden will visit China in the middle of this year. After that, Chinese Vice President Xi Jinping hopes to pay a visit to the United States.
Both China and the United States are countries that have a major influence on world peace and development. The decision of the two countries to establish a cooperative partnership is thus timely. It is also demanded by the deepening cooperation between the two countries.
I believe more and more people in the United States have come to recognize that in handling the United States' relations with China in this new environment, we need to embrace new ideas and foster a favorable atmosphere.
The presidents of the two countries have charted the course for the future development of Sino-U.S. relations. What we need to do now is to seize the moment, build on progress, earnestly implement the agreements reached by the leaders of the two countries and take solid steps in building the Sino-U.S. cooperative partnership.
It is an objective reality that China and the United States have differences or even friction over some issues. What's important is to handle these differences properly on the basis of mutual respect.
We firmly oppose U.S. arms sales to Taiwan. We urge the United States to abide strictly by the principles and spirit of the three Sino-U.S. joint communiqués and the Sino-U.S. joint statements, stop selling arms to Taiwan and take concrete action to support the peaceful development of cross-Straits relations.