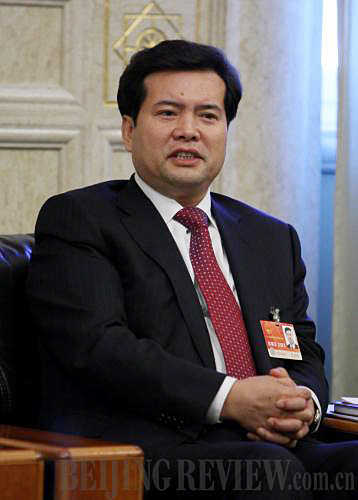 Wang Zhengwei, deputy to the 11th NPC and Chairman of Ningxia Hui Autonomous Region (JIANG XIAOYING)
With its dynamic growth engine roaring, Ningxia came under the spotlight at the Fourth Session of the 11th National People's Congress (NPC) held on March 5-14 in Beijing.
The region's GDP grew a robust 13.4 percent in 2010 year on year, 2.7 times greater than that of 2005. The disposable income of urban residents and net income of farmers have both nearly doubled in the past five years.
For China's 12th Five-Year Plan (2011-15), the government pledged stronger support for Ningxia's economic zone along the Yellow River, boding well for a promising future for the region, Wang Zhengwei, deputy to the 11th NPC and Chairman of Ningxia Hui Autonomous Region, told Beijing Review at a press briefing on the sidelines of this year's NPC session.
The zone—covering 10 cities along the Yellow River—accounts for 61 percent of the regions' population and 90 percent of its economy.
"The experiences of developed countries show that urbanization can be a powerful perk for investments and consumptions. Domestically, Ningxia is falling far behind eastern regions in urbanization," he said. "As such, we will spare no effort to make the zone more prosperous."
The zone will focus on modern agriculture, advanced manufacturing—like new energy and new raw materials—and the service industry. "It's expected to become a significant driver of Ningxia's economy," he said.
For decades, coal mining was the lifeline for millions of Ningxia's residents. But for such a fragile ecosystem where encroaching deserts are swallowing farmland and grassland, any further environmental damage is unbearable. By decoupling the economy from polluting industries, the region is shrugging off its former dirty image.
In east Ningxia, coal-related industries are trying to embark on a cleaner path of growth. The Ningdong Energy and Chemical Industry Base has sought to make its production greener. Its high-quality coal has fewer impurities and its waste-recycling technologies delivered a boost to resource efficiency.
In the national race toward renewable energies, Ningxia has also been at the forefront, making pushes into wind and solar power. By the end of 2010, the region's on-grid wind and photovoltaic power capacity had doubled from a year ago. Moreover, the new energy fever has injected steam into a string of relevant manufacturing sectors, like wind turbines.
"Ningxia glitters with rich wind and solar resources," said Wu Yucai, deputy to the 11th NPC and Mayor of Wuzhong, Ningxia.
But more than 70 percent of power generators in Wuzhong are struggling to make ends meet due to relatively lower on-grid tariffs.
"There is therefore the growing need for the government to allow favorable tariffs and help stimulate the emerging sector," he said.
Meanwhile, the success with environmental protection has also given Ningxia a head start in the race toward a low-carbon economy. Its forest coverage rate was 11.4 percent in 2010, up from 7.79 percent in 2000. The region also put stringent controls on energy-guzzling and polluting industries including those that produce cement and iron.
"These measures may put a lid on growth rates, but it's well worth the effort given its far-reaching implications," said Yuan Jinlin, deputy to the 11th NPC and Director of Ningxia Development and Reform Commission. "Many coastal manufacturers are moving westward where lower land and labor costs will ensure profits. Ningxia, with resource advantages and transport network, is bound to benefit from that relocation."
Efforts are still needed to improve infrastructure, especially irrigation facilities, in the drought-stricken region. "It would also help add to Ningxia's attractiveness if the Central Government could hand out land and tax incentives," he said.
Trade with Arab nations is also a bright spot on Ningxia's economic landscape. In September 2010, Yinchuan, capital of Ningxia, successfully hosted the first Sino-Arab Economic and Trade Forum, providing a powerful catalyst for businesses between China and the Arab countries.
Wang said the forum is likely to be upgraded to a China-Arab Expo, covering a wider range of trade, investments and cooperation in finance and oil chemical sectors.
"Ningxia stands out as a link between China and the Arab world," Wang told Beijing Review. "Most importantly, it has deep cultural and religious connections with Arab nations since it is home to 2.17 million Muslims, over one third of Ningxia's total population.
"Our ambitions extend far beyond trade," he said. "Ningxia's long-term goal is to become a global production center, logistics center and exhibition center of Halal food and Muslim products."
Wang Rugui, deputy to the 11th NPC and Mayor of Yinchuan, said the industry is growing at a year-on-year growth rate of around 25 percent in Ningxia, but the region has still some way to go before catching up with domestic competitors.