After five years of rapid growth, the Chinese economy has come to a critical juncture.
As it maps out the 12th Five-Year Plan (2011-15), the country is preparing to rebalance the economy and improve people's livelihoods. During the annual sessions of the 11th National People's Congress (NPC) and the 11th National Committee of the Chinese People's Political Consultative Conference (CPPCC), NPC deputies and CPPCC National Committee members sat down with Beijing Review reporters Hu Yue and Yuan Yuan to talk about the country's development in the next five years. Edited excerpts follow:
Yan Chengzhong (HU YUE)
Lowering Growth ExpectationYan Chengzhong, Deputy to the 11th NPC and Director of the Institute of Economic Development and Cooperation at Donghua University in Shanghai:
Now that China has unveiled its 12th Five-Year Plan, the way has been smoothed for a prosperous and more balanced economy.
As part of the new blueprint, the Central Government has set an average economic growth rate of 7 percent for the next five years. Although lower than in previous years, it shows policymakers are well aware of the challenges confronting the country.
In the government work report delivered on March 5, Premier Wen Jiabao also stressed China still faces an extremely complex economic situation this year.
Meanwhile, economic restructuring would require a compromise on growth. The country is stepping up stringent controls over polluting and energy-guzzling industries. Many coastal manufacturers are moving inland to take advantage of lower costs of land and labor. The industrial relocation will consume resources and it will take time for the newly built plants to create values.
As China rebalances the economy to rely more on domestic demands, consumption is taking center stage as a powerful growth engine. The key is to accelerate wage growth and repair the social safety net. The country should also tolerate a modest level of inflation, which would prompt consumers to open up their wallets.
It is a phenomenon in China that local governments compete to seek fast GDP growth. But the lower growth target for the 2011-15 period sends out a strong signal that China wants the local governments to focus more on quality instead of quantitative growth.
Zuo Yan'an (HU YUE)

Upgrading Manufacturing Industry
Zuo Yan'an, Deputy to the 11th NPC and President of Jianghuai Automotive Group Co. Ltd.:
The 12th Five-Year Plan attaches importance to upgrading the manufacturing industry, a growth engine of the Chinese economy. This is bound to boost the economy and help with the economic rebalancing.
The economic slowdown two years ago provided a catalyst for many manufacturers to restructure themselves and sharpen their competitive edge. Many introduced advanced technologies to improve product quality while others enhanced energy efficiency to cut costs.
For the auto industry, technological improvement is a necessity. Despite buoyant sales in the past few years, most Chinese automakers are focusing on lower-end markets or making foreign brand cars in alliance with overseas partners.
That means we still have a long way to go before catching up with our foreign competitors. It's urgent now for domestic automakers to innovate and put more effort into branding their products. It would also help if they could strengthen research and development and foster market-savvy talent.
The good news is many companies are adopting new energy technology as the country embarks on a greener path of development. Policymakers also handed out generous incentives including cash subsidies to lure customers. The emerging industry—still in its infancy—is traveling on wobbly wheels. Sales are stalling due to high price tags. Moreover, you won't see any massive use of new energy cars until enough public charging facilities are available.
Yang Ziqiang (HU YUE)

Improving Rural Financing
Yang Ziqiang, Deputy to the 11th NPC and Director of Jinan Branch of the People's Bank of China:
Agriculture has always been the weakest link of the Chinese economy, but that is not the only reason why the 12th Five-Year Plan has paid considerable attention to the sector. Stable agriculture is key to the people's livelihoods and a needed boon to cool down simmering inflationary fears. In addition, the enormous rural population and rising incomes of farmers present the potential for a consumption boom.
During the next five years, China aims to push for an energy-efficient and innovative modern agriculture, improve rural infrastructure and increase farmers' incomes, among other powerful measures. This will require heavy government support for agricultural talent, advanced technologies and capital.
But a major bottleneck choking the rural economy has been a lack of access to credit. Commercial banks consider vulnerable rural businesses larger risks. The poorly developed credit guarantee system makes it even more difficult for farmers to obtain financing.
As a result, it is necessary to improve the rural credit guarantee system, and propel financial innovation in the countryside, such as insurance, agricultural investment funds and microcredit.
Policy banks and rural commercial banks are supposed to play a larger role in financing rural businesses. The central bank should further allow a lower reserve requirement ratio and favorable tax policies to support rural financial institutions.
Meanwhile, there is a growing need to bring in private capital to invest in rural infrastructure projects. Since it takes time for those projects to generate returns, the government needs to hand out subsidies to lure private investors.
Xu Mingzheng (HU YUE)
Boosting Service Industry
Xu Mingzheng, Deputy to the 11th NPC and Deputy Director of the Tourism Administration of Shaanxi Province:
The service industry has a chance to shine since it's environmentally friendly and instrumental in job creation.
In recent years, China has been running a significant amount of deficit in the services trade, compared with a surplus in general foreign trade. The industry now accounts for only 43 percent of the Chinese economy, compared with nearly 90 percent in the United States.
But the sector has an opportunity to boom. China's huge population and growing economy are pushing up demands for all kinds of services, and the Central Government has also pledged a better policy environment for the sector to grow.
In the 12th Five-Year Plan period, China will press ahead with a series of businesses, such as banking, logistics, hi-tech services and tourism. Moreover, it pledged to enhance financing support to the sector and push forward reforms to make productive service companies eligible for a deduction in value-added tax.
Besides, the government needs to provide affordable resource supplies for the sector, including electricity, water and land.
Shaanxi Province is also making vigorous efforts to stimulate the service sector, especially tourism, as it is able to bolster many relevant businesses like hotels and restaurants. But poor service quality remains a concern as many tourists complain about being overcharged or forced to buy expensive and shoddy souvenirs. That is why efforts are still needed to strengthen market supervision and training of the tour operators.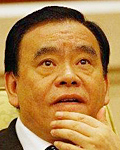 Lu Zushan (XINHUA)

Improving People's Livelihoods
Lu Zushan, Deputy to the 11th NPC and Governor of Zhejiang Province:
It's great news that the Central Government has committed to improving the people's livelihoods. The 12th Five-Year Plan includes a string of powerful measures to improve housing, pensions, education and employment for urban and rural residents alike. These policies will bring tangible benefits to Chinese people and help push the economy toward the consumption-driven growth model.
In recent years, soaring housing prices have put homes beyond the reach of most working-class families. That adds urgency to the construction of affordable houses for needy groups. Zhejiang Province, for instance, will build 50,000 public rental apartments this year and repair dilapidated houses for 42,000 rural households.
Another major task for Zhejiang is poverty eradication. Despite a vibrant provincial economy, Zhejiang has six less developed counties in the southwestern mountainous areas. They account for 10 percent of the province's area but barely 1 percent of the province's GDP. The province has spared no effort to help them fight poverty. Between 2005 and 2010, the economic growth rate of the six counties outpaced the provincial average. Looking ahead, Zhejiang will further expand the minimum subsistence allowance system to cover more poverty-stricken farmers and bridge the income gap between rural and urban residents.