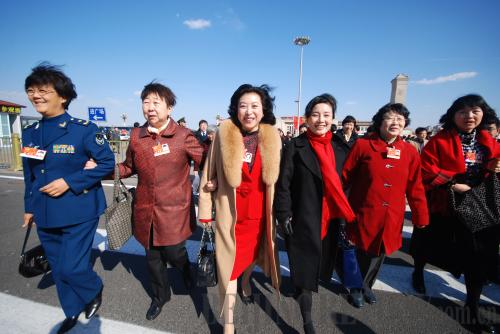 Female CPPCC National Committee members step into the Great Hall of the People to attend their annual meeting (WEI YAO)
As has become the norm lately, annual sessions of China's National People's Congress (NPC) and the National Committee of the Chinese People's Political Consultative Conference (CPPCC) coincided with the International Women's Day. The retirement age for women, which has long been a disputable topic, was again the focus of attention during this year's meetings.
China's current law stipulates the legal retirement age for male and female office workers is 60 and 55 respectively. For women involved in average labor it is 50. For those who are engaged in heavy manual work or work harmful to their health, the retirement age is 55 for men and 45 for women.
At this year's session, the NPC Committee for Internal and Judicial Affairs suggested the Ministry of Human Resources and Social Security work out appropriate retirement age plans, taking into account accelerating ageing trends in China and in accordance with the characteristics of different industries and their work intensities. Meanwhile, the committee said it's a good idea to empower women with the right to decide whether to retire ahead of their due time. This will show the country's special protection of women's rights and interests and make retirement more fair.
A survey conducted by the Women's Federation of Hubei Province shows the province's science and technology sector is very short of senior women staff. This survey implies many women scientists have to retire at 55, at the peak of their academic work.
There are two golden work periods for women: the period when they take up work until they become pregnant, and when their children grow up and are no longer dependent on their mothers. In the latter period, in order to make up for the time spent on childbirth and child caring, women will work even harder than before. How to extend this time and bring women's capacity into full play is an important issue. If they retire too early, it shortens their work span and capable females are forced out while they still have a lot to contribute. Those who are involved in work of an intellectual nature and office work might hope to retire later and thus enjoy treatment as if they were still incumbent, but many manual workers hope to retire early to spend more time with their families and enjoy the rest of their lives.
There are flexible retirement systems already implemented in places in China. In 2009, China Women's News established a new retirement system under the state's retirement framework: Its staff, women and men, are to retire at the age of 60. Females, who are required by law to retire at 55, may choose to remain until 60. This system fully respects women's will to work or to retire at 55. China Women's News has taken the lead in reform of the retirement system for women.
Respect women's choice
Xiao Hongjuan (Director of the Bureau of Culture in Huanggang City, Hubei Province, NPC deputy): I don't think we should require women working in different fields to retire at the same age. Most women engaged in manual work want to retire earlier because they feel exhausted after many years' arduous work. Health concerns are another problem. For women working as teachers and doctors, 55 is the perfect age for working, because after years of work they have accumulated a lot of experience and are becoming increasingly capable. If they leave then, it's a waste of their abilities. Besides, since these women's children have grown up, they are no longer as occupied with family burdens as before. For these women, it is reasonable to extend the retirement age.
People engaged in different kinds of work demand different retirement ages. I suggest the Central Government consider the establishment of a flexible retirement system, so people from different work fields may decide when it is the best time for them to retire.
Gu Yeli (Vice President of Guangdong University of Foreign Studies, CPPCC National Committee member): The current retirement age was set more than 20 years ago and it needs changing, but meanwhile we need more time to conduct detailed research since there are many different opinions on this issue. As the ageing population grows, the setting up of a complete insurance system for retired people is another concern. It is not a simple issue as it involves many aspects of society.
Lu Changhua (Deputy Secretary General of CPPCC National Committee, CPPCC National Committee member): My sister retired when she was in her 40s since there was not much work to do in the factory where she worked. I would prefer to retire earlier so I can have more time to do something I like but don't have time to do now, such as opening a café or a bookstore and planting vegetables and flowers. Since it is very hard for college graduates to find a job now, I think this would also, and we should, create greater chances for young people.