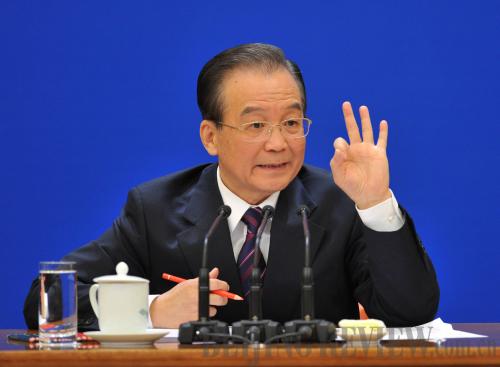 FACE TO FACE: Premier Wen Jiabao answers questions at the press conference on March 14 (HUANG JINGWEN)
On March 14, Premier Wen Jiabao gave a press conference to journalists covering the annual sessions of the National People's Congress, China's top legislature, and the National Committee of the Chinese People's Political Consultative Conference, the top advisory body, in Beijing. Wen elaborated on the Chinese Government's stance on a number of hot social and economic issues. Excerpts follow:
Political restructuring
I believe reform is a constant theme of history. Political restructuring and economic restructuring must be coordinated. Nothing in this world stays static, and it is only with reform that our Party and country will enjoy continuous vigor and vitality.
Political restructuring offers a guarantee for our efforts in economic restructuring. Without political restructuring, economic restructuring cannot succeed, and the achievements we have made in economic restructuring may well be lost.
My view is that at present, corruption poses our biggest danger. Institutional reform is essential to tackle corruption at its roots. The hearts of the people are the life of the country. If we are to address people's grievances and meet their wishes, we must enable people to criticize and supervise the government.
Fairness and justice are the defining features of socialism. They form the foundation of social stability. We must promote fairness in income distribution, and gradually narrow the widening income gap. At the same time, we should also promote fairness in the distribution of educational, medical and health services, so that all people will be able to share the fruits of China's reform and opening up.
If we are to achieve all these above-mentioned goals, we must pursue economic restructuring and political restructuring.
We must ensure that each and everyone will have an equal opportunity of receiving education, and we must give full play to people's independent thinking and creativity. It is only when the people feel they are fully motivated that we will be able to put our reform and development endeavors on a solid footing. This sense captures the essence of democracy.
People's deputies are now directly elected at the county level and in cities without districts. Villagers can now exercise self-administration in villages. And now we have indirect elections at or above the city level and at the central authority level. Moreover, we have multi-candidate elections for members of the central committees in the central authorities.
I believe we must pursue a gradual approach in this process. We also believe that once the people are capable of running village affairs well, they will also be capable of moving from running village affairs to running the affairs of a township and a county. That will be a gradual process.
It is by no means easy to pursue political restructuring in such a big country with 1.3 billion people. It requires a stable and harmonious social environment. And it needs to be moved forward in an orderly way under the leadership of the Party.