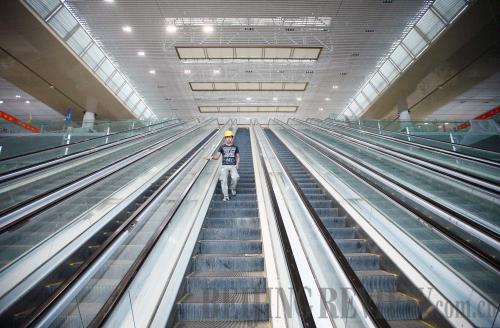 CONVENIENT TRAFFIC: A worker walks down an escalator in the Nanjing South Railway Station on May 22, 2011. As one of the five key terminals on the Beijing-Shanghai High-Speed Railway, the station is expected to come into operation by June 2011 (WANG XIN)
While China presses ahead with a high-speed railway building spree, the extensive project to provide modern rail services across China is being overshadowed by doubts concerning environmental costs and damage to railway corridor surroundings.
On May 18, the Ministry of Environmental Protection required suspension of construction of the high-speed railway connecting Tianjin and Qinhuangdao, Hebei Province, since the project did not reapply for environmental review after changing its route. In November 2010, the ministry said a passenger line between Qingdao and Jinan in Shandong Province must stop running because the project did not pass its environmental review.
The operator of the Qingdao-Jinan line said it had taken measures to avoid negatively impacting the environment and that halting operations would cause the company to suffer large economic losses. In April 2011, the ministry urged the company to abide by the law or face forcible closure.
With the fast tracks mushrooming across the nation, worries abound about the noise pollution caused by the lightening fast trains. As most of the high-speed trains wind their way through populated areas, more measures are needed to reduce their noise and damage to farmland along the line, said Sun Shuli, an engineer with the Third Railway Survey and Design Institute Group Corp.
Along the Chengdu-Dujiangyan High-speed Railway in Sichuan Province, noise barriers were built to muffle the sound of passing trains.
Wang Mengshu, an academician with the Chinese Academy of Engineering, said building sections of the track that pass through urban areas underground is another option, albeit a more expensive one.
Meanwhile, in a bid to finance the construction of massive high-speed transport networks, the Ministry of Railways (MOR) has taken on a considerable amount of debt, fuelling concerns over the sustainability of the projects.
By the end of March 2011, debt of China's railway operators, all affiliated to the MOR, had totaled 1.9836 trillion yuan ($305.2 billion), with a debt ratio of 58.2 percent, according to data from the Shanghai Clearing House, an interbank clearinghouse of the People's Bank of China.
Moreover, in the first quarter of this year, transportation companies affiliated to the MOR incurred a loss of 3.76 billion yuan ($578.5 million), while their after-tax profits in the entire year of 2009 totaled 2.74 billion yuan ($421.5 million).
"With the government's guarantee, financing is not a problem for railway building," said Li Xuerong, an analyst with the Shenzhen-based industrial research institute CIConsulting. "But it's going to take time for these infrastructure projects to generate returns and adequately cover this large debt."
The risks continue to mount, especially as China continues to expand upon new projects, he said.
In a recent report, China Minsheng Bank said the debt ratio might exceed 70 percent by 2010 if the MOR continues to rely on bank loans and bond sales to fund rapid expansion of China's high-speed railways.
Despite the economic benefits a successful high-speed rail service can deliver, few projects internationally have been able to fully recover their capital costs except in the densest long-distance transport corridors, said Paul Amos, a transport and logistics advisor of the World Bank.
"Even in China, the sustainability of railway debt will need to be closely monitored. Payback periods will not be short, as they cannot be for such 'lumpy' and long-lived assets," he said.
But Sheng Guangzu, Minister of Railways, downplayed the worries. "The MOR's debt ratio remains within a safe range and far lower than those of many foreign counterparts," he said. "The government will also lure private investors into the railway sector to soothe the capital strains."
Wang Yongping, spokesman of the MOR, said building costs for high-speed railways in China are much lower than overseas due to cheaper labor. Competitive bidding has also helped keep prices for equipment and technology relatively low.
High-speed railways may require hefty investments, but are well worth the effort given the far-reaching implications, said Sun Zhang, a professor at the Urban Mass Transit Railway Research Institute of the Tongji University in Shanghai.
"They can substantially cut down on travel time and also free up cargo capacity for other lines," he said. "By attracting passengers who would otherwise use cars or planes to travel, they can also help alleviate traffic congestion and accidents and exorbitant fuel costs."
The overall financial performance of high-speed train services depends on enough people being able to pay a premium to use them. China's high-speed train fares are about three times those of conventional train fares. But in order to generate the required volume of passengers it will be necessary to not only target the most affluent travelers but also adopt a fare structure that is affordable for China's growing middle-income population. Discounted tickets, when space provides, also need to be offered, said the World Bank, in a report.
The Beijing-Tianjin Intercity Railway, for example, has swung back to the black in 2010 thanks to a surge in passenger volume and reasonable ticket prices, while most other lines are still spilling red ink, said Huang Guizhang, Director of Beijing Railway Bureau.