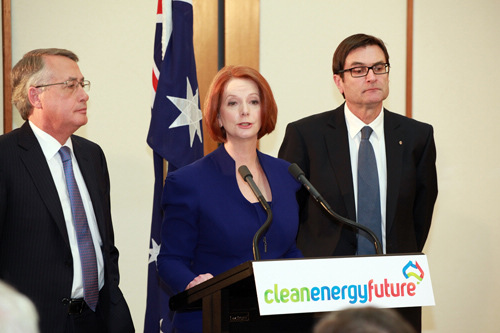 GREEN FUTURE: Australian Prime Minister Julia Gillard speaks at a press conference in Canberra on July 10, the day Australia's new climate change plan was released (CAO YANG)
The Australian Government made public its long awaited new climate change plan on July 10. Based on the plan, the government will collect a carbon tax from Australia's major corporate carbon emitters starting July 1, 2012. Around 500 businesses in the country will be covered, and the tax will be AU$23 ($25.4) per ton of carbon. The tax is set to increase 2.5 percent each year in real terms and will be suspended by 2015 when the system is incorporated into a carbon emissions trading system.
At the same time, the Australian Government will boost innovation and investment in the clean energy sector. For instance, it will invest AU$10 billion ($11 billion) to set up a Clean Energy Finance Corp., which will invest in renewable energy, low pollution and energy efficiency technologies.
The government will also promote carbon emission reductions on farms. It will launch a Carbon Farming Initiative, allowing farmers and land managers to create tradable credits for carbon storage and emission reduction activities.
A pioneering plan
Despite the strong performance of the Australian economy, its future growth is likely to rely on the export of resources. Of all the world's developed countries, Australia has been least affected by the global financial crisis. In 2009, though most developed countries experienced negative GDP growth, Australia maintained a growth of 1.3 percent. This growth, however, was largely the result of demand for minerals from emerging economies such as China.
The Australian economy continued to boom in 2010. Growth increased to 2.3 percent while its unemployment rate dropped to 5.1 percent from 5.5 percent in December 2009. But Australia's manufacturing industry is relatively uncompetitive, and mineral products account for more than half of Australia's commodity exports.
The political influence of Australia's Green Party has expanded swiftly in the country in recent years. Support from the Green Party has allowed the ruling Australian Labor Party to push through its policies, particularly environmental policies. Only with the Green Party's support will the Julia Gillard administration be able to pass its new climate change plan in the parliament.
In recent years, an increasing number of countries have adopted aggressive policies to curb carbon dioxide emissions. Since the EU Emissions Trading Scheme (ETS) came into effect in 2005, the volume and value of its trades have grown rapidly. The ETS has become the bulk of the global carbon market. In 2010, it accounted for 84 percent of the total volume of global carbon trades. Emerging economies are also exploring means of controlling carbon emissions through a market mechanism. For instance, China's 12th Five-Year Plan (2011-15) stipulates that China will establish a greenhouse gas emissions accounting system and gradually set up a carbon emissions trading market.