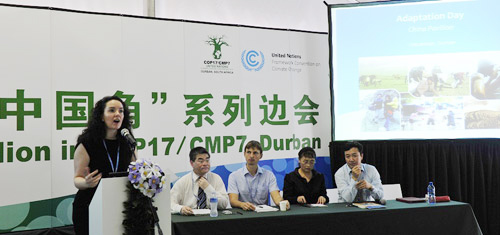 SHARING THOUGHTS: Presenters from China introduce China's achievements and challenges in climate change adaptation at an Adaptation Day activity held at the China Pavilion, Durban, on December 1 (YU YAN)
On December 1, an Adaptation Day activity was held in China Pavilion on the sidelines of the UN Climate Change Conference in Durban, South Africa. Four presenters from China attended this activity. They gave an overview of recent studies on China's national strategy of climate change adaptation and shared experiences from the Sino-UK-Swiss Adapting to Climate Change in China (ACCC) project.
China's experience in ACCC project provides good lessons for the whole world, said ACCC review consultant Emanuele Cuccillato, one of the presenters.
Being vulnerable to climate change, China is an adaptation hotspot. However, due to the cross-disciplinary nature of climate change adaptation, as well as the multi-participation of organziaitons and governments at all levels, communication efficiency is to be improved, said Emanuele Cuccillato.
"So far, the Chinese Government has done a lot of work in climate change adaptation, including the adjustment of agricultural structure, soil erosion control and desertification control," said Xu Yinlong, a research fellow with the Chinese Academy of Agricultural Sciences.
But more efforts are required. For instance, China needs to change its strategy from impassive adaptation to active adaptation, so as to avoid losses as much as possible, said Xu.
It is hard to define the targets of climate change adaptation, as the targets vary across regions and stages of development. With a large population and undergoing rapid development, China has a large amount of social wealth exposed under the threat of climate change. Therefore, the task of climate change adaptation is more urgent in China, said Xu.
Xu's opinion was echoed by Ma Zhongyu, deputy director of the Development and Reform Commission of northwest China's Ningxia Hui Autonomous Region.
The most important standard should be sustainable development, in other words, to achieve orderly development under the premise of no degradation of natural resources or environment, said Ma.
It is not sustainable to pursue economic development and eliminate poverty at the cost of damage to the environment. We should enhance local people's living standards while improving the environment, said Ma.
As a climate change demonstration zone, Ningxia has taken a leading role since the ACCC was launched in June 2009. The ACCC is a cooperation project between China, UK and Switzerland, which is devoted to pioneering policy research in climate change adaptation.
A good number of projects have been adopted in Ningxia. For instance, it has conducted ecological migration. During the 12th Five-Year Plan period (2011-2015), another 350,000 people will be migrated to improve their living quality and help restore the local ecosystem.
Other projects include optimizing water resources.
The major challenges for Ningxia are financing, water resources shortages and inadequate awareness, said Ma, adding that more support is needed.
"We come to Durban to fully present China's efforts to the international community. Many developed countries refuse to sign the second commitment period of the Kyoto Protocol. Neither will they transfer technology to developing countries. On the contrary, as a responsible developing power, China has made its due efforts. And so far, it has done well," said Ma.
(Reporting from Durban, South Africa)