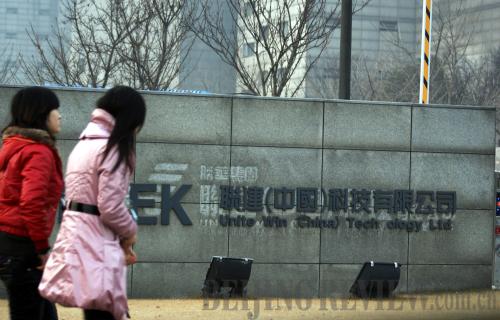 A TROUBLESOME PLACE: Two women pass by the front gate of United Win Technology in Suzhou, Jiangsu Province, on February 18. More than 130 workers at the supplier factory of Apple Inc. suffered chemical poisoning from the manufacturing process in recent years (CFP)
Chinese workers suffering from a chemical poisoning at United Win Technology, one of Apple Inc.'s supplier factories at the Suzhou Industrial Park in east China's Jiangsu Province, met with the factory's leaders for the first time on February 26.
The factory, which is owned by Taiwan-based Wintek Corp., promised to provide aid if the workers' symptoms reoccur in the future. But such a response failed to bring thorough relief to poisoned workers.
Jia Jingchuan, a 27-year-old production technician at United Win Technology, told Beijing-based Legal Daily the promise would remain empty once the factory was dumped by its parent company.
"Further, we haven't got any formal written apology from the company as we demanded," Jia said.
Scandal again
On February 15, Apple released its Supplier Responsibility Progress Report 2011.
The report is based on survey results to the company's 127 suppliers. It shows in 2010, 37 suppliers were found to engage in behavior that seriously violates Apple's rules, compared to 17 in 2009.
Meanwhile, Apple acknowledged for the first time 137 workers at the Suzhou facility of Wintek, one of Apple's touch screen suppliers, had suffered adverse health effects following exposure to hexyl hydride, also called n-hexane, a chemical in cleaning agents used in some manufacturing processes.
The report said Apple considered this series of incidents to be a core violation for worker endangerment and required the factory to stop using the chemical while it improved its ventilation system.
"Since these changes, no new workers have suffered difficulties from chemical exposure," it said.
The California-based maker of iPods, iPhones and iPads, also said it required Wintek to work with a consultant to improve its environmental health and safety processes and management systems, and it was monitoring the implementation of these corrective actions and preventive measures. A complete re-audit of the facility will be conducted in 2011, it said.
"It is a little bit late for Apple to address the poisoning issue," said Ma Jun, Director of the Institute of Public and Environmental Affairs (IPE), a Beijing-based nongovernmental organization (NGO).
Media first shed light on the issue in 2009, but Apple did not mention it in its 2010 fiscal report, showing it had weak control over its suppliers, Ma said.
Lang Juming, an official for social affairs at the Suzhou Industrial Park, told Xinhua News Agency the park gave clear notice two years ago to tenant factories that they could not use n-hexane, and all the companies signed letters of commitment.
But, in August 2008, United Win Technology decided to switch from alcohol to n-hexane for cleaning because it dried more quickly and could speed up the production of touch screens for Apple products, according to later investigations by the local government.
"It now appears that we cannot believe the commitment made by enterprises," Lang said.
Jia, the production technician at United Win Technology, said Apple already knew that workers at the factory were exposed to the deadly chemical.
"Apple assigned its staff to the factory to check the production and technology standards regularly, even when this fatal chemical was used from August 2008," Jia said.
The staff was required to use n-hexane solvent to wipe mobile phones, causing them poison symptoms such as muscle pain. The factory only stopped using it once staff were in hospital, Jia added, who has worked in the factory for more than four years, and also suffered from the toxic solvent.
Apple said in its report that all 137 affected workers had been treated successfully at Wintek's expense, and that most of them had returned to work at the same factory.
However, as of February 21, 100 of the 137 had left the factory with compensation of 80,000 yuan-140,000 yuan ($11,713-$20,410), according to Liu Jie, a press officer for the Suzhou Industrial Park.
"All the workers signed agreements with United Win Technology that exempt the factory from responsibility if their health worsens," Liu said.
Jia said he still felt numb in his legs and hands nearly eight months after being discharged from hospital, and he always felt tired after very little physical exertion.
"A leading global company like Apple should see to the conduct of its suppliers and ensure supplier workers receive fair and respectful treatment. Apple should give us a written apology," Jia said.
Chronic worker dissatisfaction with management and wages at Wintek as well as the poisoning scandal erupted in violence in mid-January last year, when more than 2,000 employees gathered at the factory early one morning and smashed vehicles and factory facilities.
In the wake of the scandal, Apple has been under public pressure to supervise its suppliers' practices and to exhibit corporate social responsibility by helping the poisoned workers.
In fact, the company has been dogged by criticism of working conditions at its China-based suppliers for a long time.
Last year, Apple's main supplier on the Chinese mainland, Taiwan-based contract manufacturer Foxconn, was hit by more than a dozen suicides that critics blamed on harsh working conditions and a militaristic corporate culture.
Poor records
Although Apple's report indicated improvements in its management of suppliers, Chinese environmentalists still show dissatisfaction and said the firm averted a great deal of responsibility as well as social commitments.