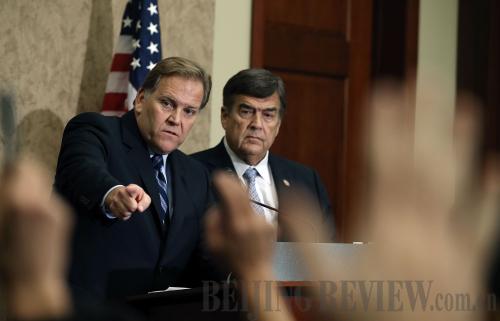 IN THE CONGRESS: House Intelligence Committee Chairman Mike Rogers (left), and committee ranking member Dutch Ruppersberger, talk about Chinese security threats during a news conference on Capitol Hill, on October 8, 2012 in Washington, D.C. (CFP)
A spokesman for Huawei said the company knew little about the review but expected no evidence of espionage to be found.
The United States is more sophisticated in network and telecommunications development than China. If a security threat did exist, the United States would quickly spot it.
"I don't know where these 'security threats' come from," said Mei Xinyu, a research fellow of the Chinese Academy of International Trade and Economic Cooperation.
"Huawei has an undisclosed level of closeness to the Chinese Government," according to the report, which points to the background of Ren Zhengfei, the company's founder, who served in the PLA (People's Liberation Army) engineering corps in the 1970s in its information technology research unit.
In an open letter responding to the speculation in 2010, Ren's personal details were published. "Ren, born into a rural family on October 25, 1944, spent his childhood in a small remote town in Guizhou Province. He graduated from Chongqing University of Civil Engineering and Architecture in 1963 and had engaged in the trade of civil engineering since then. In 1974, he began to serve as an engineering construction soldier in the PLA to participate in building the Liaoyang Chemical Fiber United Factory and served successively as a technician, engineer and deputy director, without a military rank. After cuts to the armed forces, he left the army in 1983. Later, he moved to Shenzhen and took up a post at a logistics service base. Unhappy with his job, he set up Huawei in 1987 with just 21,000 yuan, a bit more than $2,500 at the time. Ren has been Huawei's president since 1988."
The committee, armed with such background information, argued, "Analysts in the field hold different views. For example, some of them take Ren as the director of the PLA Information Engineering University, which they believe maintains close links with the PLA GSD (General Staff Department). For this reason, Ren may be still in touch with the Chinese military."
Top leaders at Huawei consider such speculation ridiculous. Since China opened up to the world over 30 years ago, hordes of ex-servicemen and government officials have resigned from their posts to begin new careers. If these conjectures are true, does it mean all the Chinese entrepreneurs maintain close ties with the Chinese Government?
The committee added, "Huawei can't provide detailed information to explain how the Chinese Government normally regulates, controls and supervises it."
"It mirrors the Cold War mentality in the U.S. Congress. Such a mentality will not only affect Chinese firms, but also severely undermine the commercial environment in the United States," said Mei.
On October 9, Shen Danyang, spokesman of the Ministry of Commerce, announced that the ministry "strongly opposes" the U.S. report, one based on "subjective guesswork" and "false evidence," as it uses national security as an excuse for blocking Chinese companies from fair competition in the U.S. market.
Shen said the move by the U.S. side violated its long-held free market principles and would undermine investment and cooperation between the two countries' companies.
"We hope the United States could make concrete efforts to create a just and fair market environment for companies from both sides and promote the sound development of bilateral economic and trade ties," Shen said.