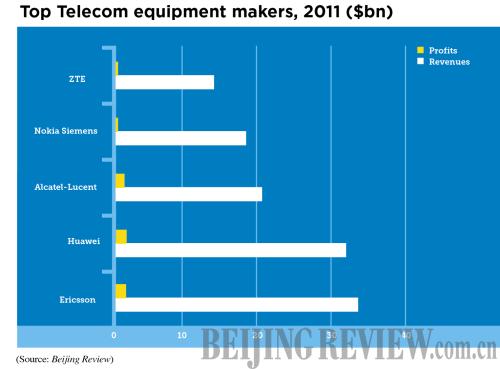 Canada and the UK announced on October 12 their own investigations into Huawei- and ZTE-made telecom products. With Huawei's presence in countries like Canada, the UK, Germany, France and Australia, any domino effect could have a devastating impact on the company.
Headquartered in Shenzhen, south China's Guangdong Province, Huawei is a privately owned enterprise. In its infancy, Huawei invited IBM to help build its core operating departments, such as R&D, product development, its supply chain and financial management, for which IBM sent over 200 consultants. Huawei's success is largely attributed to its ties with IBM.
On October 9, the Chinese Ministry of Foreign Affairs declared the establishment of its Department of International Economy. One major function of the new department is to settle emerging international economic disputes interwoven with complicated political issues, which may prove helpful to Huawei and ZTE.
"Huawei is a diversified business group. We are trying to open the U.S. market by satisfying customers in different fields. We are fully aware of the political obstacles we are facing. One thing is certain: The independence and integrity of Huawei and the quality and security of the solutions it provides are illustrated by its cooperation with more than 500 telecom operators in 140 countries," Huawei's Beijing-based public and media office said in a statement it presented to Beijing Review on October 12.
The statement said Huawei is committed to providing American customers with innovative products and services and becoming a long-term investor in the United States. Since expanding its business into North America in 2001, Huawei has purchased $30 billion worth of products and services from over 280 American suppliers, which has contributed significantly to local employment. Any intervention and obstruction to free competition will hurt the entire industry chain.
"We had hoped to ensure that the investigation would be fact-based and objective in its review of our business activities and the global issue of cyber security. Over the past 11 months, Huawei has cooperated with the committee in an open and transparent manner, and engaged in good faith interaction: Our top management team carried out multiple rounds of face-to-face communication with the committee members in Washington D.C., Hong Kong and Shenzhen. We opened our R&D area, training center and manufacturing center to the committee and offered a wealth of documentation, including the list of members of the board of directors and the supervisory board over the past 10 years, and the annual sales data since our establishment in 1987. We also made the list of our shareholding employees, the shares they hold, as well as information about our funding resources and financial operations available to the committee," said the statement.
"We adopted a transparent approach in providing this information to ensure the results are fact-based and unbiased, hoping the committee's objective review of our business can clarify any misperception of Huawei," the statement added.
Chen Yongdong, an associate professor and independent scholar in information management, e-commerce and new media, suggests that since the U.S. Government believes the Chinese Government has much bearing on Huawei and ZTE, their normal commercial activities are under constant surveillance.
However, concerns over alleged "security threats," which have been amplified by the U.S. Government, might cost the United States to lose business opportunities and profits.
Chen believes the Chinese Government should use the Huawei case as an opportunity for reflection. China is the most open telecommunications market in the world, where protectionism barely exists. Almost all telecom firms try to make a fortune here, with some having achieved great success. China treats enterprises of different nationalities equally without discrimination.
In stark contrast to Chinese enterprises struggling in the U.S. market, American telecom firms, represented by Cisco, are sailing by smoothly in China. A handful of foreign companies, like Cisco, Intel, Microsoft, Motorola, IBM, HP and Apple, have swallowed a large share of the Chinese market. Cisco-manufactured telecom equipment has been widely used by households and by the government in the fields like education and commerce. But in the United States, Chinese equipment will likely be barred from government use.
If China were to treat American firms the same way, it would be impossible for Cisco to enter China's IT telecommunications equipment market. It is worth asking why the United States—a country that regularly extols the virtues of global free trade—behaves the way it does toward Chinese firms.
"When we open up to countries with ulterior motives and our generosity is met with scrutiny and obstruction, should we also enhance our own national security awareness?" asks Chen.
Email us at: lanxinzhen@bjreview.com