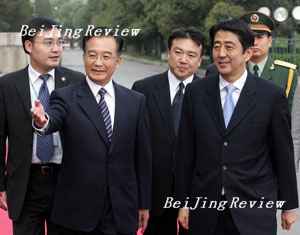 After a five-year stalemate, China-Japan relations appear to be warming up as the new Japanese Prime Minister, Shinzo Abe, made China the first stop in his initial foreign tour in early October, experts say.
Under the Japan-U.S. alliance established after World War II, new Japanese prime ministers have traditionally gone first to the United States. According to Wang Xinsheng, a professor in the Department of History of Peking University, some 13 Japanese prime ministers visited Washington immediately after they assumed office. Abe, who was sworn in on September 26, was the first to make Beijing his maiden overseas destination.
Also the first Japanese prime minister to set foot on Chinese soil since 2001, Abe was received by Chinese President Hu Jintao, top legislator Wu Bangguo and Premier Wen Jiabao separately on October 8. He issued a joint press statement with his Chinese hosts before continuing his journey to South Korea the next day.
Despite the brevity of Abe's visit, Chinese analysts were eager to explore its implications, labeling it "an ice-breaking trip," "a new start" and "an opportunity to improve bilateral relations."
A meaningful visit
Liu Jiangyong, a professor in the Institute of International Studies at Tsinghua University, said Abe's visit had some special significance. First, it signaled that China and Japan are seeking a thaw in their relations. The professor noted that top-level visits between the two countries had been halted because of former Japanese Prime Minister Junichiro Koizumi's repeated visits to the Yasukuni Shrine, where 14 class-A war criminals in World War II are honored along with Japan's other war dead.
As the political chill has to a certain extent affected the two nations' friendly feelings toward each other and their economic and trade cooperation, it is in the common interest of the two countries to resolve the political obstacles in bilateral relations, he said.
He pointed out that it presented an important opportunity to improve China-Japan relations. Next year marks the 35th anniversary of the normalization of diplomatic relations between the two countries, and 2008 commemorates the 30th anniversary of the signing of the China-Japan Treaty of Peace and Friendship and the 10th anniversary of the signing of the China-Japan Joint Declaration, essential documents guiding bilateral relations. If the two countries can resume top-level exchanges of visits, chances are that the downward spiral of China-Japan ties will be reversed, he said.
Abe's visit will help to promote peace, development and cooperation in East Asia, according to Liu. As two big powers in Asia, China and Japan exert great impact on the region economically and politically, said the professor, adding that the Asian countries, as well as the United States, want to see the new Japanese prime minister mend his country's relations with its largest neighbor.
Wang Xinsheng of Peking University said that Abe's visit deserves credit against the backdrop of an ever-closer China-Japan relationship. The economic link is growing tighter as China replaced the United States as Japan's top trading partner in 2004. Also, the two countries are indispensable to resolving regional and international affairs. In light of this, Wang said Abe's presence in China itself should be deemed a success, regardless of the outcome of the visit. As long as they talk, the leaders may open up the possibility of a thaw in bilateral relations.
Liu said the journey reflected public opinion in Japan and the Japanese Government's recognition of the importance of improving relations with China and South Korea.
However, this does not mean Japan will neglect the United States. Liu explained that Abe did not go to the United States first partly because Koizumi had visited the country in June.
Liu said even the United States is concerned about heightened tensions between China and Japan. Unpredictable factors in their bilateral relations may complicate U.S. "strategic choice" between the two countries. That's why it implied to the new Japanese prime minister that he should not visit the Yasukuni Shrine and should maintain contact with Chinese and South Korean leaders, Liu said.
Building trust
An acknowledged right-wing hardliner, Abe made statements that were harmful to China-Japan relations and paid homage at the Yasukuni Shrine before he became prime minister.
Since he assumed power, his attitude has been changing, Chinese experts say. Before he started his tour to China and South Korea, he vowed on several occasions to improve Japan's chilly relations with the two countries. In his inaugural policy speech in the parliament, he indicated that Japan's strengthening of its relationships of trust with China and South Korea is vital to Asia and the international community at large.
In the meeting with Wen, both sides expressed the hope of overcoming animosity linked to Koizumi's regular war shrine visits.
"Sixty years of Japan's post-war history is built on our deep remorse for our country inflicting grave damage and suffering and leaving scars on the people of Asia," Abe told reporters in Beijing. "I feel certain that my visit to China this time will lead Sino-Japanese ties to a higher level."
Abe has adjusted his position in order to achieve his political goals, according to Liu. The professor noted that revising Japan's Constitution, a major domestic goal for Abe, needs the support of the legislature. Therefore, he has to answer the call of the general public to improve relations with China and South Korea before he can have their approval, he said.
In terms of foreign policy, Abe seeks to gain Japan a permanent seat on the UN Security Council, a dream that will not be realized without the endorsement of its Asian neighbors, Liu added.
However, Wang attributed the policy changes to Abe's eagerness to succeed as prime minister and thus strengthen his grip on power. The expert pointed out that a breakthrough in China-Japan relations could help polish his public image.
Fan Yongming, Director of the Center for Japanese Studies at Fudan University, said the economic and political sides of the China-Japan relationship have become inseparable. As Koizumi's handling of historical issues cast a dark shadow on the economic cooperation between the two countries, the Japanese business community had long been critical of Koizumi actions, viewing them as demonstrating the wrong policy toward China.
According to the joint press statement issued during Abe's visit to China, the two countries agreed to promote bilateral relations through expanding both political and economic links.
This means that China-Japan relations should move into an era in which economics and politics reinforce each other while advancing in a coordinated manner, Liu commented.
Expanding common ground
Despite the changes, China has reason to stick to its principles and hold frank consultations with Japan on sensitive issues, observers say.
During the meetings with Abe, both Hu and Wen stressed that to achieve the long-term, stable development of China-Japan relations, the issue of shrine visiting must be properly resolved and the political obstacles affecting bilateral ties removed.
Describing Abe's visit as "a turning point in China-Japan relations," Hu said he hoped it would also serve as a new starting point for the development of bilateral ties.
"Sino-Japanese relations face difficulties because some Japanese leaders insist on visiting the Yasukuni Shrine, where war criminals are honored," Hu said. "This is not what we want to see."
Wen told Abe that it is in the fundamental interests of the two peoples to develop a friendly cooperative relationship between China and Japan. This is an irresistible trend and common aspiration of the two peoples, he said.
Abe, for his part, said he believes the future of Sino-Japanese relations will have "no rainy clouds," and he is ready to further the dialogue between the leaders of the two countries.
Looking into the future, experts say they do not expect one single visit to work miracles. Wang said it would take Japan a long time to adapt to a rapidly rising China, a process that will encounter difficult structural problems.
"While speaking highly of Abe's visit, we should not expect too much of it as many problems have yet to be resolved," he said. "We should be well prepared for the recurrence of certain problems so that we can make more effective efforts to put bilateral relations on the right track."
Noting that Abe's Beijing trip has been widely hailed as an "ice-breaking" one, Liu said it depends on what is meant by "ice." He argued that if ice refers to the lack of visits or communication between leaders of the two countries, it can be said that the ice has already been broken. However, if ice symbolizes the structural problems in China-Japan relations, the visit should only be considered the beginning of a thaw. In order to break the thicker ice, constant communication is needed, he said.
He added that it should be understood that China's development is not a threat but an opportunity for Japan. If China-Japan economic relations are severely affected by a persistent political deadlock, Japan is likely to suffer greater stress, he said.
While pointing out that it will take time before a thaw in China-Japan relations is realized, Fan of Fudan University said he sees great value in seeking and expanding common ground in a bid to push bilateral relations forward.
According to him, the most prominent common interests between China and Japan lie in bilateral economic cooperation, in addition to the denuclearization of the Korean Peninsula, Asia-Pacific economic cooperation and the creation of a free trade zone in East Asia, global energy stability and environmental protection. It is his belief that the common interests will give rise to common concerns and then to common development.