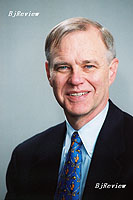 Disputes over historical issues have been a factor affecting China-Japan relations for quite some time. If mishandled, they could remain an obstacle to the further improvement of , some American scholars believe. Richard C. Bush, senior fellow and director of the Center for Northeast Asian Policy Studies at the Brookings Institution; Richard J. Samuels, Director of the Center for International Studies at the Massachusetts Institute of Technology (MIT) and Founding Director of the MIT Japan Program; and Ezra F. Vogel, a renowned U.S. scholar who specialized in East Asian studies and now is emeritus Henry Ford II Professor of the Social Sciences at Harvard University, shared their views on this issue with Beijing Review.
Beijing Review: How do you view the history issue in the China-Japan relationship?
Richard C. Bush: This is a very complicated issue and it has evolved over time. Japan is a very pluralistic society and there are competing views. There is understanding in Japan that the Japanese military caused great suffering throughout Asia in the early part of the 20th century. There are people who regrettably refuse to accept that point of view, or maybe they understand it, but do not wish to remind others.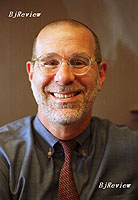 Richard J. Samuels:
Americans are critical of Japan. Americans are critical because they also are the objects of the revision of history in Japan. Americans expect China and Japan to have good economic relations and better political relations.
Ezra F. Vogel: I think [former Chinese leader] Deng Xiaoping put it well when he went to Japan in 1978. He said that for 2,500 years China and Japan had a history of good relations, except for the 50 years from 1895 to 1945. He hoped that they would again return to the historical pattern of good relations. And I think that was a very excellent statement.
What are the major challenges affecting bilateral relations?
Samuels: For the Japanese side, there is a failure to confront the history issue. There is a group of quite powerful and quite influential conservatives in Japan who resist the idea of making a full accounting for Japan's behavior during World War II. For the Chinese side, there seems to be an interest in maintaining the anti-Japanese, or some level of anti-Japanese, feeling. It becomes a situation in which the blame is on both sides.
Bush: I think the major challenge has to do with the security relationship. Japan has military capabilities. It is deepening its alliance with the United States, it may change its Constitution [to allow its military to take a more assertive posture] and it is planning to build up a missile defense. China at the same time is building up its military capabilities. There is the possibility that each side's looking at the action of the other could create a vicious circle, but this is not inevitable. The two sides should be mature enough, I think, to understand that might happen and create a dialogue to build mutual trust and mutual understanding to prevent it. This is the same situation actually that the United States and China are in. In a way, the Japan-China security situation is linked to the U.S.-China security situation, so all three countries need to work together to ensure that their security buildups are handled in a mature way.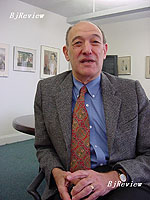 Vogel:

They will both be the great powers for the rest of the century and they have many common interests: trade, finding energy resources, avoiding pollution problems, avoiding accidents, avoiding conflicts over Taiwan, commercial relations and industrial relations. These are very important and very much in the interests of the two countries. But there are emotions on both sides that will make it difficult to achieve cooperation.