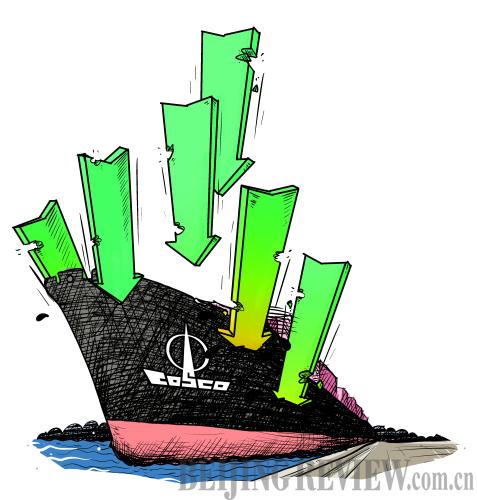 (CFP)
China COSCO Holdings Co., the world's second largest shipping company by fleet size, continued its trend of heavy losses in 2012. Since its listing on the mainland's A-share market in 2007, its share price experienced a sharp plunge from 70 yuan ($11.26)to less than 5 yuan ($0.80), putting investors on tenterhooks.
In the first three quarters of 2012, COSCO saw its losses totaling 6.4 billion yuan ($1.03 billion). Some analysts predicted that COSCO would continue to lose another 2 billion yuan ($321.8 million) in the fourth quarter.
The COSCO Group, its parent company, is trying to ensure its long-term viability by selling assets.
In December 2012, the COSCO Group announced a plan to sell 29.7 percent of its stocks in the Shanghai Eastern Logistics Co. Ltd., whose net assets are 815 million yuan ($131.13 million) in book value and 1.89 billion yuan ($304.1 million) in estimated value, a premium rate of over 132 percent.
On January 8, the first stockholders' meeting in 2013 marked that COSCO Shipping Co. Ltd., another listed company of the COSCO Group, had completed its acquisition of Guangzhou Ocean Shipping Co. Ltd., an unlisted company under the group.
Ye Weilong, Chairman of COSCO Shipping, said that the decision was aimed at expanding the company's business scope and fleet size at a low cost.
As the COSCO Group has yet to be fully listed, COSCO Holdings may attempt to get rid of money-losing assets and inject good assets from the COSCO Group in an effort to undergo restructuring and avoid delisting.
Due to the global financial crisis, demand for raw materials has been sluggish, pushing down the Baltic Dry Index (BDI), a barometer for shipping costs of dry bulk commodities. In the first half of 2012, the BDI averaged 943 points, down 31.3 percent from the same period in 2011.
It has been widely recognized that the break-even point for COSCO is 1,500 to 2,000 points. But in 2011 when the BDI averaged 1,549 points, COSCO still lost 10.4 billion yuan ($1.67 billion).
A number of international iron ore giants have begun to establish their own fleets in order to save transportation costs. For instance, Companhia Vale do Rio Doce, the world's largest iron ore supplier, has built up its own fleet to serve iron ore trade with China. The fleet is composed of very large ore carriers with a transport capacity of 400,000 tons. In contrast, COSCO's main fleet vessel, the Capesize bulk carrier, can only carry 80,000 tons.
On December 24, 2012, the BDI dropped to 699, indicating that a quick recovery for the industry was not in the cards.
According to the Shanghai International Shipping Institute's latest report, the dry bulk and container shipping market will stay bleak in 2013 as capacity continues to outstrip volume.