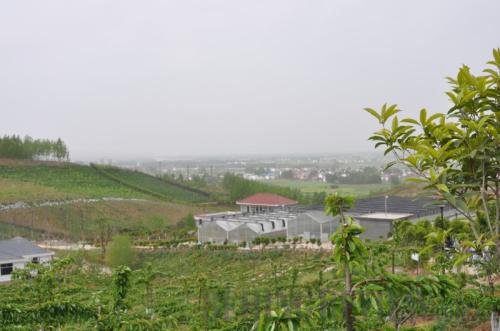 MODERN AGRICULTURE: Ginseng fruits grow in a greenhouse in the Yangling Agricultural Hi-tech Industry Demonstration Zone (LI GUOWEN)
Fengxi New City will serve five functional purposes, including as an information services industrial area, an information research and development headquarters, an information technological industrial area, a high-end enterprise cluster area and a supporting area for families and communities.
The new city would be constructed with ecological boundaries to prevent urban sprawl, said Wang Jun, Executive Deputy Director of the Shaanxi Xixian New Area Development and Construction Administration. When maintaining economic growth in an innovative and efficient way, the new city would promote urban and rural integration, attaching importance to eco-environmental protection.
An ecological economy
With the Qin Mountains running east to west, cities in south Shaanxi have a subtropical climate and picturesque landscape. A high dependence on natural resources and a shortage of talent and funds result in slower economic growth in the region compared to the northern half of the province.
Roughly 70 percent of counties in south Shaanxi are national-level poverty-stricken counties. To realize sustainable economic growth while preserving its natural environment, some counties are also committed to developing an ecological economy.
In Hanyin County, Ankang City, the Shaanxi Qinyuan Modern Agricultural Park sets up a good example of ecologically balanced economic development for other impoverished regions. The park is characterized by selenium-rich edible fungus production, like pleurotus eryngii, agaricus bisporus, coprinus comatus and straw mushroom.
The waste material in nurturing pleurotus eryngii—a type of edible mushroom—would be distributed to local farmers to produce other edible funguses like straw mushroom to save resources and cut costs. During the harvest season, Shaanxi Qinyuan Edible Fungi Science and Technology Co. Ltd. would purchase these edible funguses back.
With an overall planning area of 2,160 mu (144 hectares), the park sticks to a cooperative development model of "leading enterprises, bases and farmers" to extend the industrial chain, like planting bases and instant food production.
"Every year, the park produces 2,000 packages of selenium-rich edible fungus, 22,000 tons of fresh edible fungi and 5,000 tons of selenium-rich organic food," said Wu Weisheng, Manager of Shaanxi Qinyuan Edible Fungi Science and Technology Co. Ltd. "A total of 1,200 jobs have been created."
Yangxian, a county on the eastern edge of Hanzhong Basin, is known as "the hometown of the Nipponia Nippon," a bird species. To develop the ecological economy and protect endangered birds from extinction, the local government has mobilized 70 million yuan ($11.11 million) to build the Yangxian Modern Agricultural Park.
In addition to producing organic fruits and vegetables, the park offers sightseeing, recreational activities and tourist agriculture. With an annual output of 125 million yuan ($19.84 million) and 20,000 mu (1,333 hectares) of organic farming, a total of 300 farmers have entered the workforce.
"As early as three years ago, we completely quit using chemical fertilizer in grain production," said Zhou Yagang, President of Shaanxi Shuangya Oils and Grains Industry and Trade Co. Ltd., which also has a base in the modern agricultural park.
"For one thing, the Nipponia Nippon can only survive in a pollution-free natural environment; for another, organic products can yield more profit," said Zhou.
Email us at: dengyaqing@bjreview.com