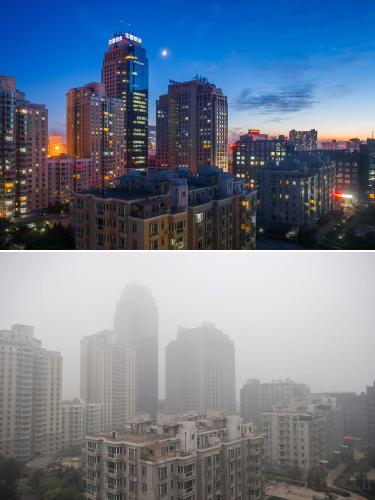 SHARP CONTRAST: Two pictures of Beijing's Xizhimen area. They were taken on September 10 (top) and October 6, respectively (WEI YAO)
During the weeklong National Day holiday that lasted October 1-7, He Yang, a fourth grader from southwest China's Sichuan Province, traveled to Beijing hoping to see the city at its most beautiful. Unfortunately, the lingering smog left him disappointed.
"My parents canceled some of our plans, including a trip to the Great Wall," He complained.
According to Beijing's meteorological authorities, with the exception of favorable weather on October 2 and 3, the holiday saw the city shrouded in the heaviest smog in months.
Another report from the China Meteorological Administration showed that Beijing had 14 days of heavy smog from September 1 to 28, 10 more than the average over the last 20 years for the same period.
"I'm looking forward to my next visit and hope it will be better then," He said before leaving Beijing.
For He and others, the action plan against air pollution released on September 12 by the State Council, China's cabinet, can bring some reassurance.
According to the Airborne Pollution Prevention and Control Action Plan (2013-17), "In five years, air quality in China will see a significant improvement, with heavily polluted days to be drastically reduced."
The document stipulates that by 2017, the density of airborne particles, especially PM2.5—those less than 2.5 microns in diameter—are to be reduced by 25 percent compared to the levels recorded in Beijing and surrounding areas in 2012.
In the action plan, the Chinese Government vows to use a multifaceted approach to tackle air pollution with cutting coal use, shutting down heavy polluters and promoting cleaner production at the forefront.
Experts say that this plan is a landmark achievement in the government's fight to control air pollution.
"The plan shows that the government is focusing on improving air quality and paying more attention to the need to control the sources of pollutants," said Wang Jinnan, Vice President of the Chinese Academy for Environmental Planning.
Chai Fahe, Vice President of the Chinese Research Academy of Environmental Sciences, affiliated with the Ministry of Environmental Protection (MEP), said that in order to carry out the plan effectively, government departments and research institutes should create a formal national-level inventory of atmospheric pollutant emissions and an effective supervision system.
Sights set high
The action plan details 35 measures across 10 areas for addressing pollution, including plans for cutting vehicle emissions and coal consumption, transforming industrial structure and evaluating emissions reduction.
"These 35 measures are directed at sources of PM2.5, the main contributor to heavy smog in cities. If they can be implemented, China can realize other goals such as reducing coal consumption and improving air quality," said Wang Jian, Deputy Director of the MEP's Department of Pollution Prevention and Control.
In December last year, the Chinese Government unveiled an air pollution reduction plan aimed at cutting the level of airborne particulate matter by at least 5 percent across 13 key areas covering 117 cities by 2015.