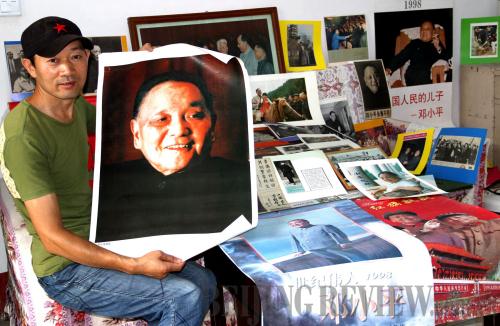 A PEOPLE'S HERO: Dong Xide, a police officer in Caoxian County, Shandong Province, shows off his longtime collection of items commemorating China's late leader Deng Xiaoping at his home on August 19 (CNSPHOTO)
As a teenager, Zhang Weiying, now a prominent economist and former Dean of the Guanghua School of Management at Peking University, thought he could be nothing more than a farmer like his illiterate parents.
In an article written in memory of the year he was admitted to college, Zhang, born in 1959, noted that he spent the first 19 years of life in his hometown, a remote village in China's northwest Shaanxi Province. As someone whose childhood memories consist of chronic hunger and poverty, he wrote, he couldn't in his wildest dreams have imagined one day becoming an economist and university professor.
Graduating from high school in 1976, Zhang, then 17, started to work as a farmer in his home village. Although Zhang had been a top student in his class, getting a higher education was beyond his reach. The national college entrance exam had been canceled during the "cultural revolution" (1966-76), and was substituted with a new admission policy that instead sent workers, farmers and soldiers to college. The college recruits would be selected based on political and family background rather than academic achievements. At that time, Zhang had feuded with village officials, openly criticizing them for spending public funds on banquets; these officials vowed to impede any career opportunities for him.
In August 1977, China's late leader Deng Xiaoping, then Vice Premier, resumed the traditional examination system, in which recruitment is based on academic ability. The first such entrance exam after the "cultural revolution" took place that following winter. This history-making event would change the fate of Zhang and millions like him. After sitting the exam in 1977, he was admitted into the Department of Politics and Economics of Northwest University in Xi'an, Shaanxi, and became the first university student from his village.
The total number of candidate students for the national college entrance exam in 1977 was as many as 5.7 million, with only 272,971, or 4.8 percent, gaining admittance. Many went on to become nationally renowned economists, writers and government leaders, including current Chinese Premier Li Keqiang.
Deng was at the core of the second generation of Chinese leadership after the Third Plenary Session of the 11th Central Committee of the Communist Party of China (CPC) held in late 1978, which marked the beginning of China's reform and push to open up the country. Leading China on a path of far-reaching economic reforms, Deng invited in foreign investment and encouraged the development of a market economy and private sector. His reforms helped lift hundreds of millions of Chinese out of poverty.
For Nian Guangjiu, once an illiterate farmer from east China's Anhui Province, the socialist market economy is something difficult to comprehend. But he knows that the concept has been deeply ingrained in his life as a private entrepreneur.
Nian started his business in the late 1970s, as China was gradually changing its attitude toward a private economy. Families were allowed to form "household enterprises" in which the entrepreneur himself would work.
Despite feeling encouraged by the government's change, private entrepreneurs in China were still cautious about hiring workers. However, after observing that the Central Government took no action in controlling employee recruitment, Nian, owner of the brand Shazi Guazi, or The Fool's Sunflower Seeds, became one of the first to hire more employees. His employment of more than 100 workers soon triggered heated debate and the case was reported to Deng himself. "Will that hurt socialism?" Deng asked.
Without Deng, there wouldn't be someone like me, Nian told the media.