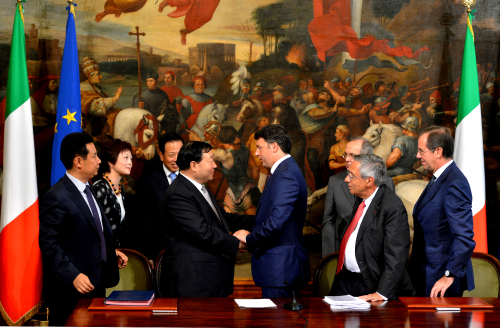 NEW PARTNERS: Italy's Prime Minister Matteo Renzi (third right, front row) shakes hands with Liu Zhenya, Board Chairman of China's State Grid Corp., when the latter signed a contract to buy a 35-percent stake in Italy-based electric utility company CDP Reti Srl for $2.81 billion on August 1, 2014 in Rome (XU NIZHI)
Dubbed "the world factory," China has a long history of being a paradise for global investors, with an abundant and cheap labor force, vast land and a wide range of preferential policies. However, that tradition changed dramatically in recent years, as the capital inflow to the country substantially slowed and capital outflow grew rapidly. The country ascended to join the world's net capital exporters for the first time, with capital output outnumbering capital inflows last year.
Chinese investors channeled capital into 6,128 overseas firms in 156 countries in 2014, with outbound direct investment (ODI) in non-financial sectors reaching $102.89 billion, up 14.1 percent from a year earlier, according to the Ministry of Commerce (MOFCOM).
In sharp contrast, foreign direct investment to China grew much slower at 1.7 percent, totaling $119.56 billion in 2014. It was the first time two-way nominal capital flows have been near a balance, according to the MOFCOM.
"If Chinese firms' investment through third-party financing is included, the total ODI volume would equal about $140 billion, which means China is already a net outbound investor," said Shen Danyang, spokesman of the MOFCOM.
According to the MOFCOM, mergers and acquisitions were more diversified in investment projects and fields in 2014. Popular sectors, like the energy and mining sectors, continued to earn more investment, while active acquisitions pushed forward in the manufacturing sector and the agricultural sector.
Meanwhile, a better industrial investment structure is taking shape, with leasing and commercial service, mining and retail, and wholesale business as the top three key overseas investment sectors, said Shen.
Xing Houyuan, Vice President of the Chinese Academy of International Trade and Economic Cooperation (CAITEC), told Beijing Review that a surging ODI from China is a result of foreign countries' thirst for investment and Chinese companies' growing ambition for more development beyond the border amid an overheated domestic economy.
"From the demand side, the world needs Chinese capital more urgently than ever. The infrastructure construction and high-end manufacturing in developed countries need Chinese investment, while developing countries, which are in a key period of their industrialization and urbanization, also need China's capital, technologies, equipment and expertise in infrastructure construction," Xing specified.
"From the supply side, after 35 years of accumulation in capital, production capacity and experience in construction, China can meet global demand. China's industrial upgrade also requires the nation to transfer part of its advantageous production capacity to other countries," she said.
Marching forward
According to the MOFCOM, outbound investment from China grew over 40 times over the past 12 years.
"It's a result of the government's strategy to go global as well as Chinese companies' continuous efforts," said Long Guoqiang, a senior research fellow with the Development Research Center of the State Council.
The fact that China has become a net capital exporter signals the Chinese economy has been infused into the global economy and both the competitiveness and internationalization of Chinese companies have greatly improved, Long said.
Zhang Yongjun, a research fellow with the China Center for International Economic Exchanges, said it's a rare phenomenon for a country to become a net capital exporter when it's still a developing country, breaking the previous trend that only developed countries may join the club of net outbound investors.