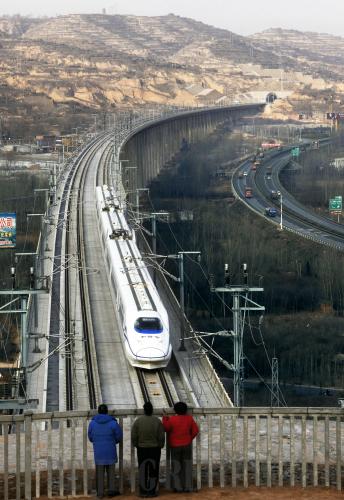 LIGHTENING FAST: A train roars along during the trial run of the Zhengzhou-Xi'an High-Speed Railway on January 25, 2010 (ZHANG XIAOLI)
Travel between Wuhan, capital of central China's Hubei Province, and Guangzhou, capital of Guangdong Province in south China, used to take 10 hours. But now, the 1,000-km journey can be made in three hours. When factoring in time spent getting to the airport and then waiting to board the aircraft, travel time between the two cities by air or rail is roughly the same. But the cost effectiveness of train travel trumps air transportation, luring a considerable number of people to stay grounded when traveling.
Trains have become the preferred transportation method of many travelers who used to travel by air, as high-speed railways cut both time and costs.
The reduction in travel time comes from the debut of the Wuhan-Guangzhou High-Speed Railway which started operating on December 26, 2009, and has since become a major transportation artery from the heart of China to the southeast coastal areas. During the recent three-day May Day holiday, the high-speed railway transported nearly 270,000 passengers, a record high in train transportation between the two cities.
The Wuhan-Guangzhou corridor is also the longest high-speed railway in China—1,069 km in length. Other high-speed railways now in operation in the country include those from Beijing to Tianjin, Beijing to Taiyuan in Shanxi Province, Zhengzhou in Henan Province to Xi'an in Shaanxi Province and Hefei in Anhui Province to Shanghai.
Figures from the Ministry of Railways (MOR) show the total length of high-speed railways currently in operation has reached 6,552 km, the longest in the world.
In spite of the quick construction, more high-speed rails will be needed to cater to China's ever-increasing passenger demand. MOR figures state China plans to construct an additional 13,000 km of high-speed railways by 2012, bringing the high-speed railway network to just shy of 20,000 km.
Also by 2012, the majority of Chinese cities will be connected in the network as the nation enters an era of popularized high-speed railway demand.
Years in the making
Development of China's high-speed rail network began in 2004, but the vision of the nation linked by fast trains is decades old. He Huawu, a 55-year-old MOR chief engineer, has witnessed that vision take shape and speed off over the course of his career.
In 1992, He went to Europe for a field study of European railway development with an MOR delegation. During the trip, He took the Channel Tunnel, or the Eurotunnel, connecting Britain and France, the first time he had been on a high-speed railway running at 273 km per hour. At that time in China, trains could only travel at a maximum of 120 km per hour.